[vc_row][vc_column][vc_column_text]
Recently, I saw a place on Instagram called "Les Filles". It looked cute and cosy and with such a girly and French name, I immediately saved it on my "try list" of places to eat and drink in London.
A few weeks ago, after work, while I was with a friend in Hyde Park enjoying the warm temperatures and golden light, I remembered it was around the corner.
We headed to Lancaster Gate, searching for it. Found it. Had a bit crush on the whole vibe in Lancaster Gate that night, very cute and chilled and cosy. And obviously, immediately really liked Les Filles London too.
A small and cosy terrace, a menu full of goodness, gluten and vegan friendly dishes, and lots of asian inspiration. Exactly what we needed to start off the weekend right.
The menu actually explains the concept very well: Generous food, made with love, and good for you, to eat in their cosy cafe or to take away wherever you like. And that's really how it felt: A place where you feel good, safe and happy to share it with whoever you are.
I especially really liked the "Non French" vibe in a French place if that makes any sense. It has the healthy and cosy and qualitative elements you'd find in any French restaurants in London but it's actually completely different, being a lot more exotic and casual.
Avoid if you're looking for a big party place but give it a go for all the other reasons. Really lovely.
[/vc_column_text][vc_empty_space][vc_column_text]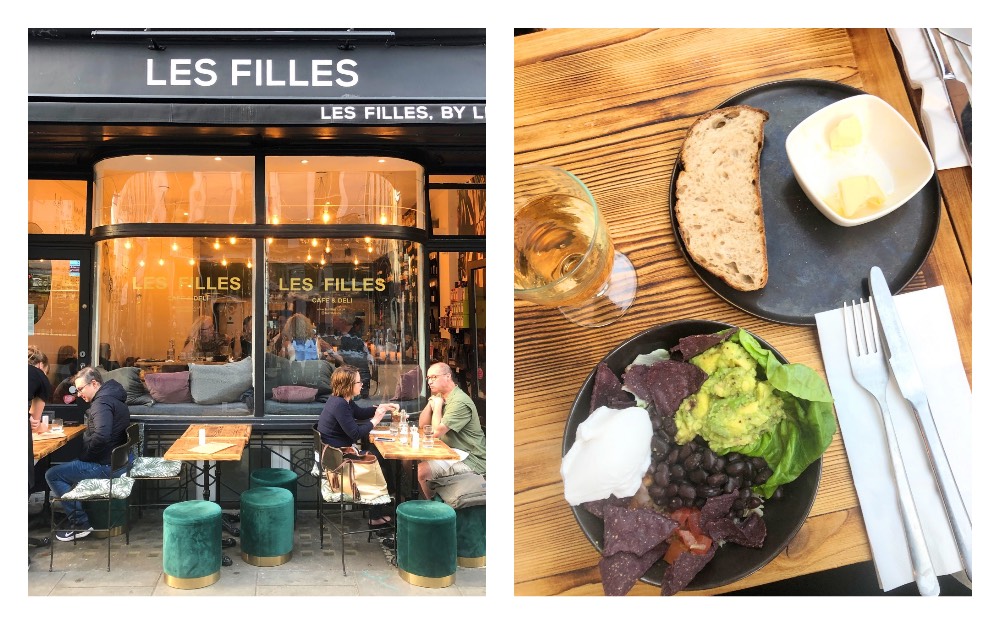 [/vc_column_text][/vc_column][/vc_row][vc_row][vc_column css=".vc_custom_1565371727954{border-top-width: 1px !important;border-right-width: 1px !important;border-bottom-width: 1px !important;border-left-width: 1px !important;border-left-color: #a3a3a3 !important;border-left-style: solid !important;border-right-color: #a3a3a3 !important;border-right-style: solid !important;border-top-color: #a3a3a3 !important;border-top-style: solid !important;border-bottom-color: #a3a3a3 !important;border-bottom-style: solid !important;border-radius: 1px !important;}" offset="vc_col-lg-offset-2 vc_col-lg-8″][vc_column_text]
Details
[/vc_column_text][vc_column_text]
Lancaster Gate Cafe
(The one I went to but they have an other one in Hampstead)
27 Craven Terrace, Bayswater, London W2 3EL
Where: Bayswater
Tube: Lancaster Gate
Price: £
[/vc_column_text][vc_empty_space][/vc_column][/vc_row][vc_row][vc_column offset="vc_col-lg-offset-3 vc_col-lg-6″][vc_empty_space][vc_gmaps link="#E-8_JTNDaWZyYW1lJTIwc3JjJTNEJTIyaHR0cHMlM0ElMkYlMkZ3d3cuZ29vZ2xlLmNvbSUyRm1hcHMlMkZlbWJlZCUzRnBiJTNEJTIxMW0xNCUyMTFtOCUyMTFtMyUyMTFkMjA5OTYuOTk1OTU1NTUyMzE2JTIxMmQtMC4xODczODg2MzY4MDM5NTc0NSUyMTNkNTEuNTEyMzcyMDg3MjE2MzMlMjEzbTIlMjExaTEwMjQlMjEyaTc2OCUyMTRmMTMuMSUyMTNtMyUyMTFtMiUyMTFzMHgwJTI1M0EweGNlOGZjNGMyZWEzZjA0NGUlMjEyc0xlcyUyQkZpbGxlcyUyMTVlMCUyMTNtMiUyMTFzZnIlMjEyc3VrJTIxNHYxNTY2MjEwMzU5MTgwJTIxNW0yJTIxMXNmciUyMTJzdWslMjIlMjB3aWR0aCUzRCUyMjYwMCUyMiUyMGhlaWdodCUzRCUyMjQ1MCUyMiUyMGZyYW1lYm9yZGVyJTNEJTIyMCUyMiUyMHN0eWxlJTNEJTIyYm9yZGVyJTNBMCUyMiUyMGFsbG93ZnVsbHNjcmVlbiUzRSUzQyUyRmlmcmFtZSUzRQ==" size="300″][/vc_column][/vc_row][vc_row][vc_column][vc_empty_space height="45px"][vc_separator][vc_column_text]
My latest places to eat and drink:
[/vc_column_text][vc_empty_space][vc_masonry_grid post_type="post" max_items="3″ style="load-more" items_per_page="3″ gap="15″ item="24279″ initial_loading_animation="none" grid_id="vc_gid:1566995049464-6cc44524-650f-10″ taxonomies="8″][/vc_column][/vc_row]