Recently, I went to Suffolk, to Aldeburgh and Southwold for a last minute weekend to visit a friend. I accepted the invitation purely because I am always keen to escape the city for a day trip from London, discover new places in the UK, especially when they are by the sea and obviously because I was looking forward to spend quality time with a friend by the seaside.
I had no real expectations. I know England can be beautiful, but it didn't cross my mind Suffolk was THAT beautiful and nice. Because it was. I think it's easily in my top 5 of best places I've seen in my 7 years in the UK.
How to get to Aldeburgh and Southwold?
First things first. Because I have no doubt this will make you want to go for a weekend in Suffolk and visit Aldeburgh and Southwold, let's discuss the details:
The easiest way is to go by car. But it's obviously doable by transports:
Train + Taxi: 
From London Liverpool Street, stop at Saxmundham (With a change at Ipswich), and end up by Tax from Saxmundham.
To go to Southwold, the other town, it's better to stop at Hallesworth + taxi or you might as well take a taxi from Aldeburgh.
It's slightly less convenient than going for a day trip to Brighton but it's the same as going for a day to the lovely Mersea Island (Not too far from Aldeburgh and Southwold, actually). And it was actually really nice to discover a new non touristic place that I barely had heard of before.
Aldeburgh
I only spent an afternoon and evening in Aldeburgh but I was enough to fall in love with it and can't wait to go back to immerse myself in what seemed like to most peaceful and serene perfect little town.
It appears that the whole Suffolk area is very attractive and lots of ex Londoners elect it as their next move for a better life in one of the most beautiful part of England, by the seaside while staying not too far from the UK Capital. It's also the driest county in the UK. When the rain came from the west and went all the way through the south England, including London, there's nothing left when reaching Suffolk, the more eastern county of the country. Extra points for this lovely place.
Obviously, as we got there, there's only one thing we wanted to do: Go straight by the sea.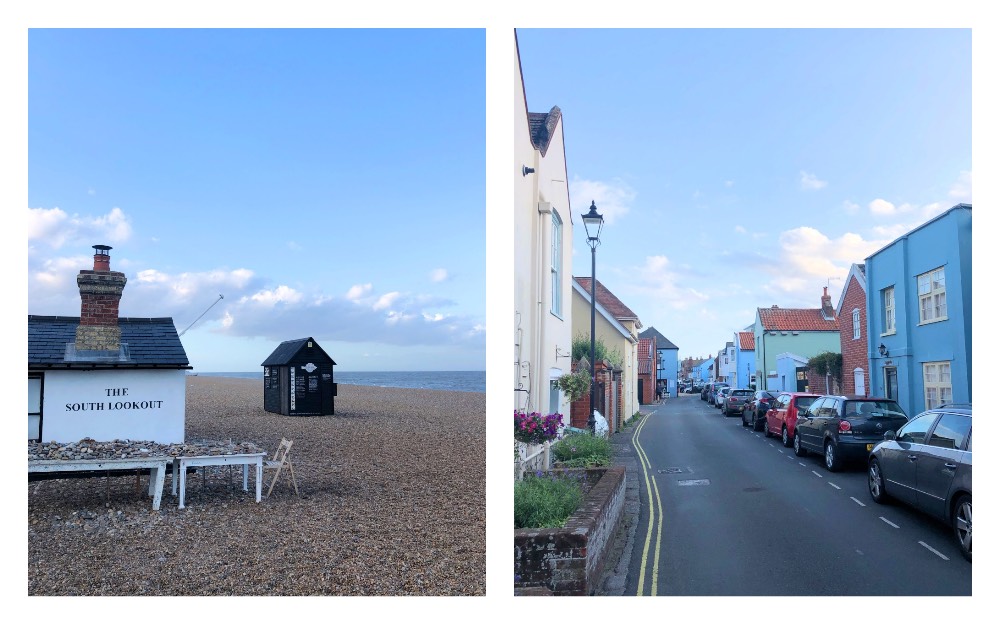 The perfect English beach
Aldeburgh has a stone beach which actually gave it a very British charm. That and the colourful houses, the pretty boats, the nice shops, the Fish and chips restaurant, and the quietness.
The English beach don't often match with the idea we have of the "perfect beach", which often involve a boiling sun, golden sand and bikinis. In the UK, most of the time and most of the year, you need to have an extra layer. It may be slightly less exotic, it is still very nice and actually very peaceful, calm and joyful too.
British people who live in this kind of places tend to not brag about it. Not because they are not proud, but more because they want to keep it quiet and keep it to themselves. And they are so right. In French we have an expression saying "Pour vivre heureux, vivons cachés", which means "To live happily, live hidden". I am not sure people are intentionally hiding, but very few people around me (Including British ones) seemed to know about this part of the UK, and how amazing it is so I am suspecting there is a bit of that.
It actually really reminded me of Whitstable in Kent, which I love too.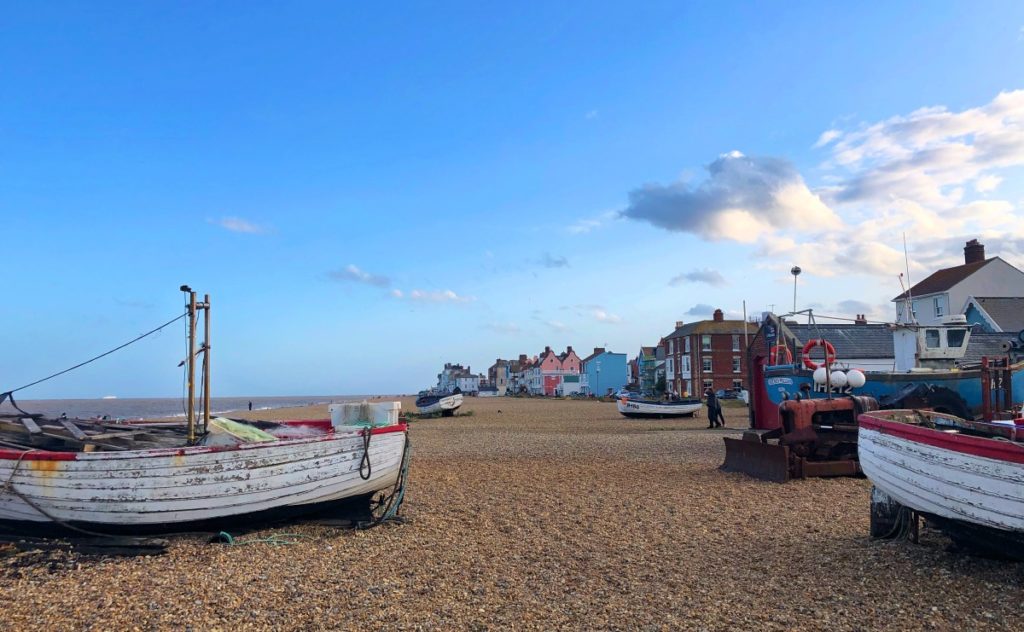 Good places to eat in Aldeburgh
Aldeburgh Fish & Chip Shop
A classic. The most famous Fish and Chips in town.
Ash Smoked Fishes
A very well known restaurant by the beach with great reviews
The Lighthouse
An other must try in Aldeburgh to eat excellent sea food.
Southwold
Bunting and perfect seaside atmosphere
During this weekend in Suffolk, we also went for a day in Southwold, an other very lovely and very British town.
As we entered the town center, I immediately spotted all the bunting – One of my favourite thing in the UK – but also the sound of the Seagulls, the wind and all the pretty shops. A lovely day ahead.
We went for a walk around before ordering our Fish and Chips from "The Little Fish and Chips Shop", the most well known fish and chips place in town. It was not even 12 and there was already a few people. But we waited in a happy mood with other fellow tourists for the day, before taking it to eat by the beach. And it was delicious and totally worth the wait indeed.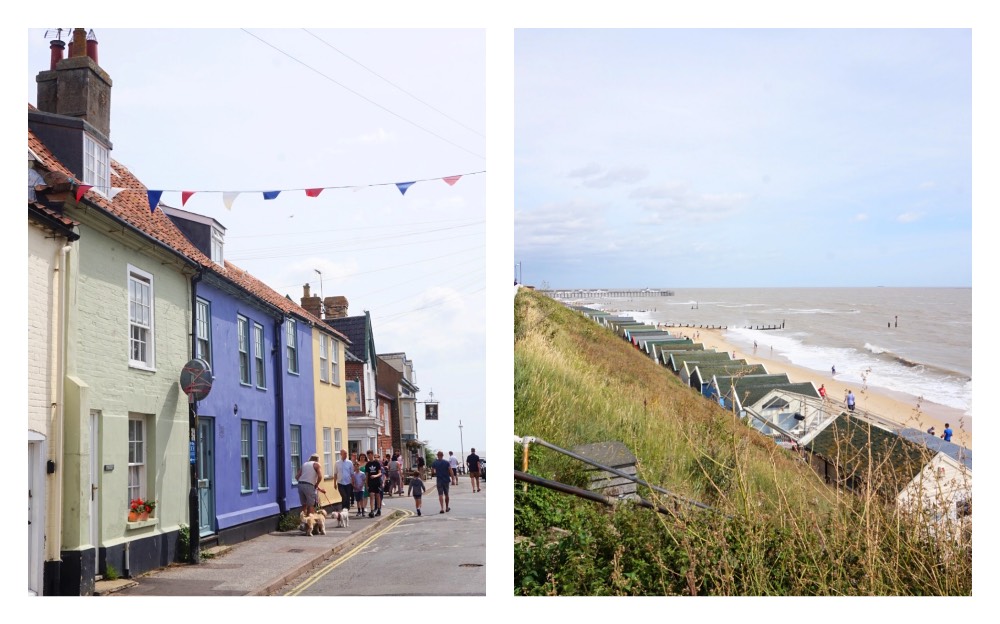 The good thing with Southwold is the sandy beach (Compared to the stone one at Aldeburgh) and a more lively atmosphere with all the beach huts and the pier, perfect to get a beautiful view from the sea, including the well known lighthouse, which helps boats to navigate in the northern sea.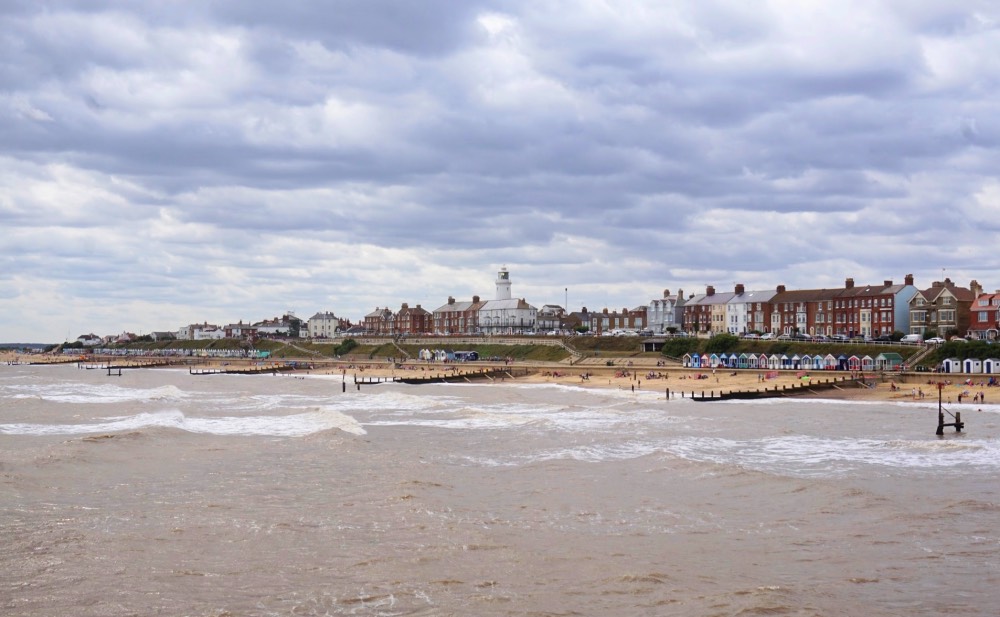 Good places to eat in Southwold
The Little Fish & Chips Shop
The traditional Fish and Chips
Harris & James
A chocolate shop where you'll have the best chocolate ice cream ever
The Swan
Very chic and cosy hotel where you can stay but also have a tea or lunch break
Two Magpies Bakery
The pretty bakery to stock up from traditional British pastries
Adnams Southwold
The brewery to buy all the local beers and other beverages