You probably already know Bourne and Hollingsworth Buildings. If not, they are a popular place to eat and drink in London. Also very well known as one of the top places for brunch in London, with their gorgeous and elegant back room, beautifully decorated, full of light and plants.
They also own the cutest cocktail bar in Charlotte street that not many people seem to know about. A small speakeasy bar in a basement with once again amazing interior design, a great cocktail menu and late night party vibes.
Clearly, they know how to create beautiful places, which they proved again recently with their latest opening. Great interior design, as always, beautiful views and right in the center of London this time.
Bourne and Hollingsworth Garden Room offers panoramic views over The City on one side, London Eye and the other side. It's a space full of light, lots of greens, cosy design and, as always, a great food and drinks menu. We went there for lunch, and even though the menu mentioned "light bites" it had everything we needed. Their brunch looked amazing too.
A great place to add to your list of things to do in London for sure. Perfect for girls drinks, a date night, or even for a meal with your mum. Definitely the type of place I would add to my list of things to do for a mother and daughter weekend in London.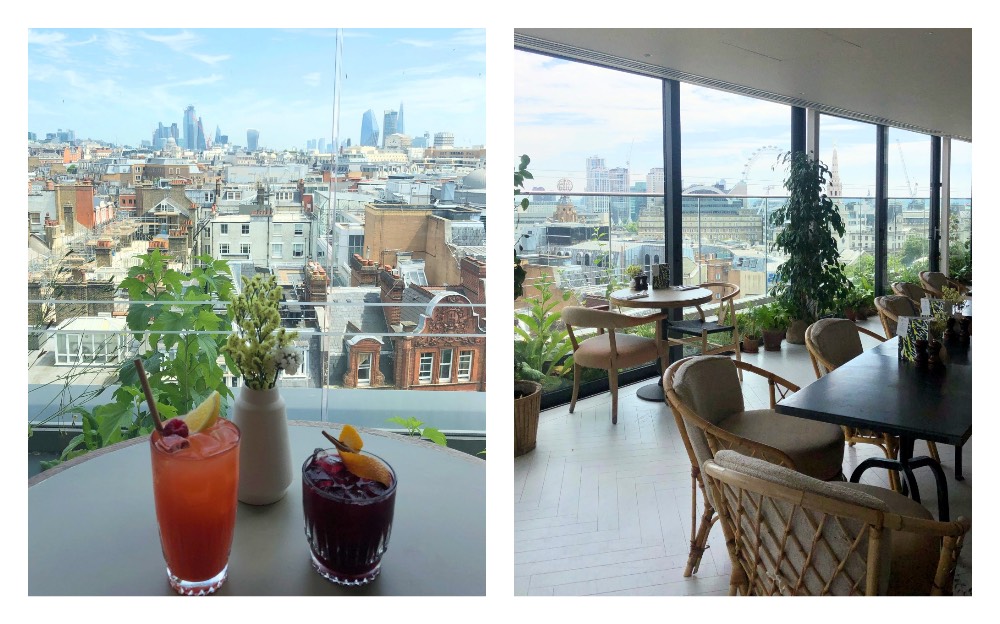 Bourne and Hollingsworth Garden Room
 10th floor, above Assembly Hotel,
31 Charing Cross Rd, London WC2H 0LS
Area: Leicester Square
Tube: Leicester Square
Price: ££
My latest places to eat and drink in London: