[vc_row][vc_column][vc_column_text]
At the top of my favourite places to eat and drink in London, you will find Momo. Even though I have never mentioned it on the blog, it's been one of my long time favourite and somewhere I have enjoyed going for special occasions or to warm up in their beautiful and cosy cafe.
If you've never heard of it, Momo is the most glamorous and beautiful Moroccan restaurant in London. They serve traditional dishes but also more modern ones in a Riad style decoration. Golden furniture, natural light coming from the ceiling but also soft and warm light from the lamps displayed all overt the place, palm trees, plants, comfortable sofas… It's hard to remember you are still in the heart of London.
They recently refurbished the place and it's now more stunning as ever. The food is amazing. Couscous, Tajines, but also vegetarian and vegan options which are delicious too. All served by warm and friendly staff, always smiling and super helpful.
Some might think it's a bit overpriced. It's not cheap. But the whole experience is so worth it. And a lot cheaper than a trip to Marrakech.
You can go there for a lovely lunch or dinner, late night drinks or end up in the discreet and absolutely stunning cocktail bar downstairs, Kwant. An other hidden gem.
[/vc_column_text][vc_empty_space][vc_column_text]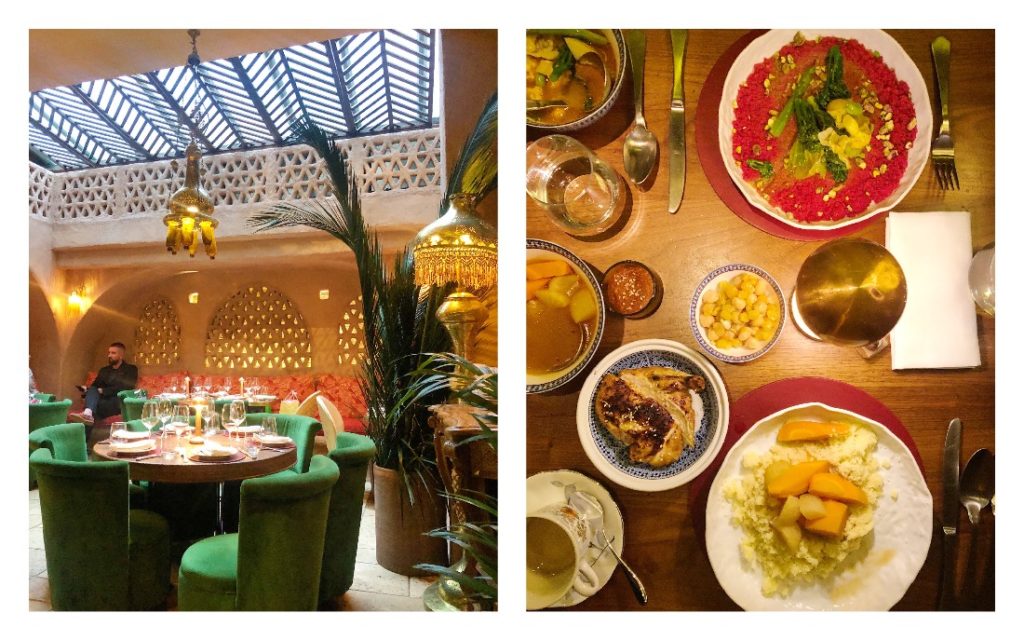 [/vc_column_text][/vc_column][/vc_row][vc_row][vc_column css=".vc_custom_1565371727954{border-top-width: 1px !important;border-right-width: 1px !important;border-bottom-width: 1px !important;border-left-width: 1px !important;border-left-color: #a3a3a3 !important;border-left-style: solid !important;border-right-color: #a3a3a3 !important;border-right-style: solid !important;border-top-color: #a3a3a3 !important;border-top-style: solid !important;border-bottom-color: #a3a3a3 !important;border-bottom-style: solid !important;border-radius: 1px !important;}" offset="vc_col-lg-offset-2 vc_col-lg-8″][vc_column_text]
Details
[/vc_column_text][vc_column_text]
25 Heddon St, Mayfair, London W1B 4BH
Area: Mayfair
Tube Station: Oxford Circus or Piccadilly Circus
Price: ££
[/vc_column_text][vc_empty_space][/vc_column][/vc_row][vc_row][vc_column offset="vc_col-lg-offset-3 vc_col-lg-6″][vc_empty_space][vc_gmaps link="#E-8_JTNDaWZyYW1lJTIwc3JjJTNEJTIyaHR0cHMlM0ElMkYlMkZ3d3cuZ29vZ2xlLmNvbSUyRm1hcHMlMkZlbWJlZCUzRnBiJTNEJTIxMW0xOCUyMTFtMTIlMjExbTMlMjExZDI0ODMuMTE0ODQ5Mzg2MjM3JTIxMmQtMC4xNDI1MTUwODQ1MzI1MDQyNSUyMTNkNTEuNTExMTA4OTE4MjUzNDYlMjEybTMlMjExZjAlMjEyZjAlMjEzZjAlMjEzbTIlMjExaTEwMjQlMjEyaTc2OCUyMTRmMTMuMSUyMTNtMyUyMTFtMiUyMTFzMHg0ODc2MDRkNThkMGRmZmIzJTI1M0EweGEwNjY0NzBkNWRiY2RhYzMlMjEyczI1JTI1MjBIZWRkb24lMjUyMFN0JTI1MkMlMjUyME1heWZhaXIlMjUyQyUyNTIwTG9uZG9uJTI1MjBXMUIlMjUyMDRCSCUyMTVlMCUyMTNtMiUyMTFzZnIlMjEyc3VrJTIxNHYxNTY4NzEyNjM5NTM4JTIxNW0yJTIxMXNmciUyMTJzdWslMjIlMjB3aWR0aCUzRCUyMjYwMCUyMiUyMGhlaWdodCUzRCUyMjQ1MCUyMiUyMGZyYW1lYm9yZGVyJTNEJTIyMCUyMiUyMHN0eWxlJTNEJTIyYm9yZGVyJTNBMCUzQiUyMiUyMGFsbG93ZnVsbHNjcmVlbiUzRCUyMiUyMiUzRSUzQyUyRmlmcmFtZSUzRQ==" size="300″][/vc_column][/vc_row][vc_row][vc_column][vc_empty_space height="45px"][vc_separator][vc_column_text]
My latest places to eat and drink:
[/vc_column_text][vc_empty_space][vc_masonry_grid post_type="post" max_items="3″ style="load-more" items_per_page="3″ gap="15″ item="24279″ initial_loading_animation="none" grid_id="vc_gid:1568887577983-fe79c312-9bf7-9″ taxonomies="8″][/vc_column][/vc_row]