It's been a while since I shared a London walk on the blog. This one is a classic and one of my favourite walks in London. It starts in King's Cross and end in Little Venice. With some stops and diversions on the way. And a few lovely places for food and drinks.
I always find London weekends so special and intense. It's not your regular weekend where you just chill and press pause. Of course you can do that too. But there is so much beauty and excitement and great energy in London, it's always hard to resist and not go around exploring and finding out new London places. Sometimes you do have to force yourself to resist though. But that's a conversation for an other time.
Lately, my Saturdays have been just "perfect". I started to teach yoga every Saturday Morning with a bunch of really lovely people, right in the heart of King's Cross which is very handy when you are a brunch fan or simply a London fan. Ideal location to carry on the day in some of London's nicest spots.
Which is exactly what happened that day. The weather forecast was very clear: It was going to be the very last super sunny and gorgeous day before Autumn officially takes over. The objective of the day was then to "Make the most of it". A very London approach to life.
7h: Start of the day
Quite early for a Saturday but I love early mornings. Especially on the weekend when everything is so calm and peaceful until 8.30. It's my "me time" before starting to prepare my class, fine tune my yoga playlist and head to King's Cross.
11h15: Yoga
The class starts at 11h30. I like to get there earlier to catch up with the team of other instructors (I teach with Swedish Fit, a fitness organisation), say Hi to everyone, start to connect with the regulars and cool down.
After an other lovely class, I decide to walk by the canal, towards Camden. And improvise on the way. There are so many places I'd like to go to but a canal walk when the sun is out is always a good idea. I might try to go to Little Venice later if I have time.
12h45: King's Cross > Primrose Hill (With a stop in Camden)
From King's Cross, you have to walk about 20 minutes before seeing the first signs of Camden. One of those places in London I have learnt to love with time – Thanks to the many visitors who forced me to go there over the years. I used to hate the crowd of tourists there but seeing from an other angle, Camden is such a vibrant and authentic part of London. It's very unique and can't really be compared to anywhere else in London. (You can also read more on my Camden City Guide).
I chose to not stop this time, because I know that the canal part right after Camden is going to be one of the nicest one. (Picture below on the right). The house boats on one side, the gorgeous houses on the other one. The super chilled vibe and the church at the back. It's like the cutest village in the big city.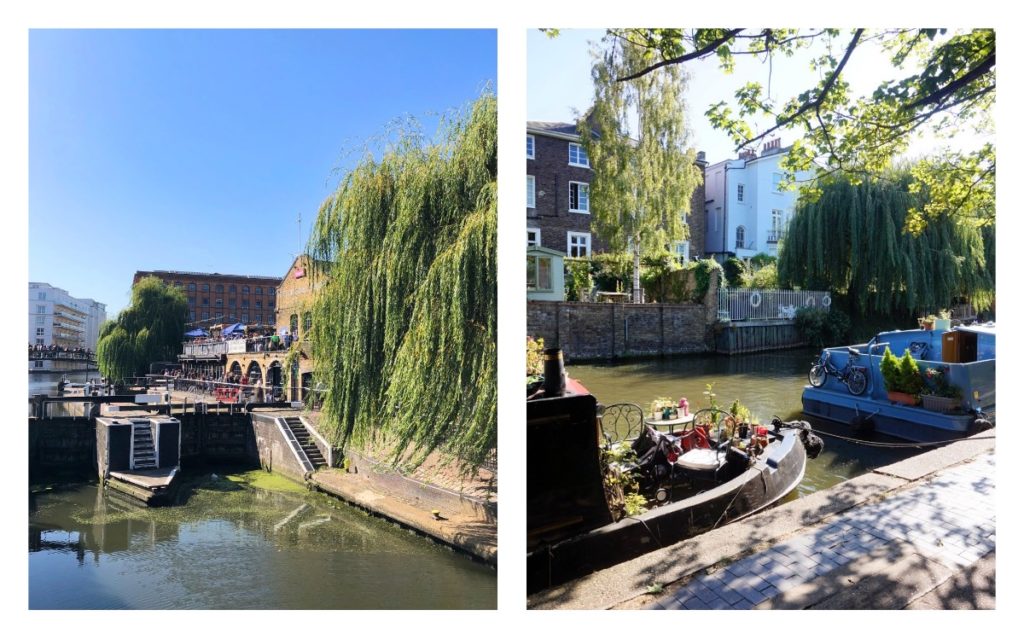 I stop 5 minutes to enjoy the moment. The weather is so stunning.
I can never resist a stop in Primrose Hill. So I turn right and decide to go to Chalcot Square (below), "just to quickly check out the colours". And as always, I never regret going. It's stunning all year round but this time, it was really, really gorgeous.
13h30: Primrose Hill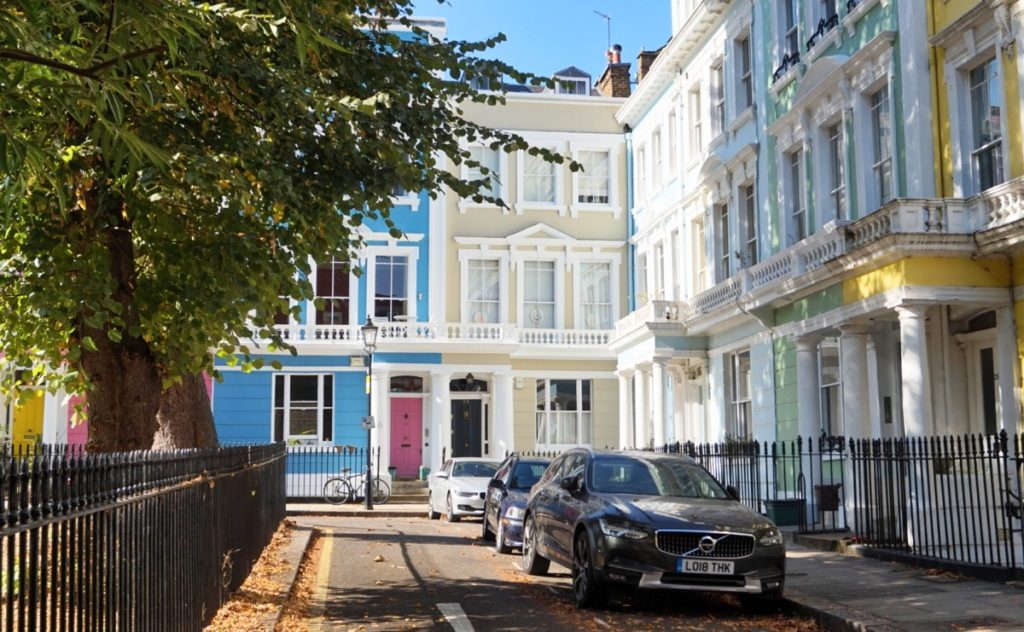 It was like the best of both Summer and Autumn gathered in one moment. The blue sky, the super warm temperatures with the lighter light tones, the trees slightly starting to turn yellow and dead leaves on the ground.
September in London never disappoints.
It is nearly 2pm so I decide to have lunch there and try to find a place I haven't been to in Regent's Park Road, the busy road of the area. I often go to Greenberry Cafe which I always recommend but it's becoming a bit too well known and crowded now. And it's too sunny to stay inside.
14h00: Lunch break
Randomly, I find THE perfect table outside of Cowshed (Bottom left picture). It's a well-know spa in London and the UK, but the Primrose Hill one also happens to have a super cute and cosy cafe. Good to know for winter times.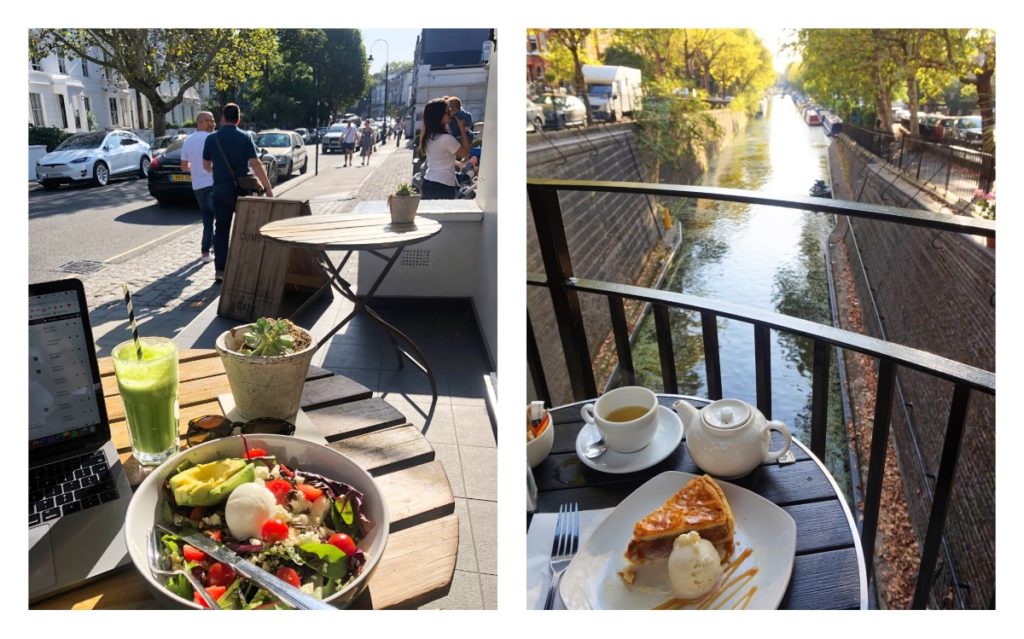 15h30: Primrose Hill > Little Venice
3.30pm, it's not that late, but this is when the light is gently reminding us that autumn is nearly there. This day is too perfect to not carry on, so I decided to take a bus to Little Venice. The 31 takes me to Kilburn, which is close to Maida Vale where I have many memories from my early months in London. It's actually really nice to walk in those quiet streets, along some of the most beautiful Victorian houses.
 I finally arrive close to Little Venice and the canal. It's a bit tight to go to the Quince Tree at Clifton Nurseries as they close at 5pm on a Sunday, so I go to my other favourite in the area: Cafe Laville. I don't find it very welcoming and the food is average if I'm honest but it's good enough for a tea and a cake, and the view over the canal is just perfect.
I keep the rest to myself. Nothing much to blog about but if you want to follow this itinerary, it's an easy and really good one to enjoy a "Perfect Saturday in London.