Go for brunch in London is basically the best way to start any weekend. I think pretty much all Londoners would agree with that. London is full of amazing places for breakfast and brunch but some of them are slightly more special.
The places listed below all have in common:
– A classic brunch menu
– Varied choices to fit any tastes and types of diet
– Cosy vibes to start the day off right
– Affordable prices
My favorite places for brunch in London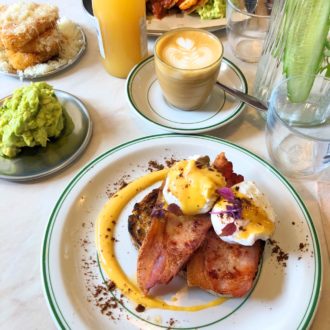 Milk has been in my top places for brunch in London since the very start, so 7 years ago. The place never disappointed me and I love going there with friends or on my own for delicious brunch and a cosy Australian vibes. Also a big fan of their sister place in Tooting.
Milk Cafe – Balham
20, Balham, Bedford Hill, London SW12 9RG
Balham
Milk Teeth – Tooting
110 Mitcham Rd, Tooting, London SW17 9NG
Tooting Broadway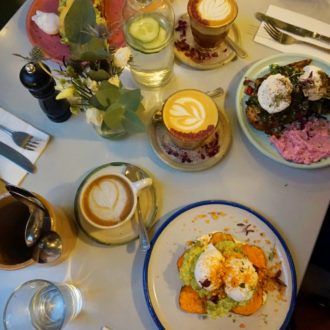 Do I really need to explain who Farm Girl is? If you have started to make searches for the best places for brunch in London, this might have come up many times. Their food is as good as it looks. Both places in Notting Hill and Chelsea are gorgeous. A bit girly but the food is so good it will satisfy everyone.
Farm Girl – Notting Hill
 59A Portobello Rd, London W11 3DB

Notting Hill Gate
Farm Girl – Chelsea
9 Park Walk, Chelsea, London SW10 0AJ
Earls Court / Gloucester Road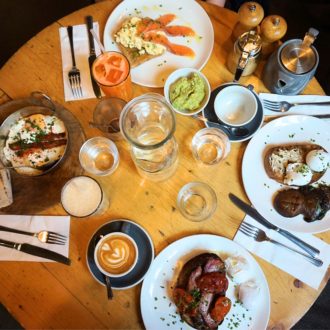 An other London classic which, thankfully, open more places the last few years, which mean it's never been so easy to get a table. The food is great, from classics to more elaborated dishes, and their coffee is one of the best in London. The original place is still in Exmouth market but you can now find them at King's cross, Soho and London Bridge.
Caravan King's cross (I only put this one as it's the biggest one and also convenient near the train station but find them all on their website)
1 Granary Square, Kings Cross, London N1C 4AA
King's Cross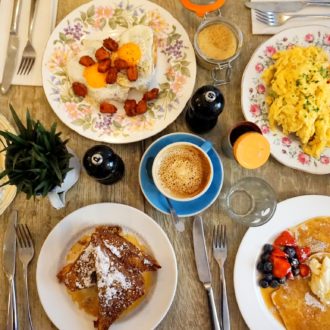 An other London classic which I always recommend when people want something classic but still cool and cute. It's also located in the heart of the cutest hidden streets of Notting Hill, 1 minute away from the station, which can only help to like it. If you love eggs, you're going to love this place!
Eggbreak – Notting Hill
30 Uxbridge St, Kensington, London W8 7TA
Notting Hill Gate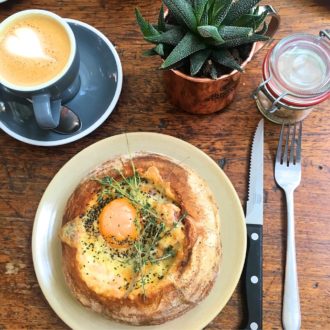 Moving to East, near De Beauvoir, one of the coolest part of London, and, by the canal. That's a good start. This place is well known for their "breakfast in bread", which is basically food cooked in bread, as per the picture. You better be gluten tolerant but don't worry if not, they do have other options and serve great food in a great atmosphere.
Barge House
46a De Beauvoir Cres, De Beauvoir Town, London N1 5RY
Haggerston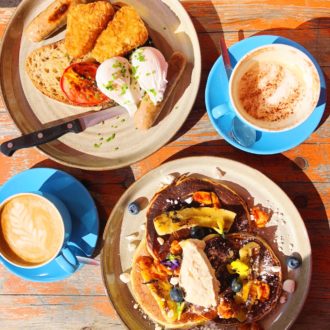 Going back south in this local gem well known from the Clapham Junction crowd. Not ideal if you only come for the weekend or on a touristic weekend but if you happen to be around, I can only recommend it. Also great to embrace a real local London vibe. It's so good a new place opened in Earlsfield too.
Ben's Canteen – Clapham Junction
140 St John's Hill, Battersea, London SW11 1SL
Clapham Junction
Ben's Canteen – Earlsfield
422 Garratt Ln, Earlsfield, London SW18 4HW
Earlsfield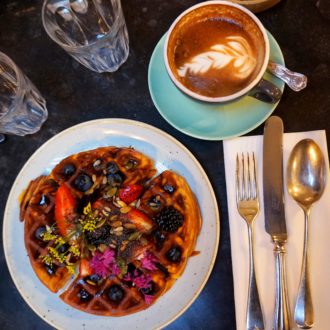 Pachamama is an excellent Peruvian restaurant like there are a few in London, except this one offers an amazing brunch menu. Especially nice if you feel like a change from the classic Australian / Kiwi / British versions of traditional brunch places.
Pachamama
18 Thayer Street, London W1U 3JY
Bond Street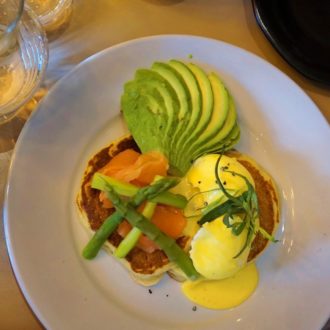 Le nom de cette adresse est assez explicite. Spécialisés dans les pancakes, vous en trouverez pour tous les goûts et tous les styles, sucrées ou salées. Il y a aussi de nombreuses options végétariennes et Vegan. Super adresse située dans le centre, tout près de London Bridge et Borough Market.
Where the Pancakes Are 
Arch 35a, 85a Southwark Bridge Rd, London SE1 0NQ
London Bride ou Borough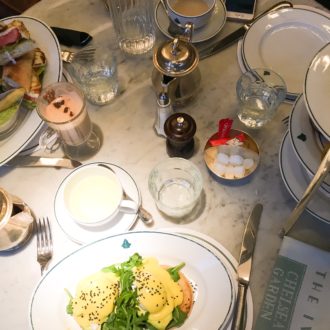 Ambiance plutôt classe dans cette brasserie chic connue de l'ouest mais qui est désormais aux quatre coins de Londres. Le lieu peut-être un peu snob selon le jour où vous y allez ou l'humeur des réceptionnistes, mais il faut bien reconnaître qu'il est aussi très beau et agréable et la carte étonnamment abordable. Celui de Chelsea (Le Ivy Chelsea Garden – dont j'ai déjà parlé sur le blog il y a quelques années) est particulièrement beau, avec un jardin secret sublime, dans lequel il vaut mieux réserver à l'avance.
Ivy Chelsea Garden
197 King's Rd, London SW3 5EQ
Sloane Square
Autres adresses à Wimbledon, Tower Bridge, King's Cross, Covent Garden, Liverpool Street
Brickwood Coffee and Bread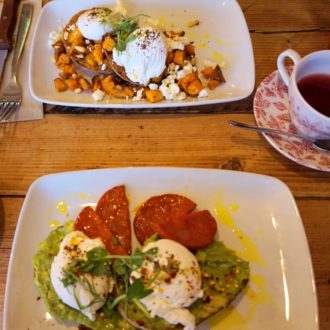 Ambiance relax, cool et cosy, dans ces cafés australiens du sud de Londres. La plupart des plats sont disposés sur une tranche de pain de campagne . La musique tourne à fond, et surtout, l'idée est de passer un moment relax. Leur café est excellent aussi, comme dans la plupart des cafés australiens de Londres.
3 adresses dans le sud de Londres: Clapham Common, Balham et Tooting. Ci dessous l'adresse de Clapham, la plus connue.
Brickwood Coffee and Bread
16 Clapham Common South Side, London SW4 7AB
Clapham Common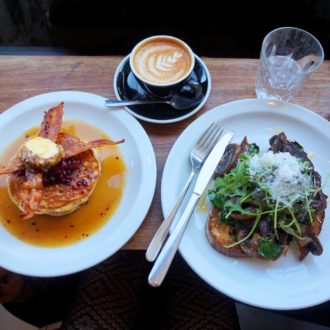 Sunday, c'est le genre de petite pépite londonienne qui ne s'expose pas trop, qui semble un peu cachée, qui ne fait pas vraiment d'efforts particuliers sur sa décoration ou son "potential instagrammable" mais qui n'a pas besoin tellement son menu est top et ses plats excellents. Les vrais connaisseurs de bonnes adresses et de bon brunchs à Londres connaîtront forcément.
Sunday
169 Hemingford Rd, London N1 1DA
Caledonian Road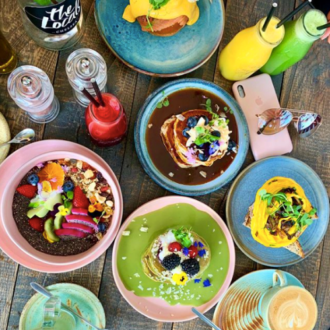 Ma dernière addition sur cette liste. Ce café a tout compris: Un espace spacieux et lumineux, des plats originaux mais en conservant les classiques d'un brunch londonien réussi, et surtout, préparés avec soin et de façon particulièrement visuelle. Pour la génération Instagram que nous sommes, c'est un sans faute. Vous aimerez même si vous n'êtes pas sur les réseaux sociaux.
The Locals Cafe
8 Gatliff Rd, London SW1W 8DT
Sloane Square