Yoga has become a huge part of my London balance. It's a bit like a Tree pose, one leg down for the grounding, one leg up for the challenges and the action. I started a few years and fell in love with it to the point that I joined a Yoga Teacher Training and I'm now a fully qualified Yoga Teacher. Even though I have a more "yogi" vision of things now, I still enjoy alternating between proper yoga studios and classes in London and a less serious class (but still strong!), doing yoga with a view over our beautiful city.
London has a yoga class for every style and every level. Here are some of my favourites.
PS: If you want to give it a go for free, you can use my Refer a Friend code with Classpass just below and you get £40 credit which is about 3/4 classes a month! (It's not sponsored, I just really love the app!)
My favourite yoga studios and classes in London
Triyoga
Camden, Chelsea, Ealing, Soho, Shoreditch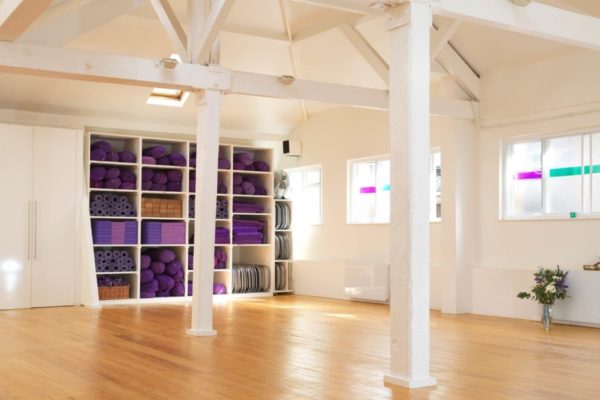 Triyoga are some of the most famous yoga studios in London. I would stay they are a reference if you want to practice "real / traditional" yoga with experienced teachers. They offer varied types of styles of classes such as Vinyasa, Power, Hatha but also Kundalini, Dharma or more specific classes. Not cheap but the studios are gorgeous and the quality of teaching always amazing.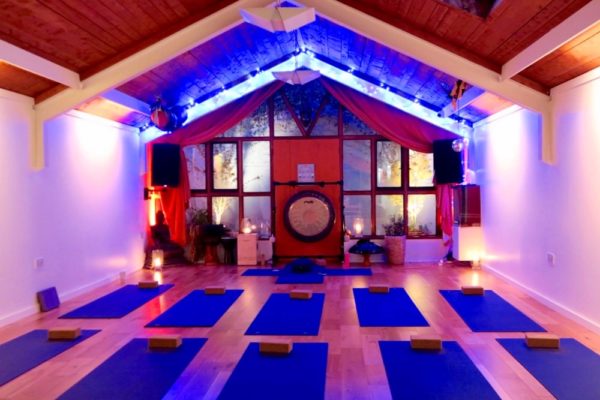 Battersea Yoga is for sure one of my favourite yoga studios and classes in London. Located a few steps away from Battersea Park, in a hidden courtyard, it will immediately make you feel in peace. The classes are varied and great, only taught by passionate and experienced teachers.  It's probably the more "yogi studio" of the whole list, beautifully decorated with a gong, which is sometimes used to end a class. If you're a regular into yoga or want to find out more about a more authentic yoga class experience, you will love it.
More Yoga
Everywhere in London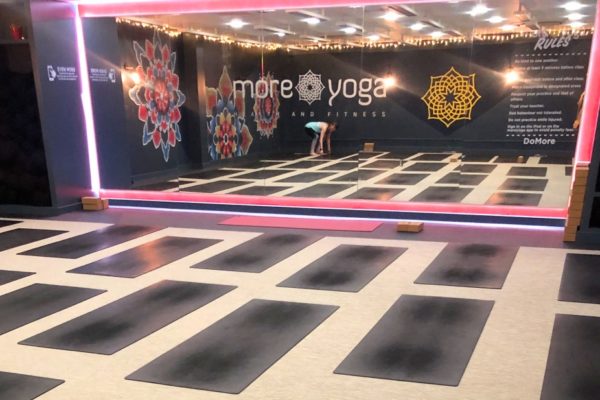 More Yoga are conquering London with lots of studios opening all over the city. They offer the cheapest yoga classes in London and the quality of teaching is still great. They have an intro offer at £15 for 20 days unlimited which I can only recommend. That's great if you need to practice intensively or just want to get a feel with the practice.
Oyogo – Outdoor yoga
Battersea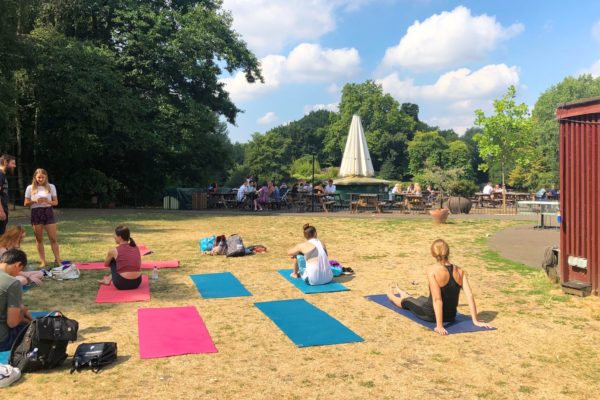 I found out about Oyogo last summer, randomly, and loved their concept: Offering outdoor yoga classes. They are currently based in Battersea Park, by The Pear Tree Cafe, (An other lovely London gem) and offer morning and evening classes outside – Unless the weather decides otherwise. I think the concept might be slightly changing so keep an eye on their insta if you're interested.
Fat Buddha Yoga
Bank, Old Street and Dalston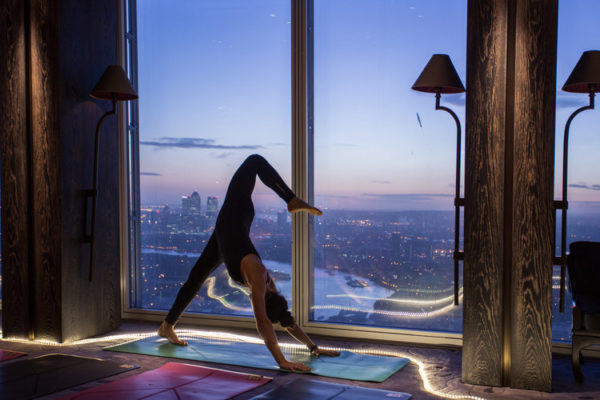 Fat Buddha Yoga is the cool kid of the list. Founded by Jessica Skye, a Yoga Teacher by Day and DJ by night, they offer a modern approach to yoga. The classes take place in cool and unique places (Mostly on rooftops with a view) and the music is a unique playlist composed by the founder herself. The experience is always a bit different than traditional and strict yoga classes but that's always a one to remember. Check their website for more info and find out about their schedule.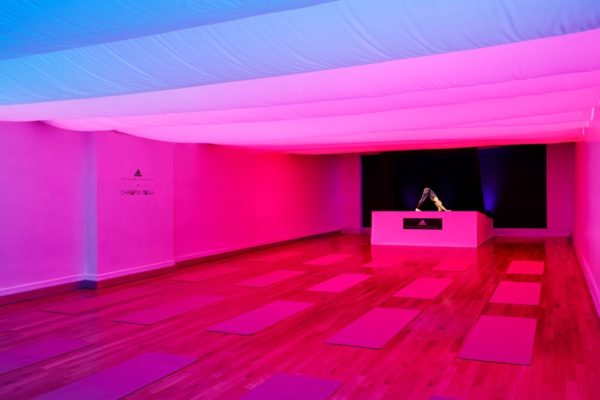 Talking about unique experiences, this is surely one of the best ones. I have only been a few times as not close to where I live but there's nothing better than a pink Chroma Yoga restorative class on a grey winter day. Those guys use the energy and power of colours to create unique classes and experiences. Rose is relaxing, Red is dynamic, Blue and Yellow will fit better for a flow. You get the idea. It's great and you have to try and experience it to really understand.
Yoga by the sunrise at the Sky Garden
Bank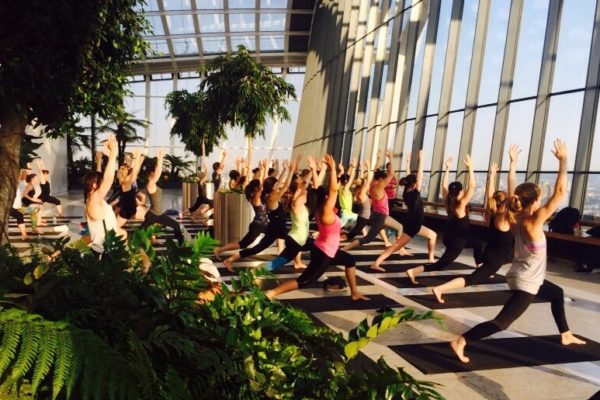 Photo: www.designmynight.com
Of course London had to have yoga classes by the sunrise, at the 35th floor of a Skyscraper. I wouldn't say this is my go to class as let's be honest, it has a huge touristic dimension but I had to have it in a list of yoga studios and classes in London. Where else would you be able to flow, breathe in and breathe out with a view over the WHOLE city? The classes are good too, mostly a standard Vinyasa flow taught by experienced teachers. What a way to start any day right?
Yoga at the National History Museum
South Kensington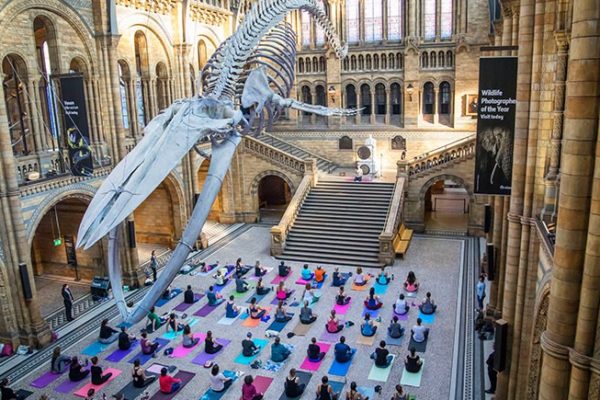 An other experience in a very unique place. Moving back to the ground, surrounded by species from the past, at the National History Museum. The level of energies is incredible and the themes are always very specific and "very yogi": Gong Bath, Kundalini yoga, Full Moon yoga, if you enjoy a very spiritual and more authentic experience, that's surely one to try.
Other studios I love
Everywhere in London
Yogahaven (Clapham & Richmond)
Frame (Soho)
InDaba Yoga (Marylebone)
Hotpod Yoga (Brixton)
Yotopia (Covent Garden)
House of Yoga (Putney)
Soon – with me! (Available in English and French)