Generally, my travels rime with strolling, preferably under the sun, and preferably in cities. Those past few years, I had so much fun exploring most of the main European capitals. But surprisingly, since I've reached the « 30 mark », I have started to be more into nature, big spaces, challenging and more intense adventures. Is it called being old and boring? Or just mature? Not sure. But I do love it more and more.
But anyway, when my friend Helene suggested the idea of a 3 days weekend in Norway that would include the « Trolltunga Hike », back in January, I was in a rather positive mood, so I said yes.
New country, new challenge, international team composed of people I never met, perfect opportunity for some change.
I was happy to accept something « different » than what I would normally do and immediately started to show off a bit about it to be honest. The truth is, I had NOT IDEA of what I was putting myself into.
The last time I went for a hike, I mean, a proper hike, with hiking clothes and mountain decor and that kind of things, it was probably in the Pyrenees with my parents, i.e. before I turned 15. And I doubt very much of the intensity of it.
When I realised the level of the Norwegian hike a few weeks before, I started to worry a bit I must admit. But as I also suspected, it turned out to be one of the the best « small trip » of my life. Yes, my life!
The idea started to emerge end of January. £100 return for flights from London to Stavanger with Norwegian Airlines for the last weekend of May, which is the last bank holiday weekend. It was now or never to book such cheap flights.
Friday 26th of May, here we are, all gathered at Gatwick to Stavanger, city I had never heard of before. It's actually the 3rd biggest urban area of Norway and the 4th city in terms of population. 130 000 inhabitants. Big, big city…
The place seems to be mostly famous for the Trolltunga hike or other great spots for a hike, but hiking or not, the whole area is absolutely gorgeous.
The first night, we stayed in an Airbnb near the airport. Warm and welcoming, it was so good to wake up to that view and under that beautiful blue sky, surrounded by mountains and lakes.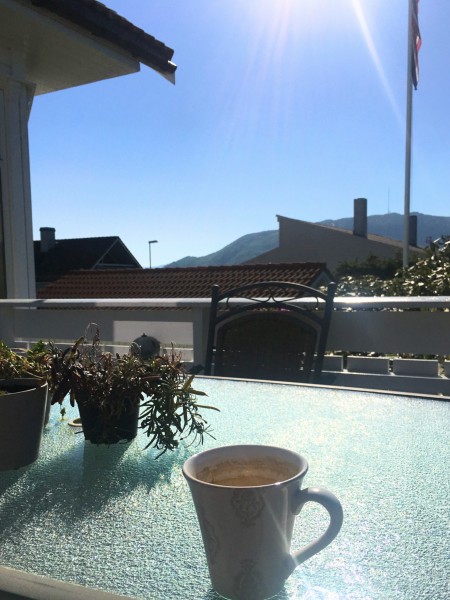 We quickly drove to Odda, the closest small city near the hike.
The day was punctuated by improvised stops by the water, picnics, insane waterfalls, Fjords, big spaces and stunning nature.
I needed to disconnect from London life following recent events. Well, this couldn't have felt better.
Norway was starting its regenerating power.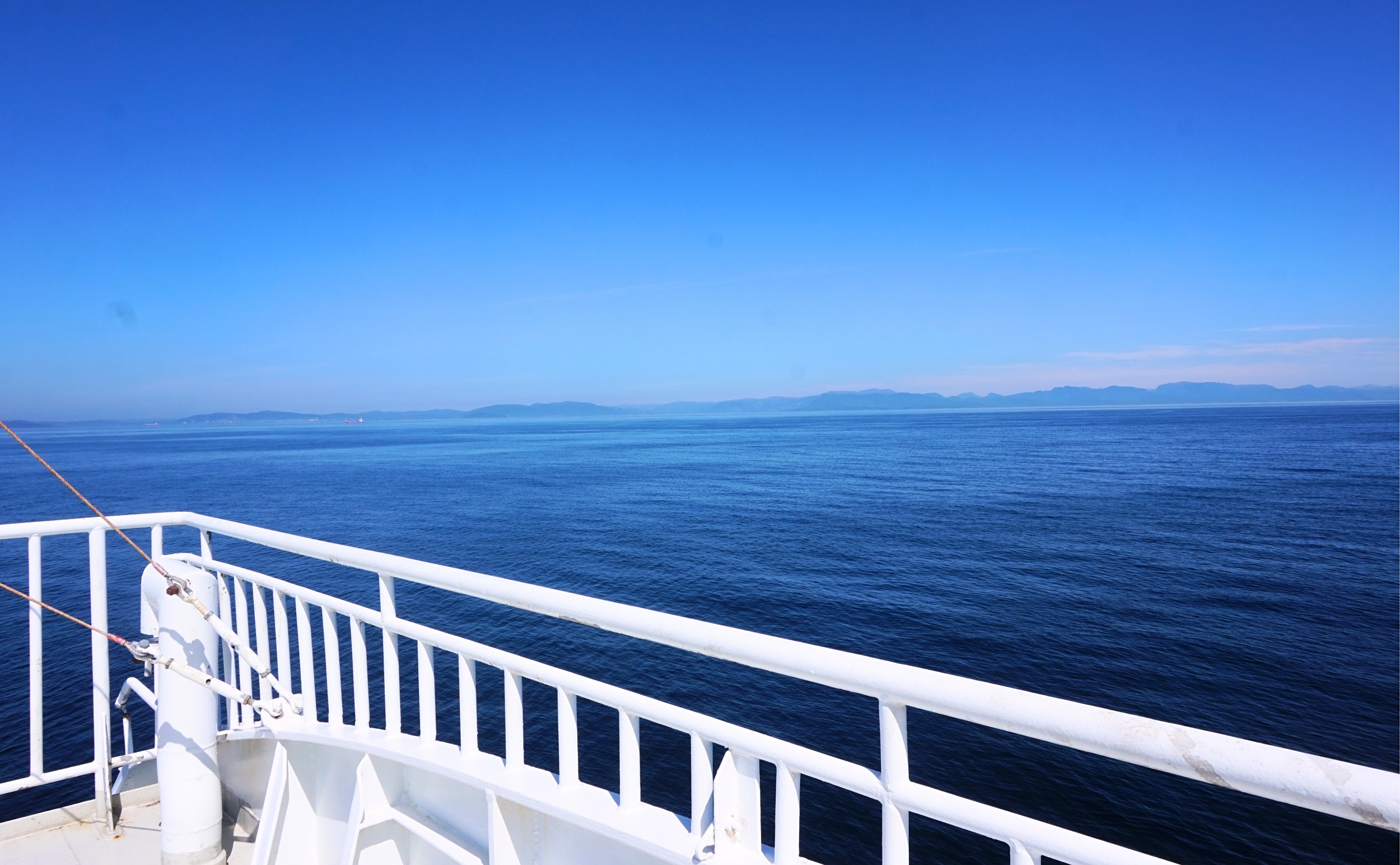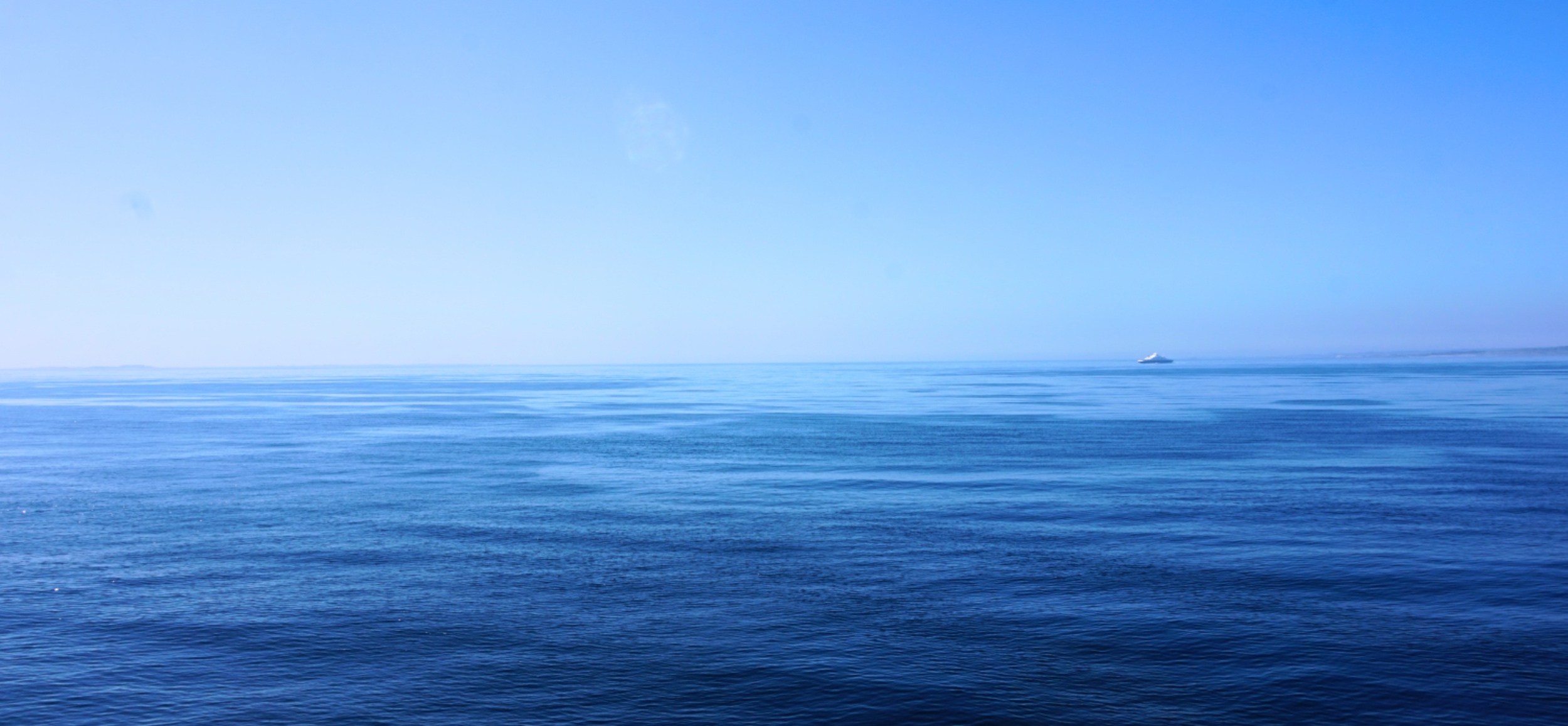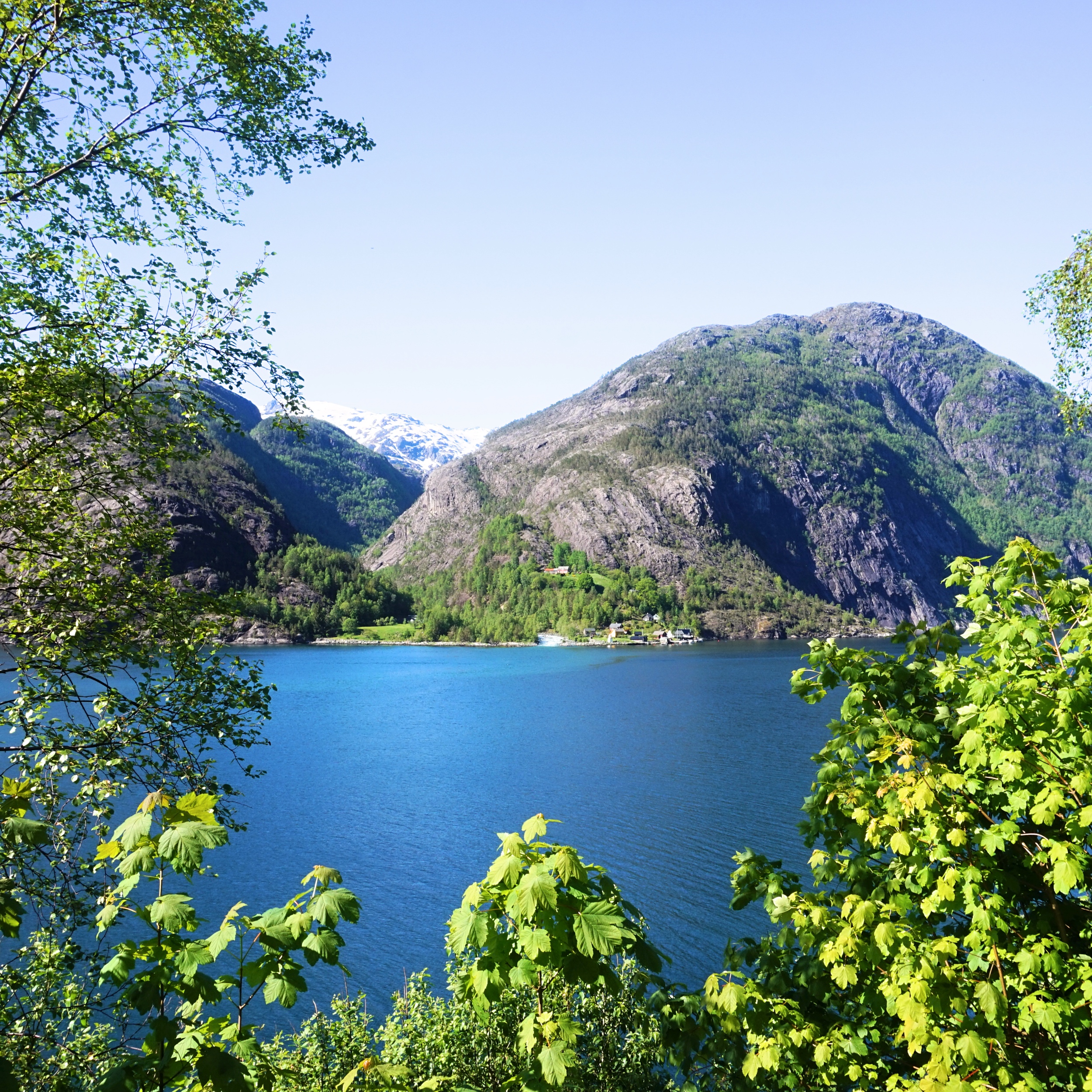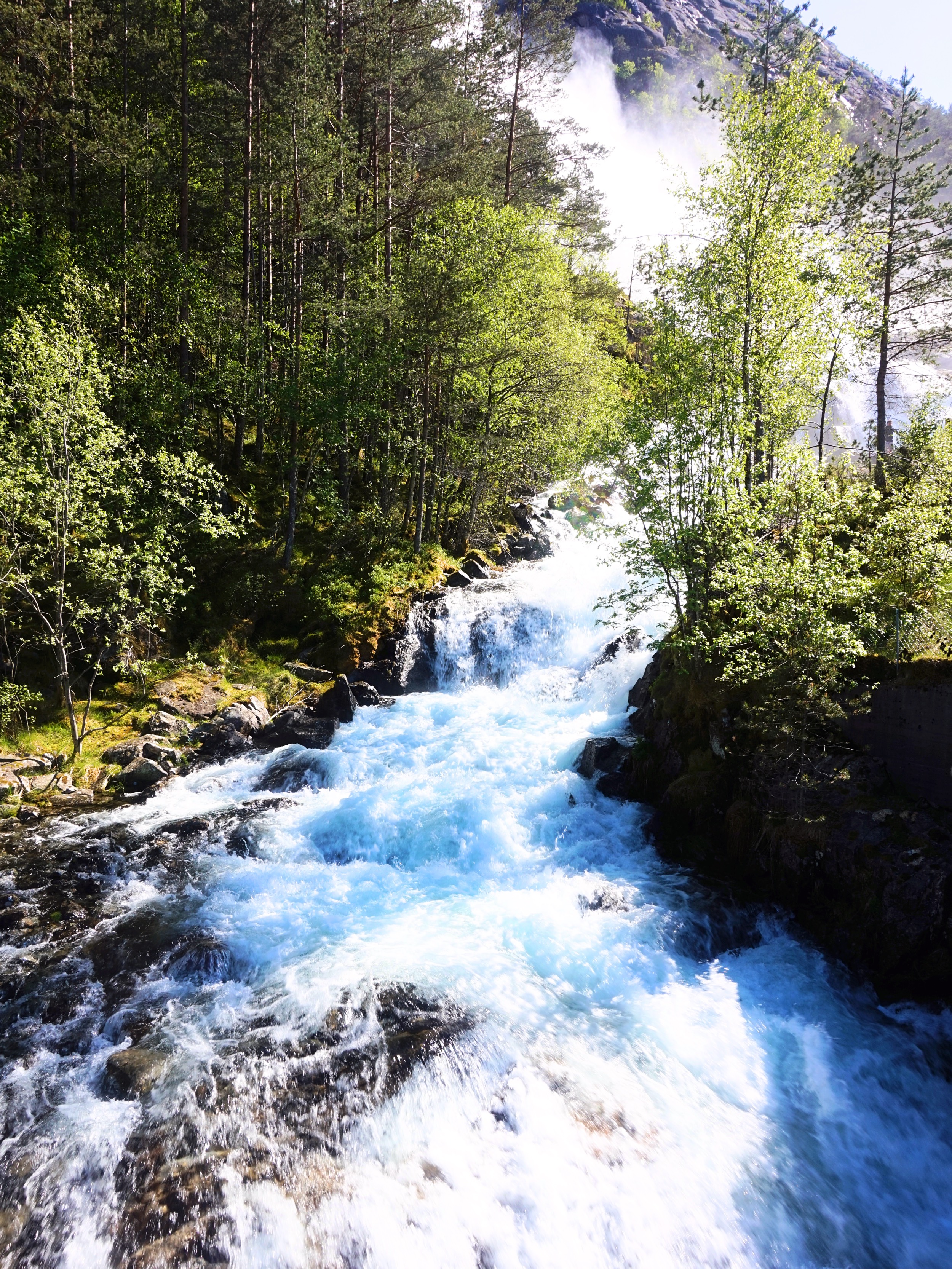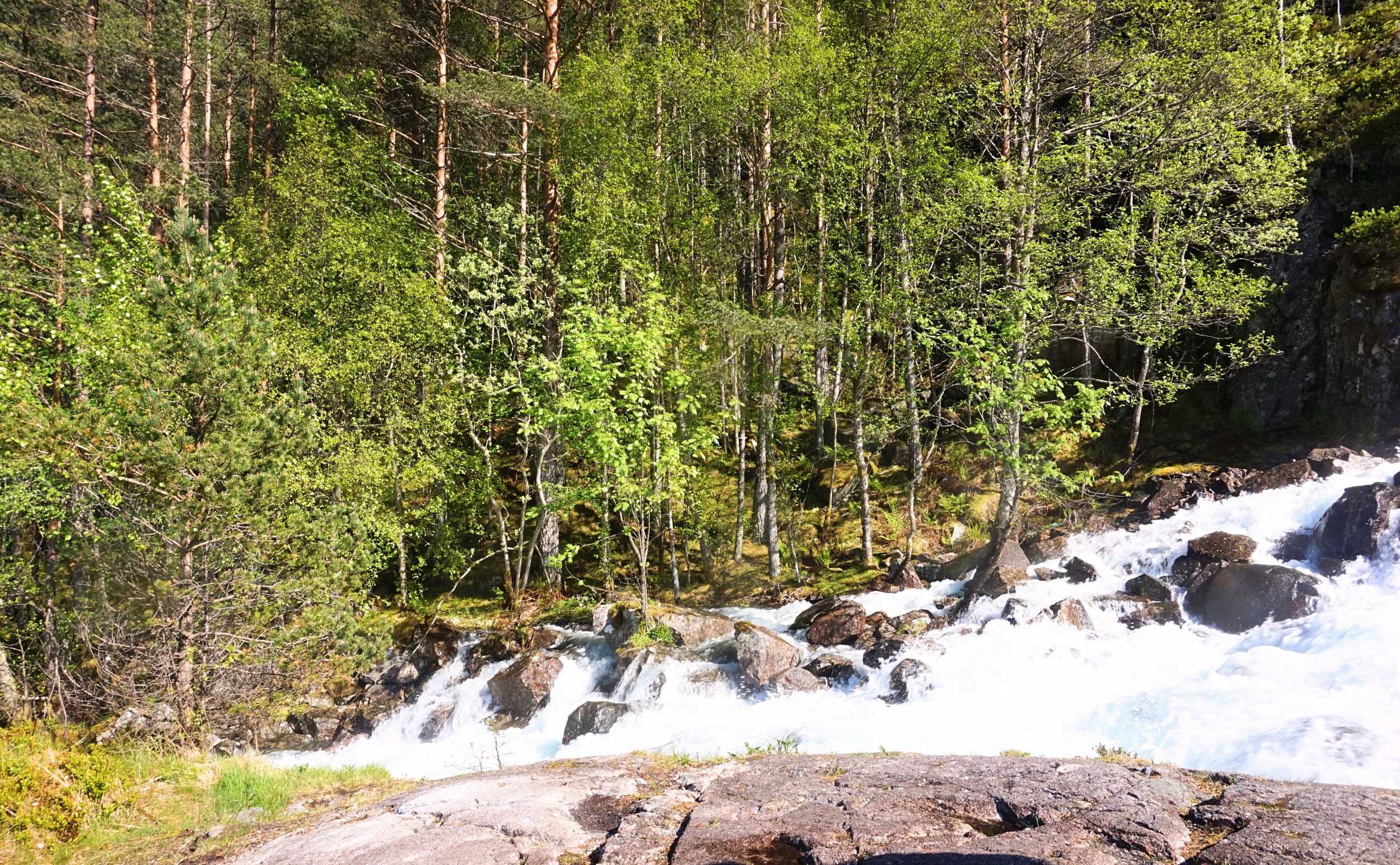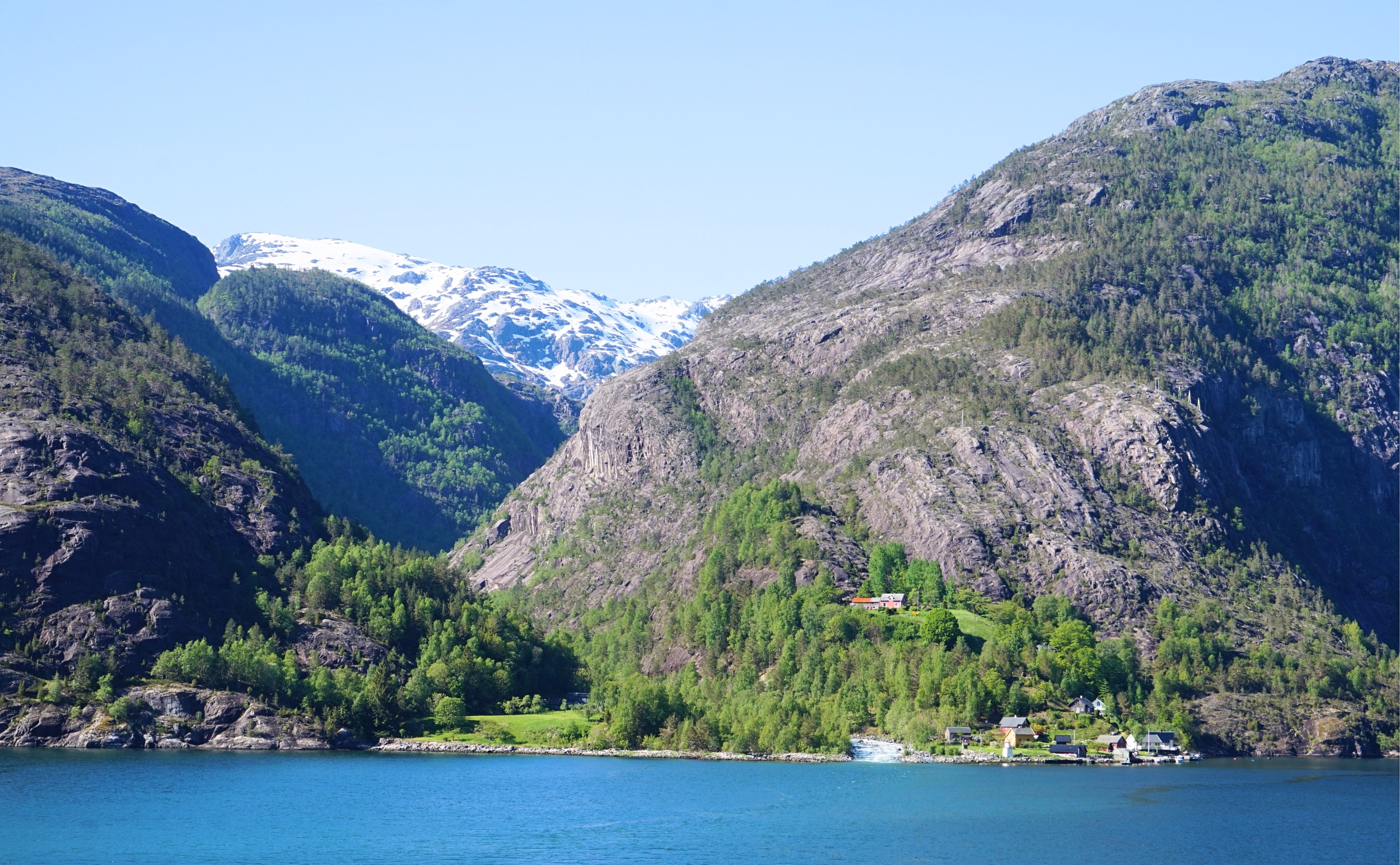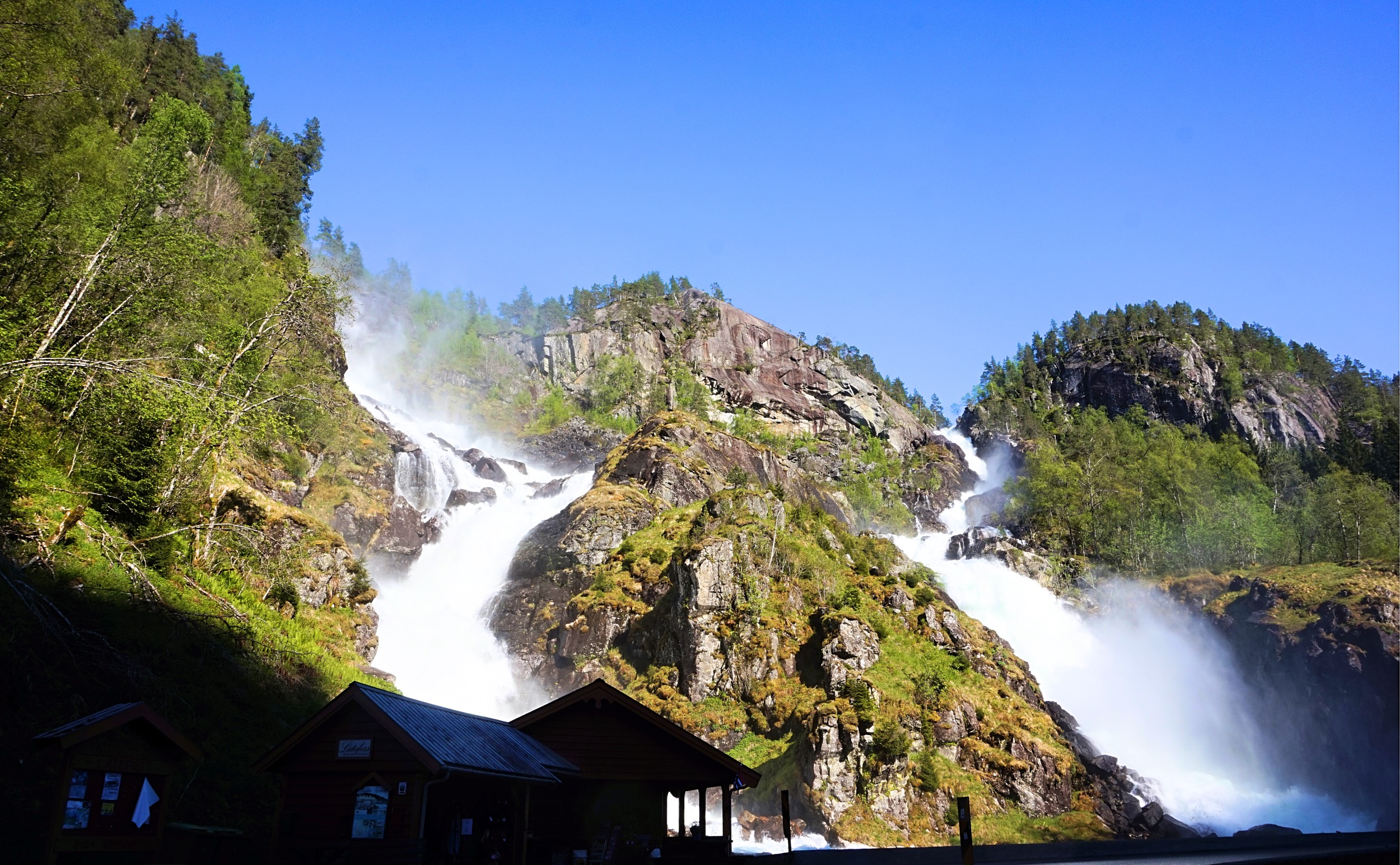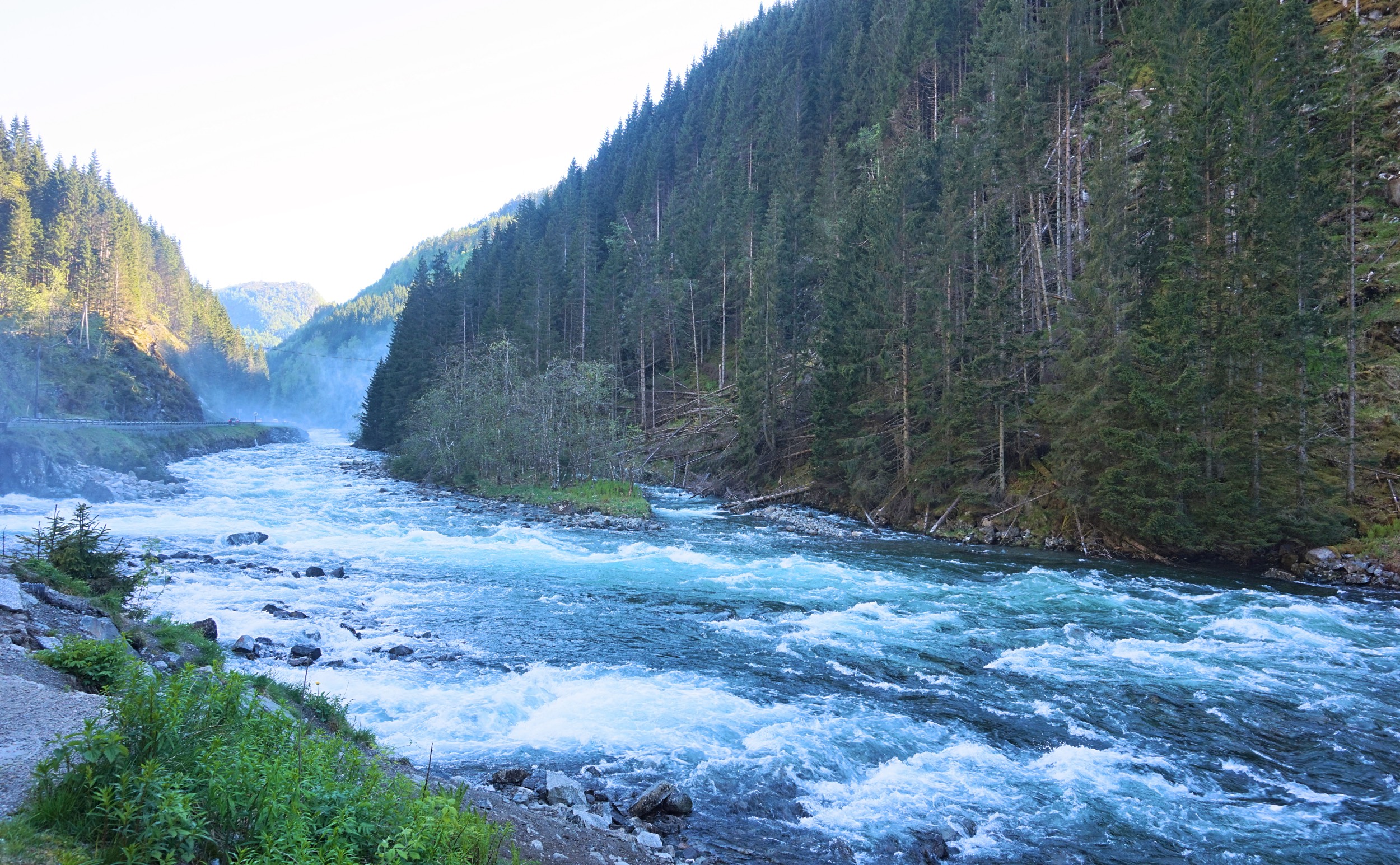 After a day exploring the area, we headed to Odda, the small town, « postal card style ». The main view by the lake with all colorful houses was splendid but the town itself pretty small. Everything was closed and we saw what we needed to see, so we decided to stop by a river, spotted form the other side of a road. Well spotted, it was a pure happy place to end that already perfect day.
Blue sky, grass, warm weather, sunset light, a few beers and great group of peep. What else could we possible ask for?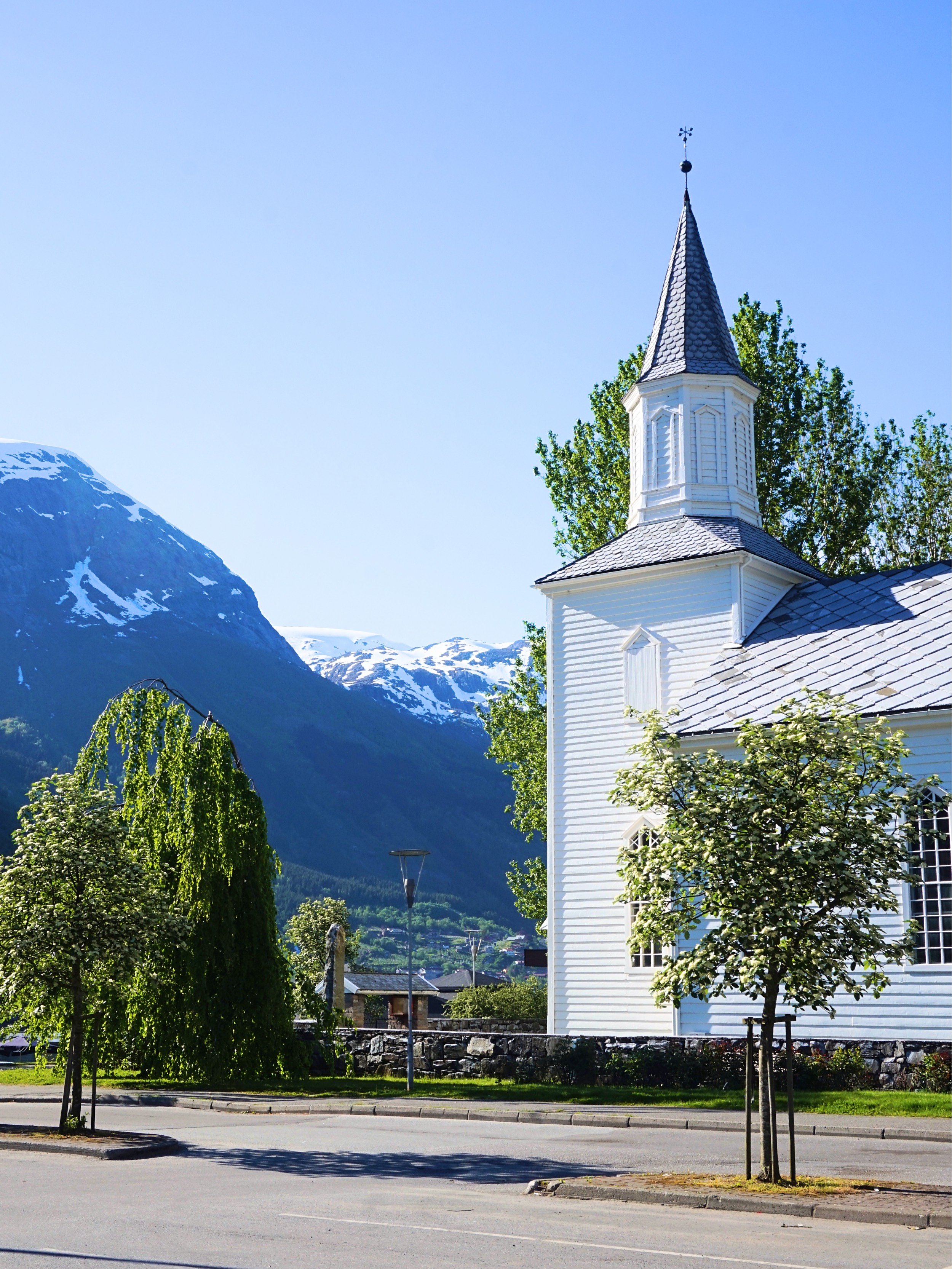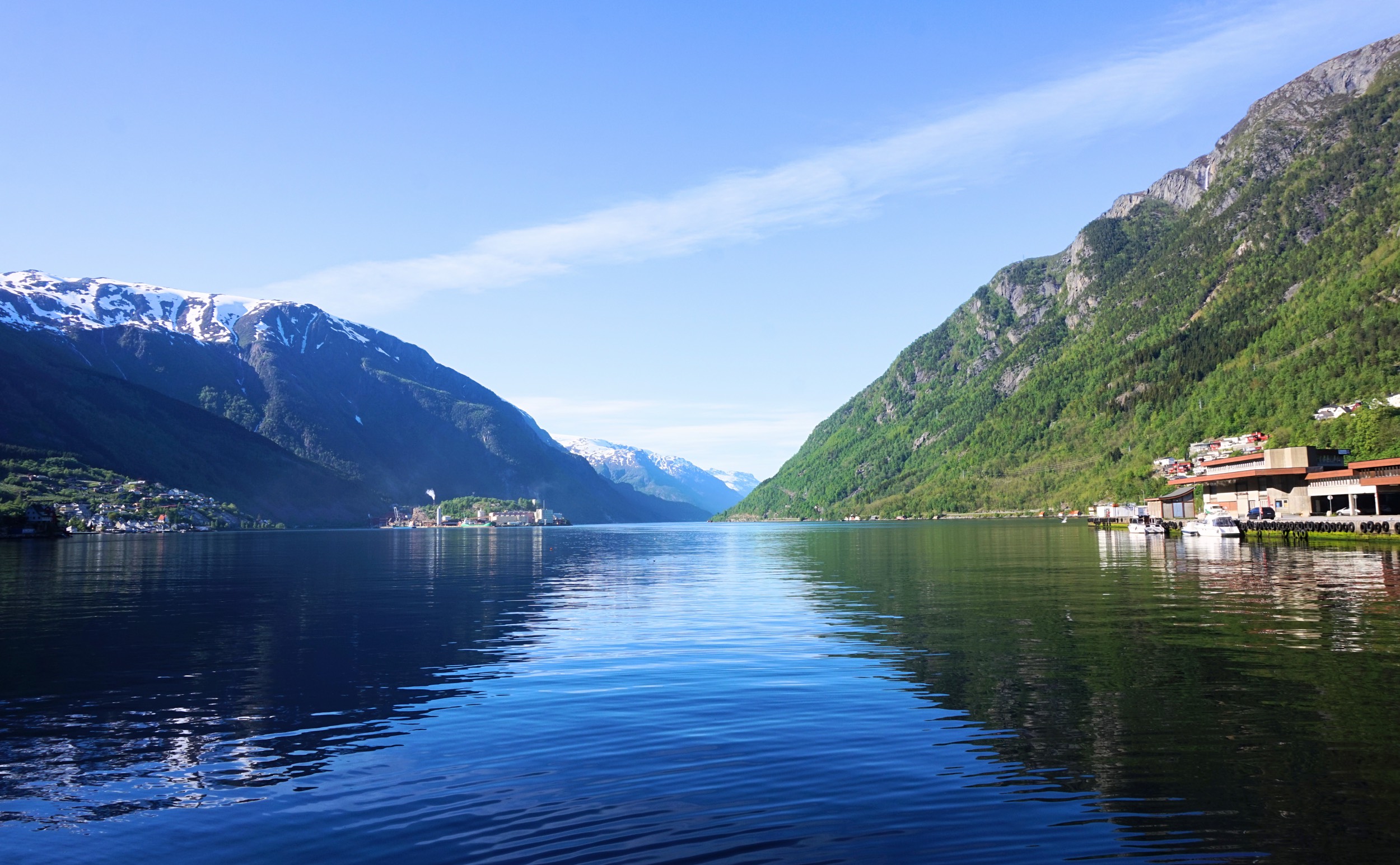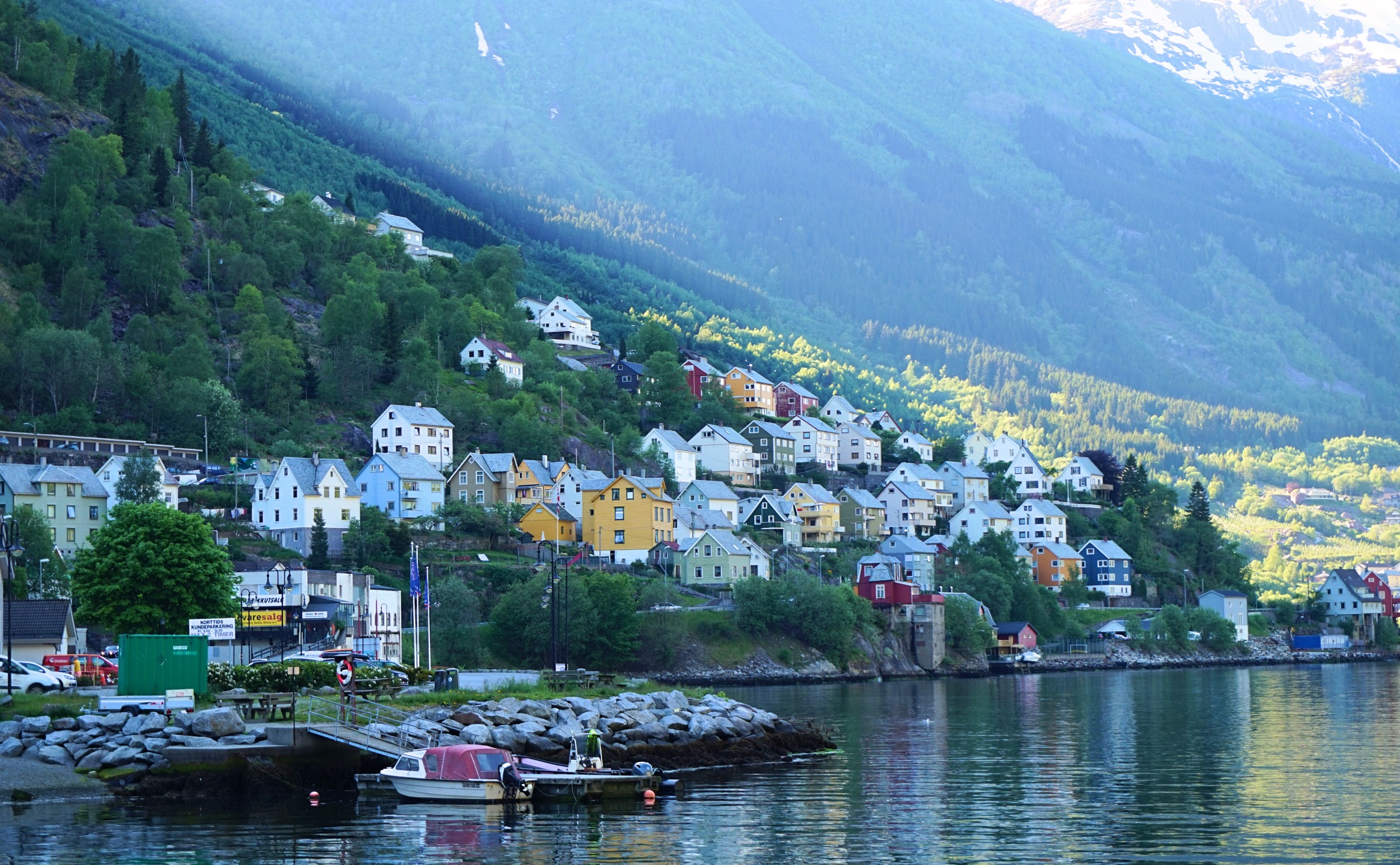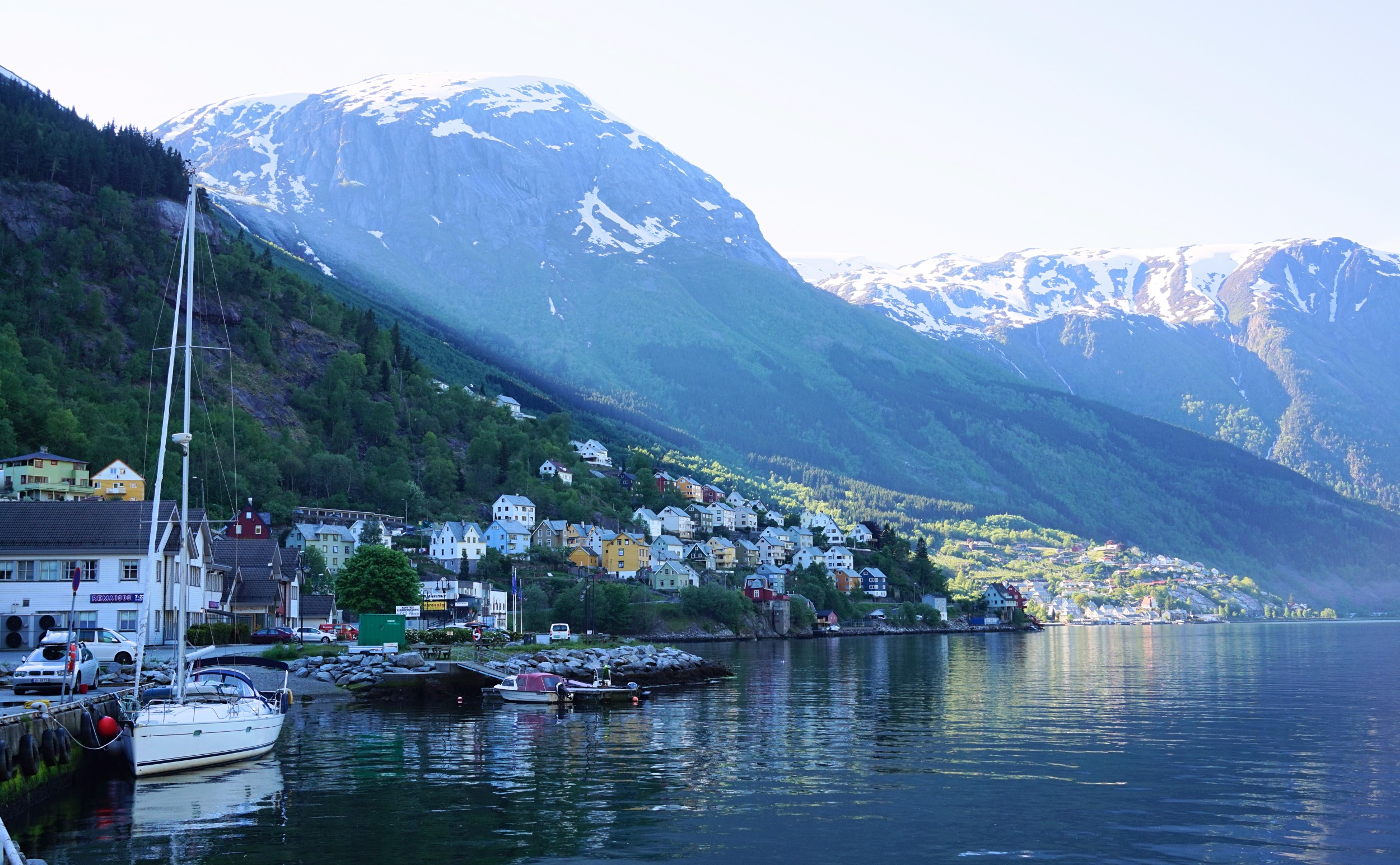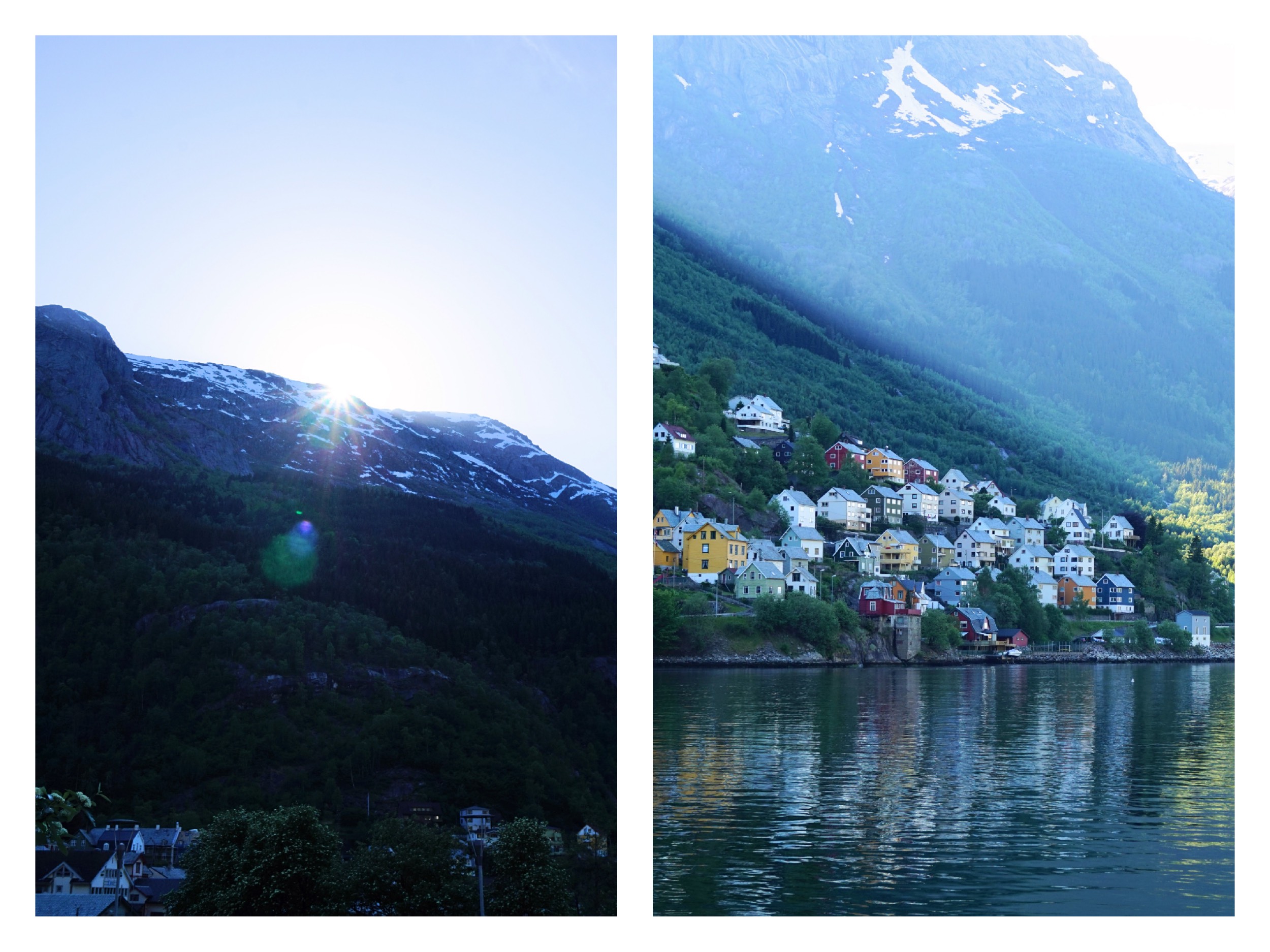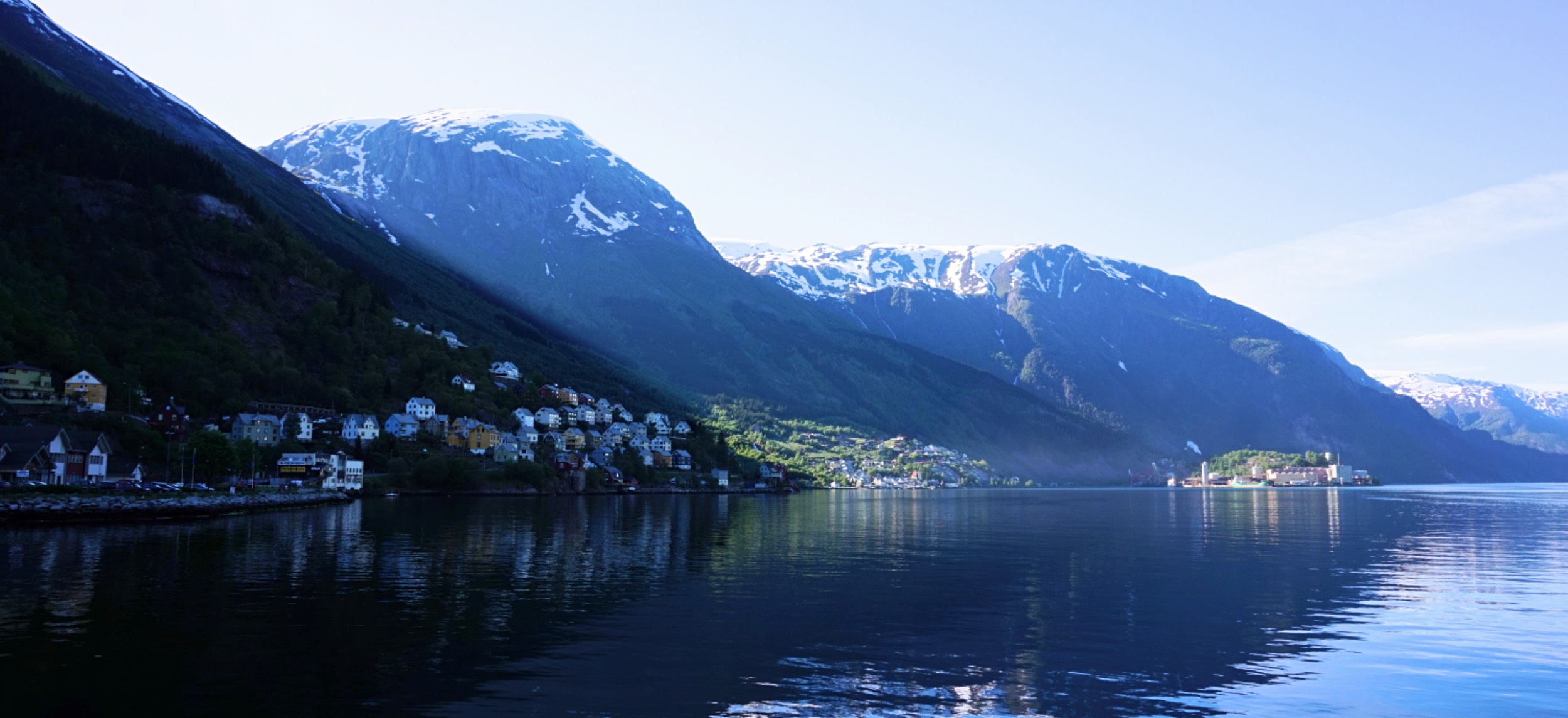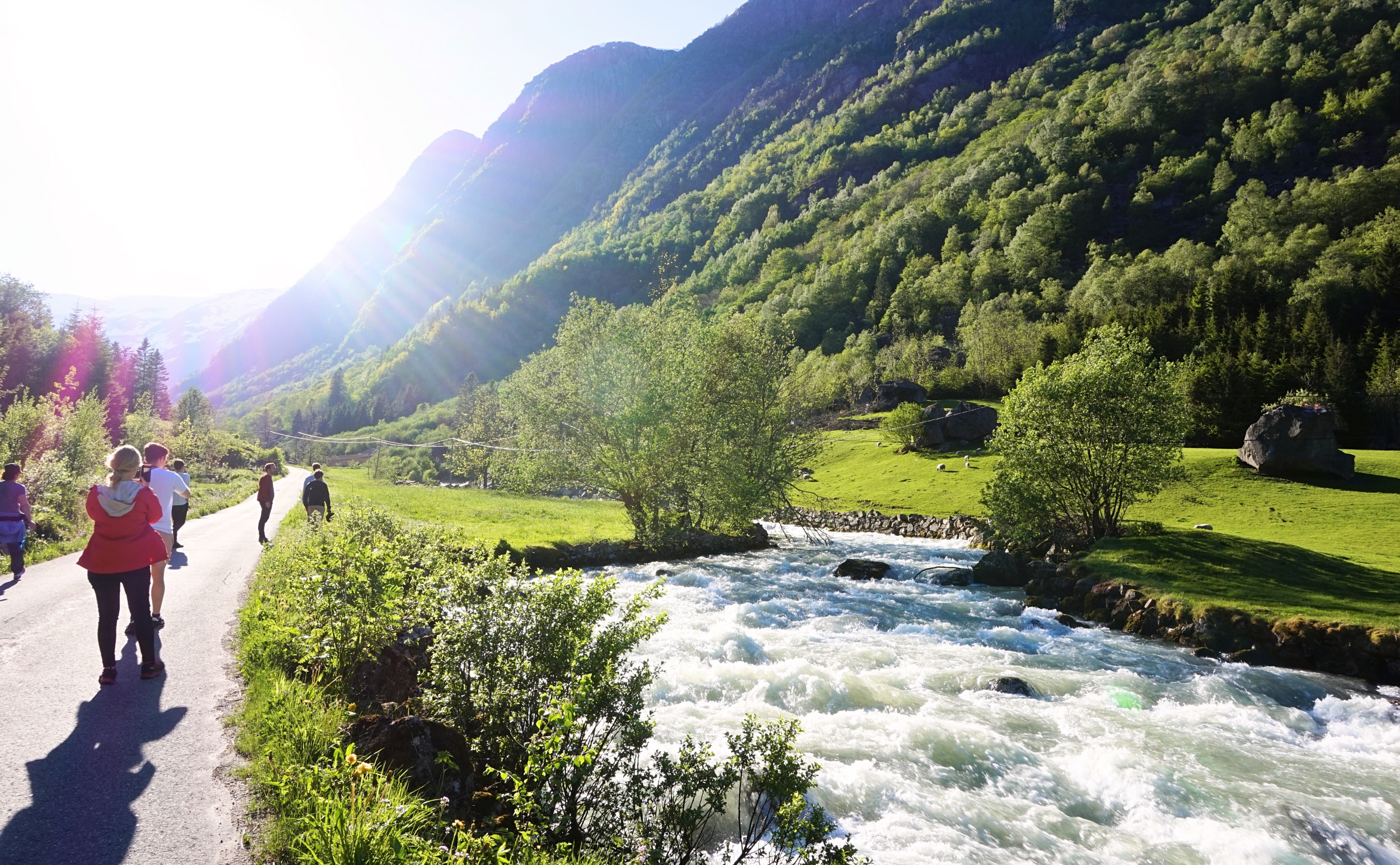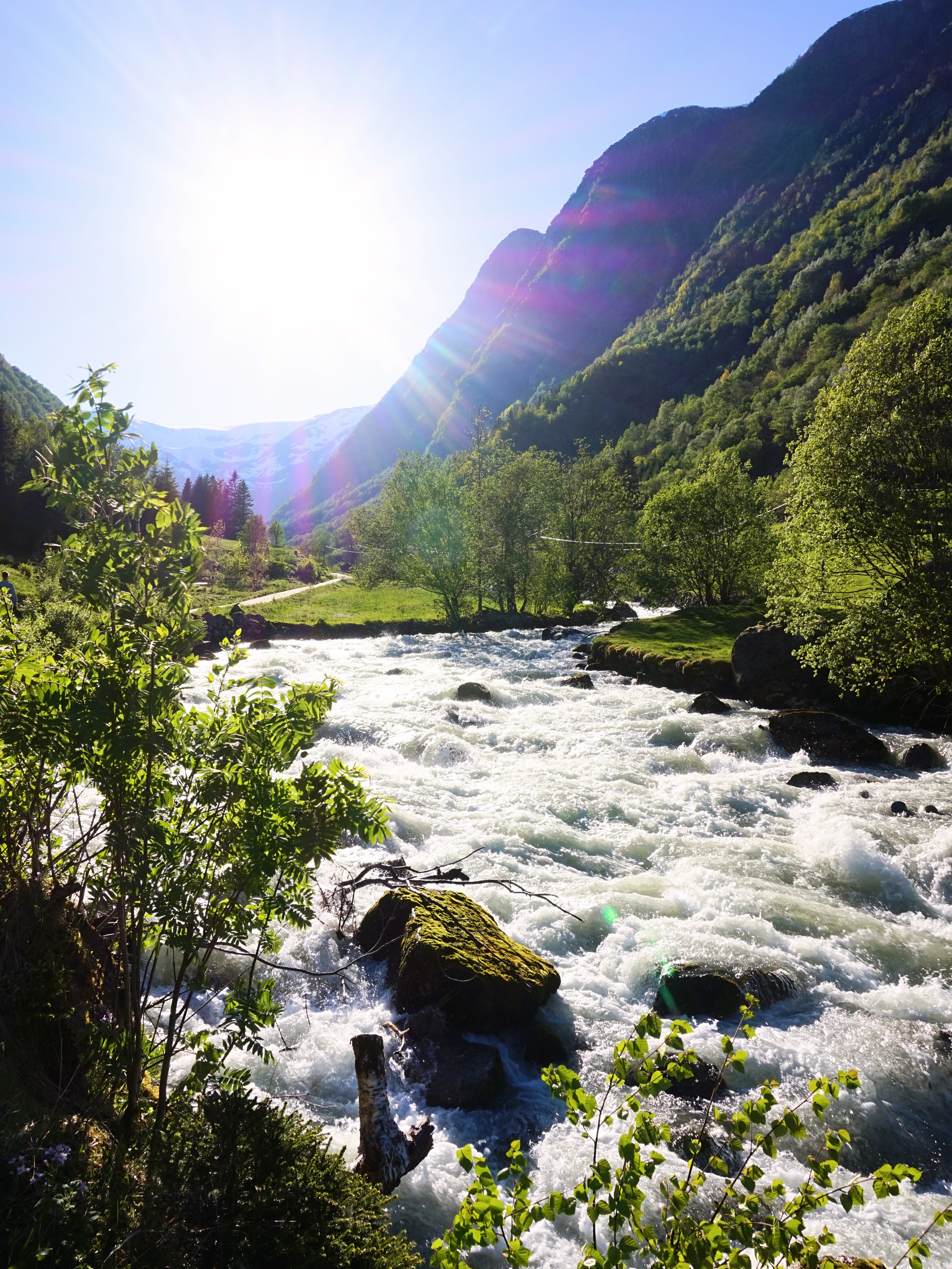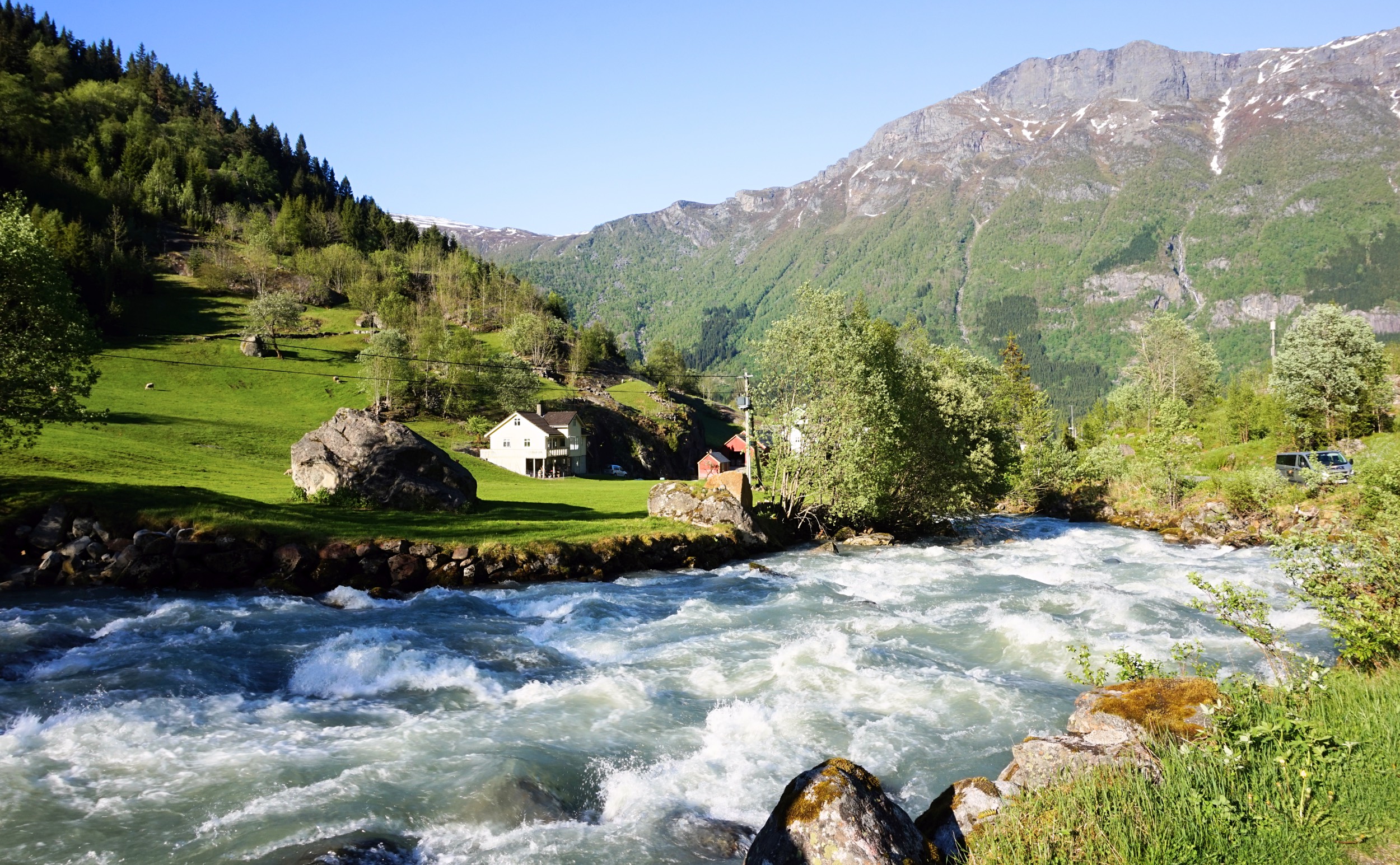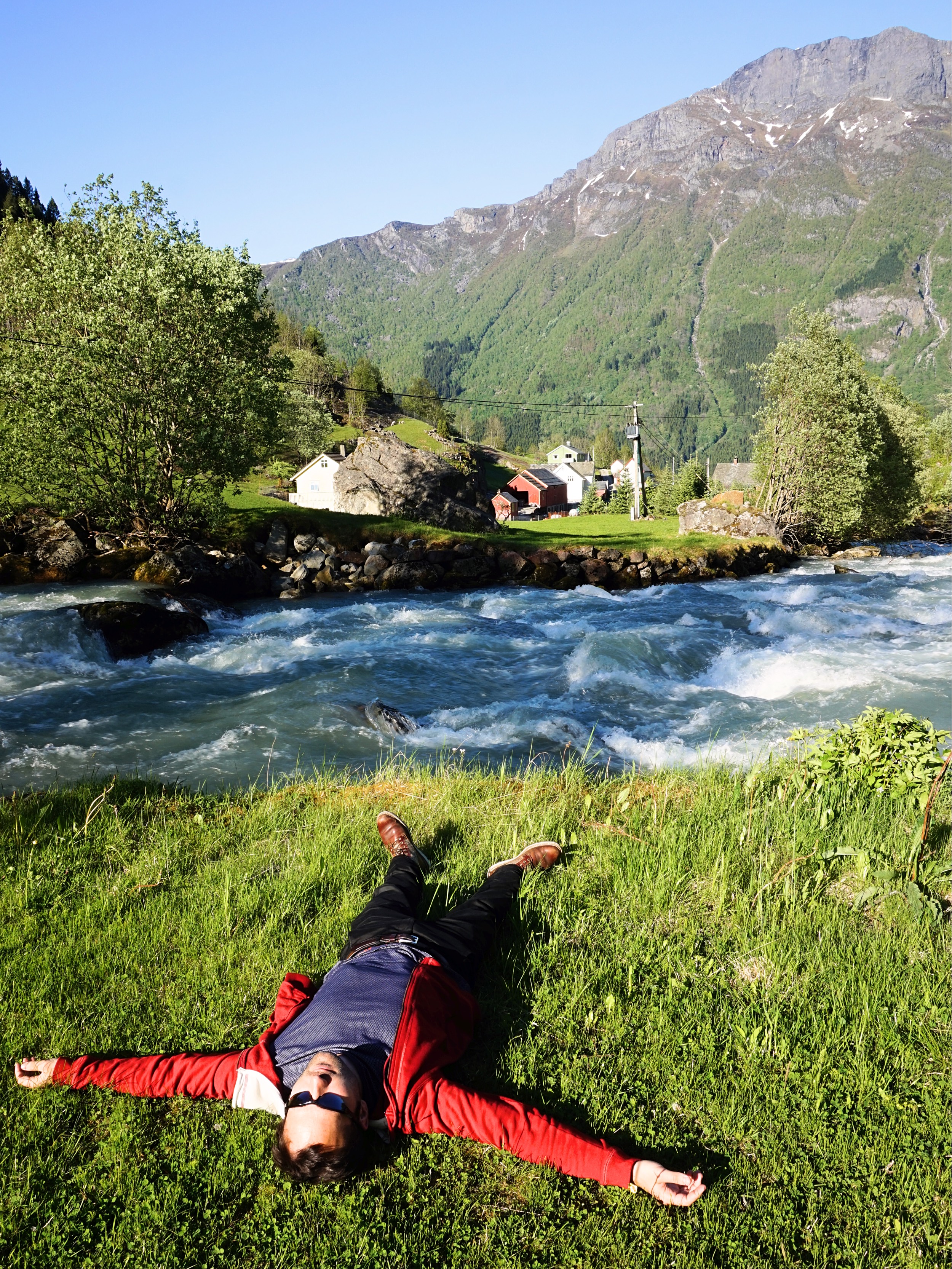 Happiness. Right Nico? ;)
The day ended with that pretty sunset by our « flat », booked so that we would be as close as possible from the hike the day after.
It was almost 11pm (yes, you read right, 11pm) and the sunset looked like this: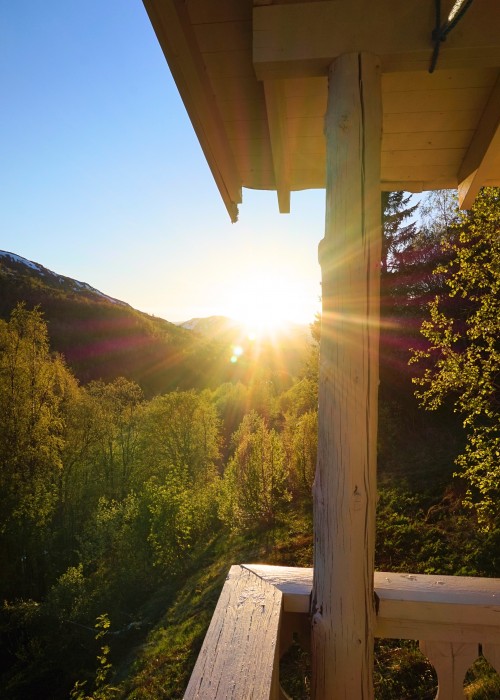 Day 2. Serious things begin.
It is recommended to start the hike as early as possible so we woke up at 6 hoping to start at 8.30 ish.
The total duration of the hike is about 8-10 hours, so the earlier the better.
My personal and recent last experience of what I called « hiking » (and I now know it was not a hike), was a « long walk » of 22 km by the Seven Sisters cliff during the Easter weekend. 22km by the white cliffs. I was rather proud of my performance to be honest so I thought that it couldn't have been that MUCH harder.
Well, it definitely was.
Especially as the Seven Sisters don't come with the heigh, steepness, rocks and snow. A. LOT. of snow.
The weeks before, my hiking buddies started to follow what was happening over there. And I wasn't. They started to read comments advising NOT to do the hike without a guide as it was still super snowy. And of course there was no guide available. But guess what happens when it's a group of 5 boys against 2 girls. OF COURSE you'll do it even if it's not advised.
This is when I started to get nervous. I started to read a few blogs, and all of them described it as a tough but fabulous hike. They all said the first kilometer was very steep and challenging and things calmed down after, all mentioned some parts were harder than others and the snow was around until at least mid of July. But they also all said that it was one of the most beautiful hike they did in their lives as travelers or professional/super good hikers.
Well, they were all right, and so were the boys to insist to do it without a guide, no matter what.
The whole day, I thanked myself for getting back into training and especially running seriously those past 6 months. I don't even want to think in which state I would have been without my new lungs. But the whole time, I was also so bloody happy to be right there at that right time.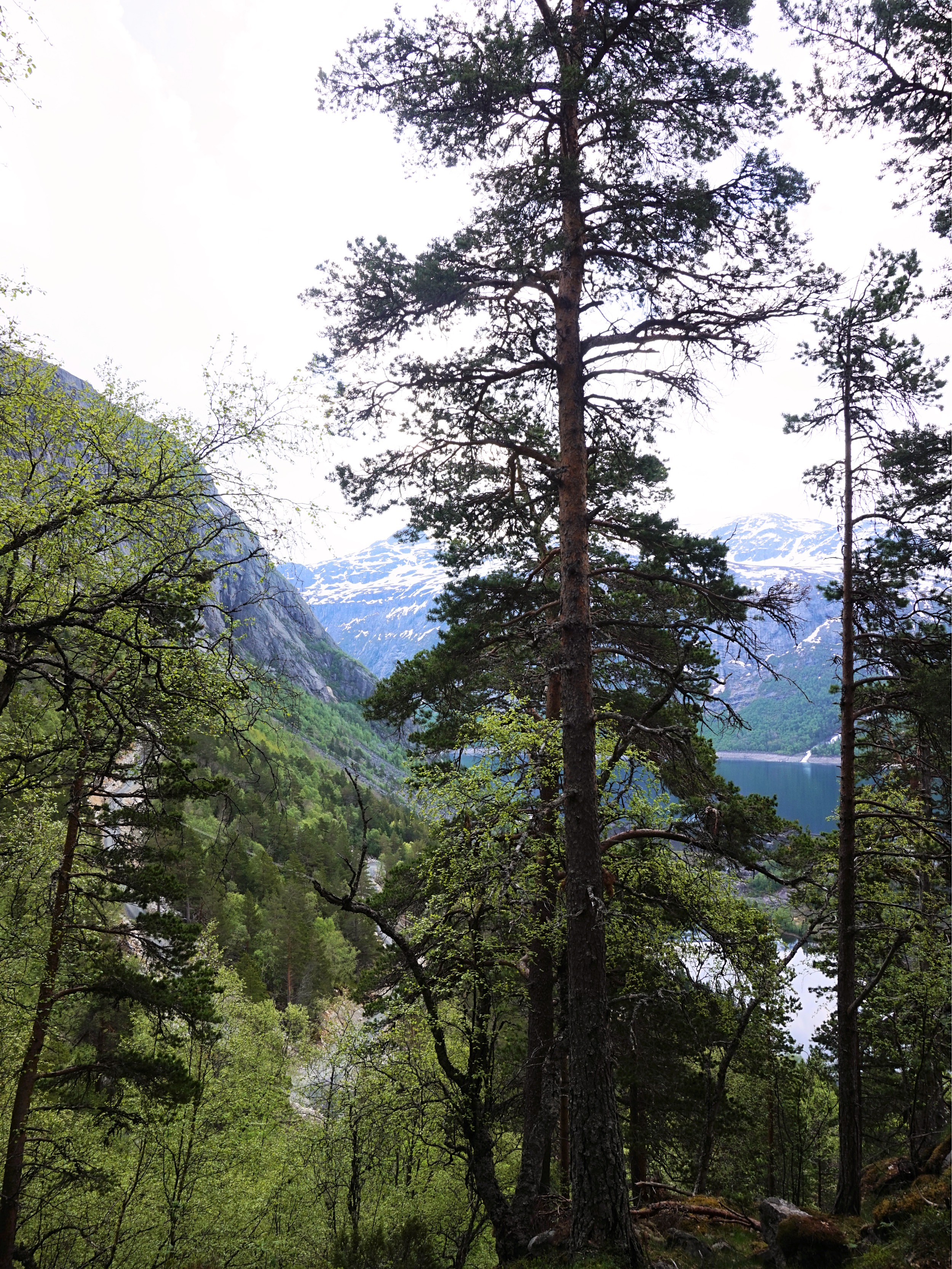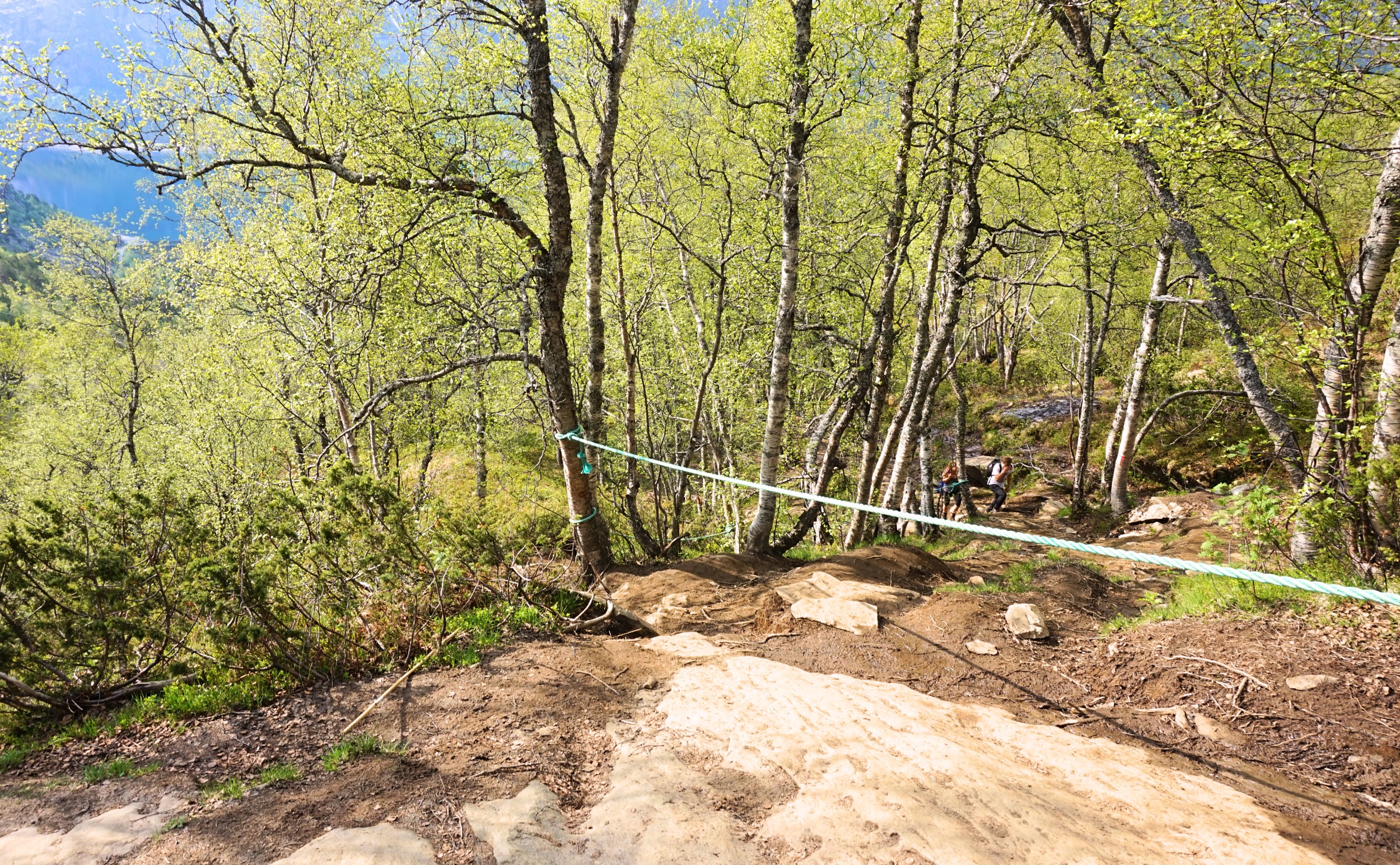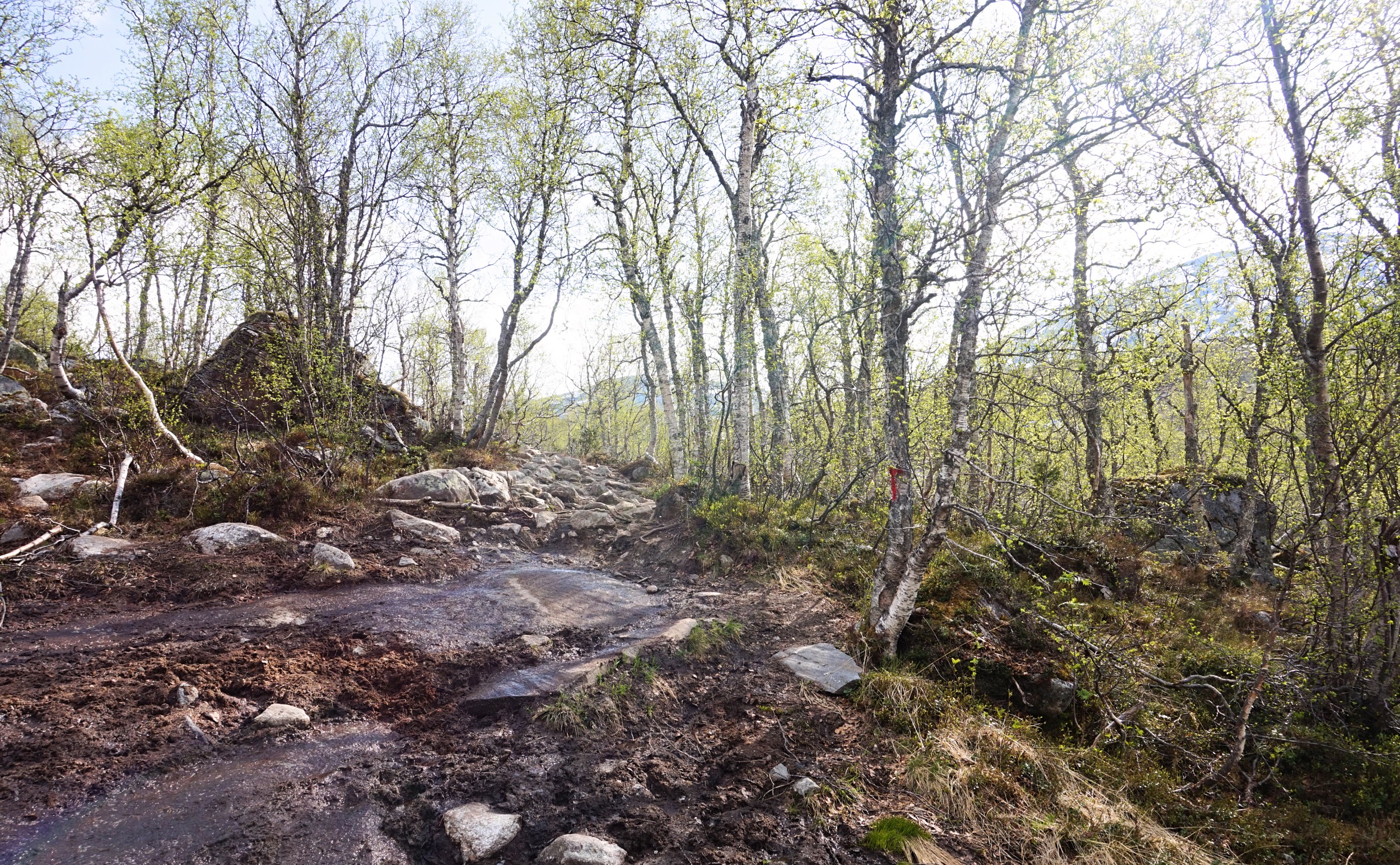 The first steps were a bit brutal. It took us less than 5 minutes to be out of breath. Well done me!.. 500 meters later, we took our first team pic, like "we did it" kind of pic even though we still had 99% to go. We tried to ignore this detail because really, we started to actually enjoy it. The landscape started to be breathtaking indeed.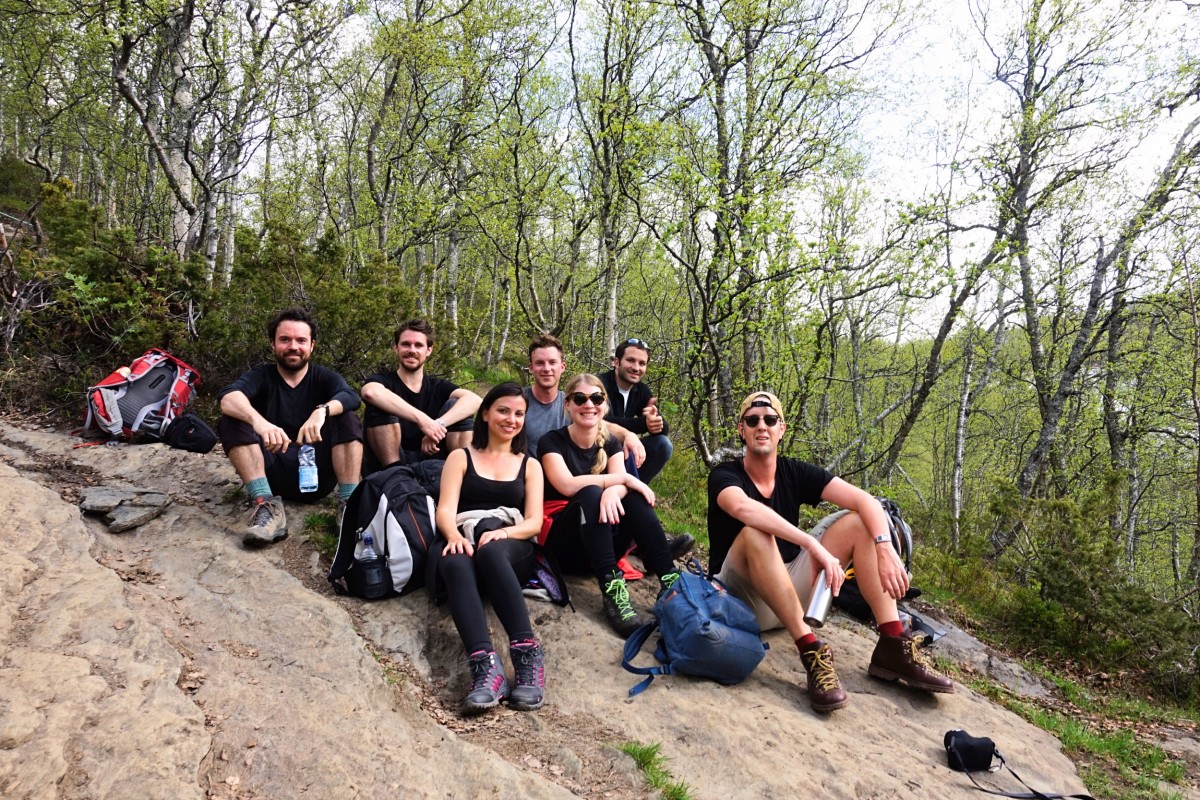 The hardest bit seemed behind. We then went for what I feel was one of the most beautiful part of the hike. Dry ground, small rivers coming out of nowhere and the beautiful, beautiful landscapes all around.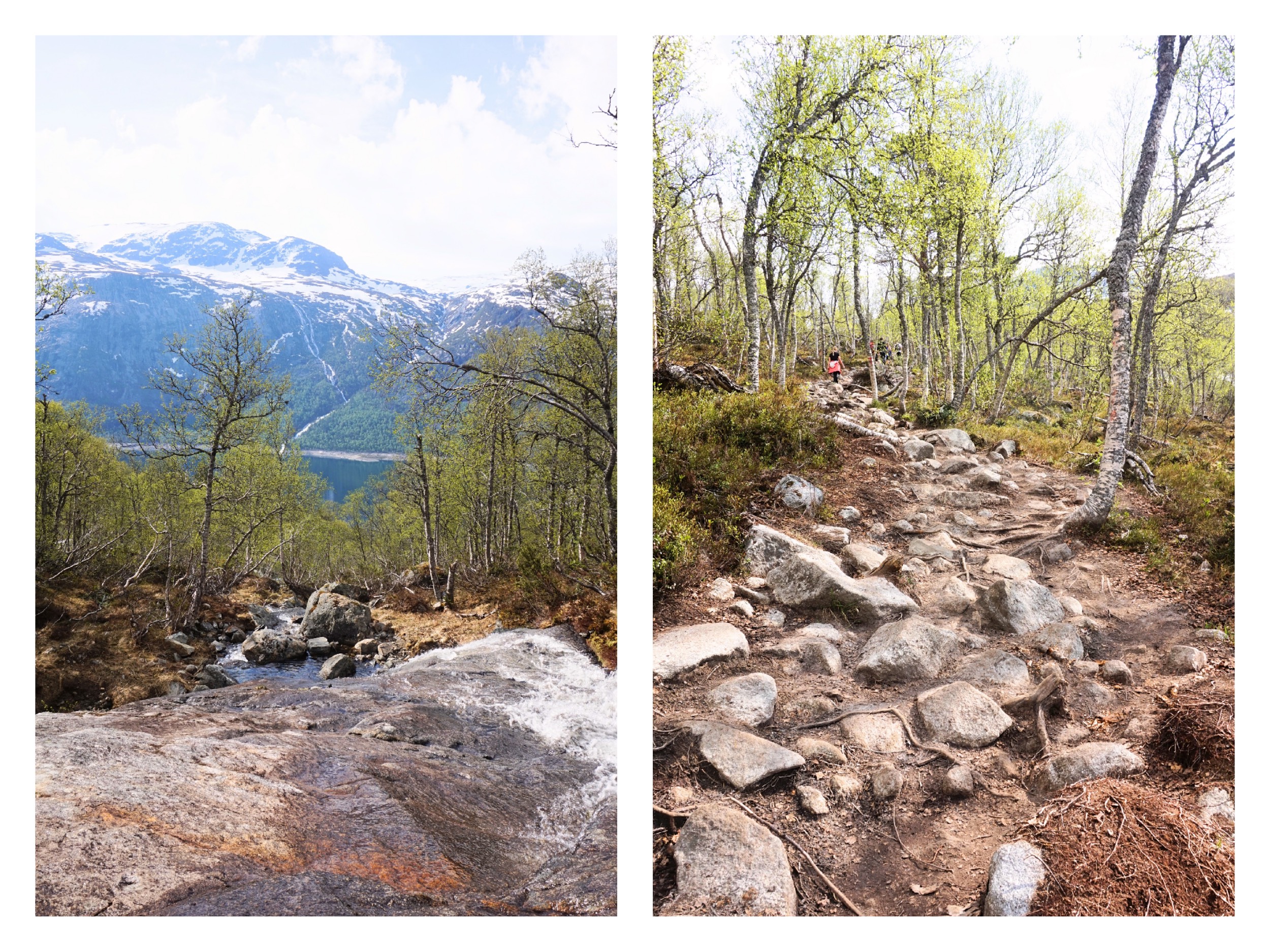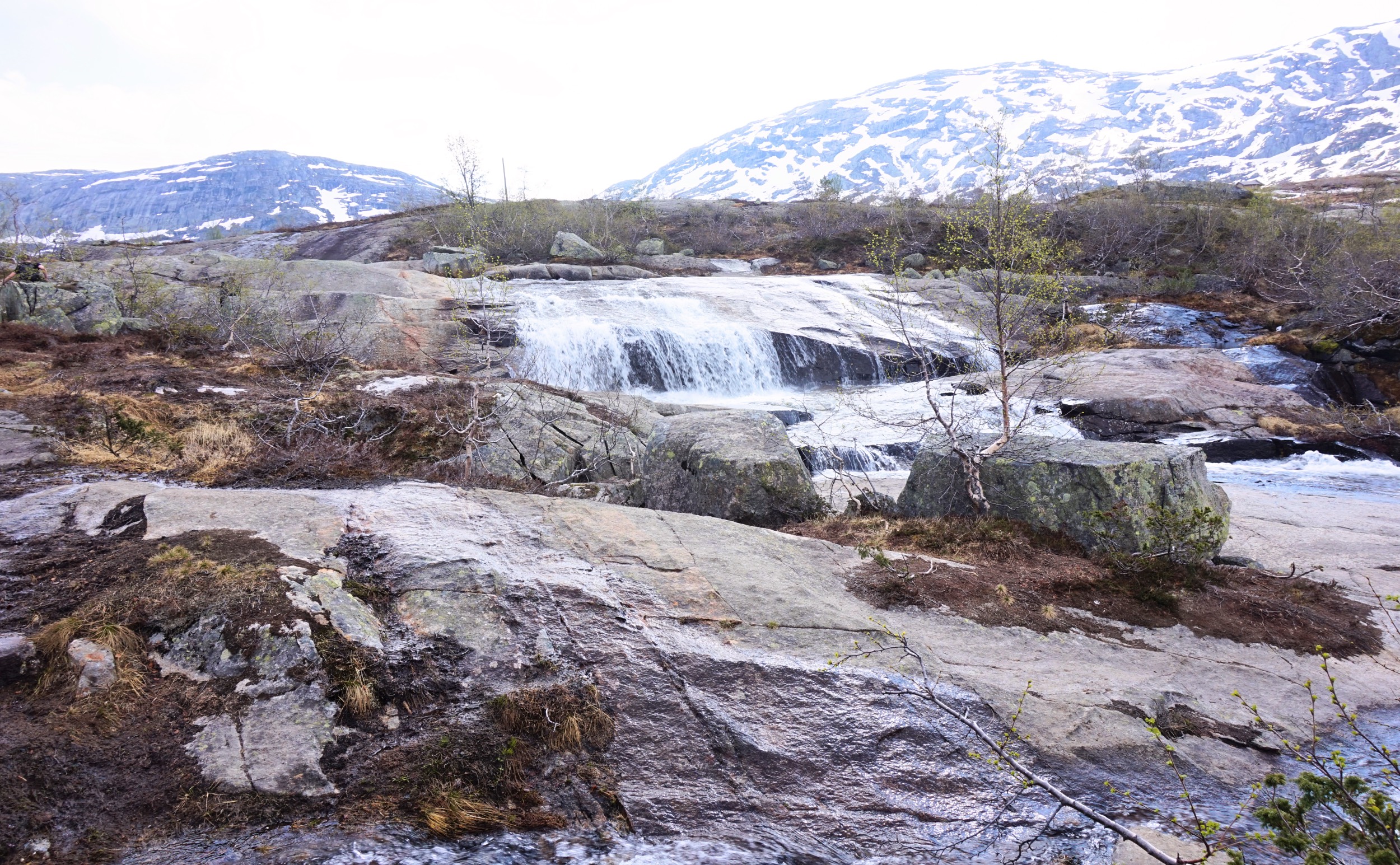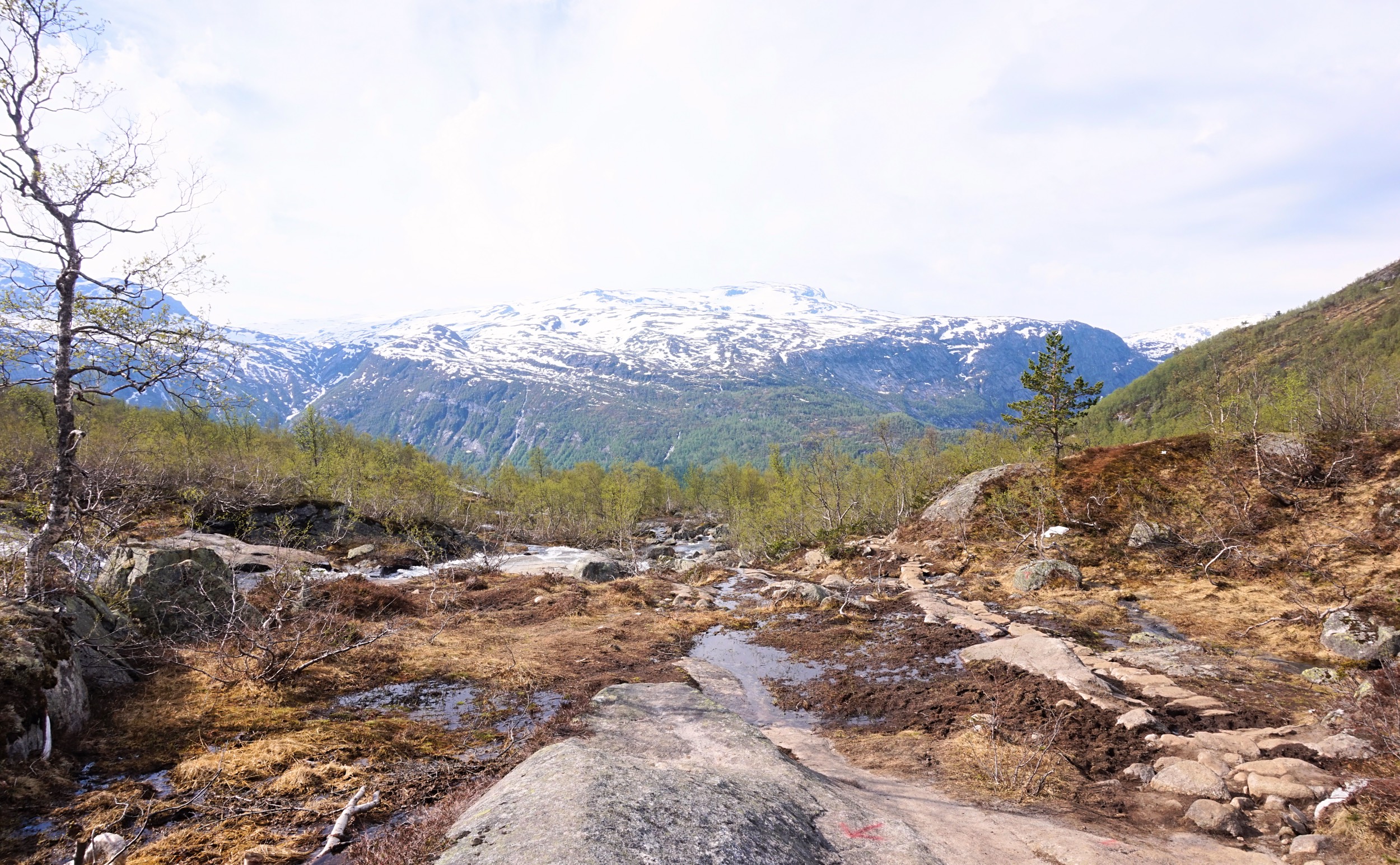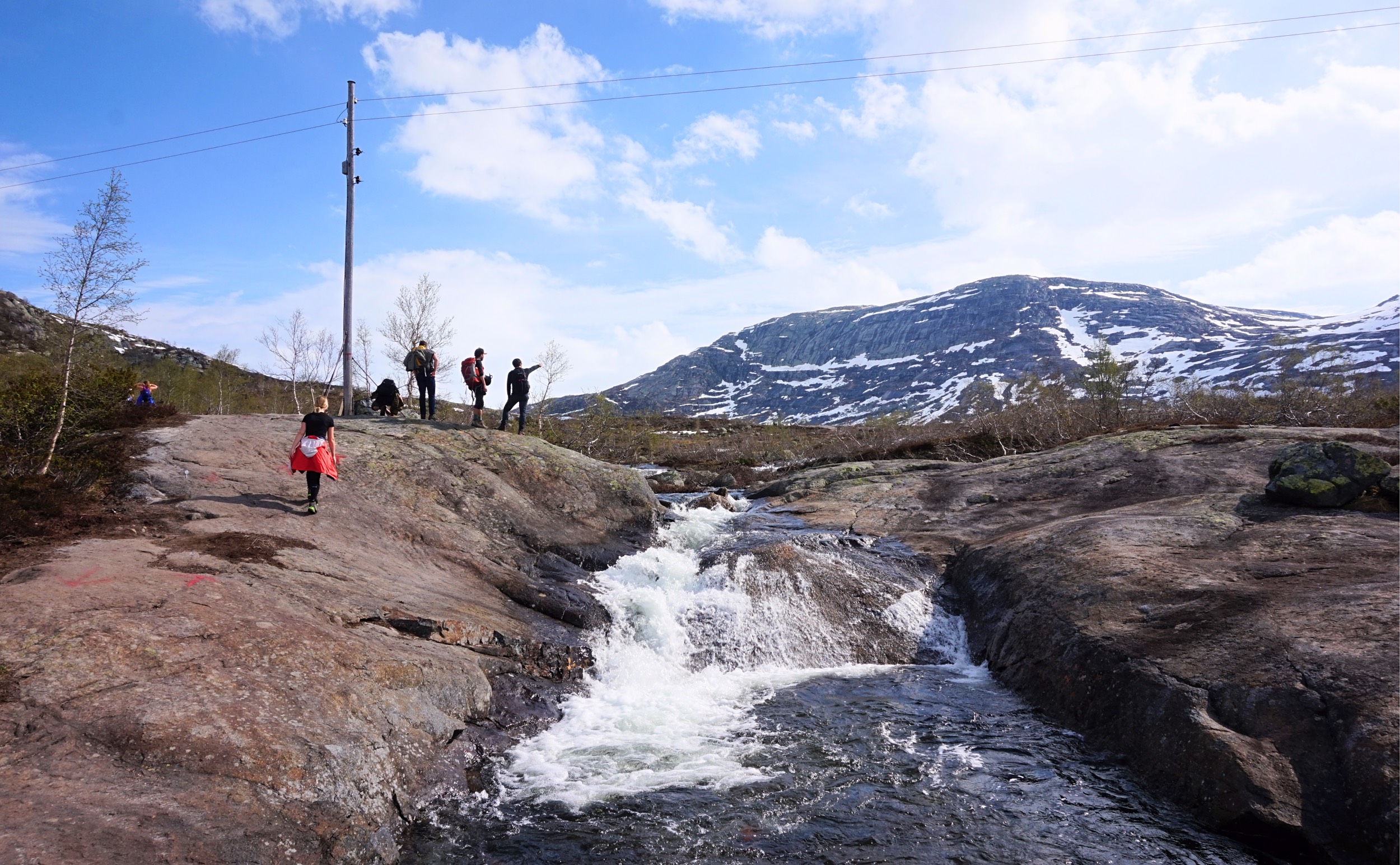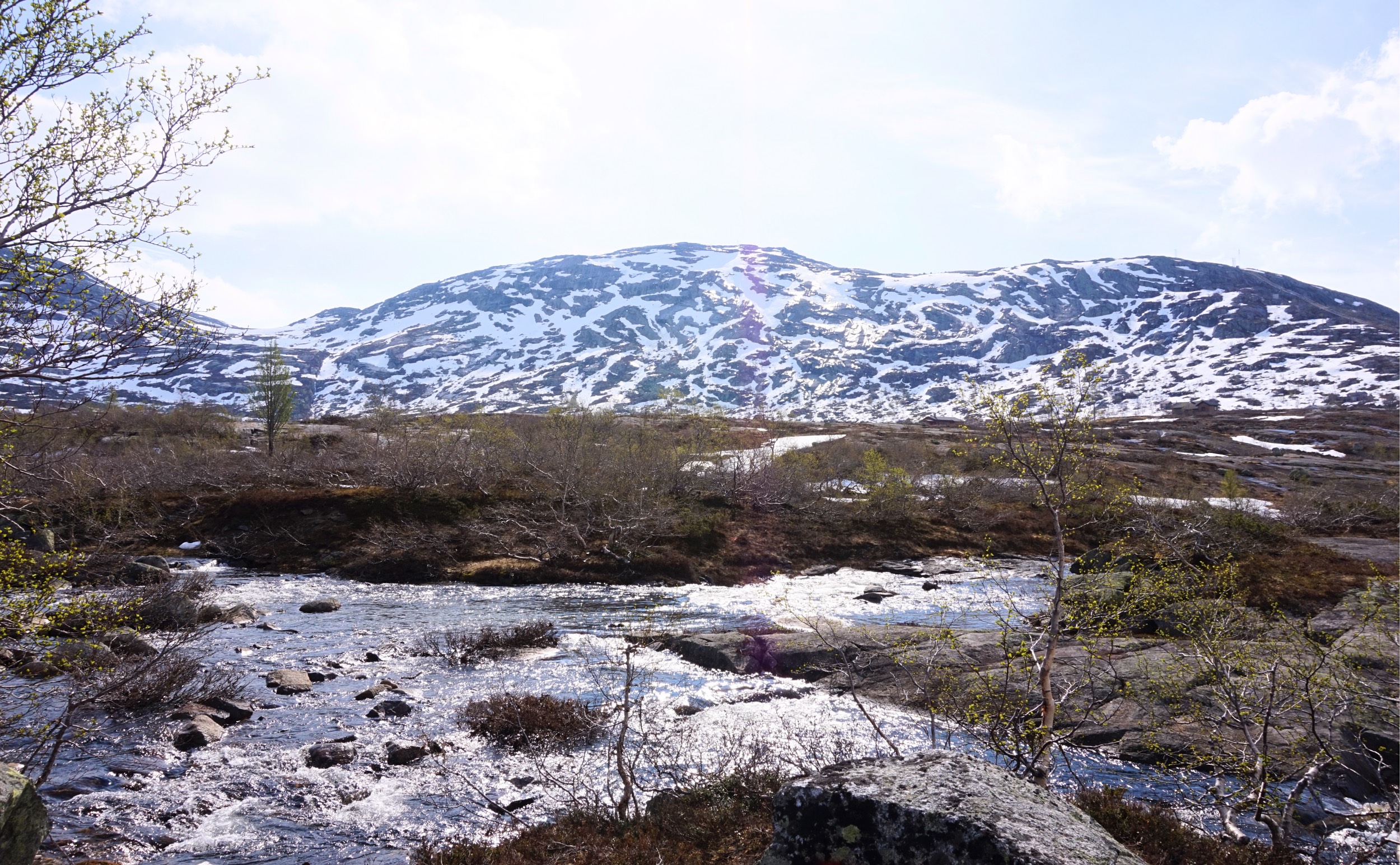 And suddenly, « she » started to show some signs. The snow was allllll around.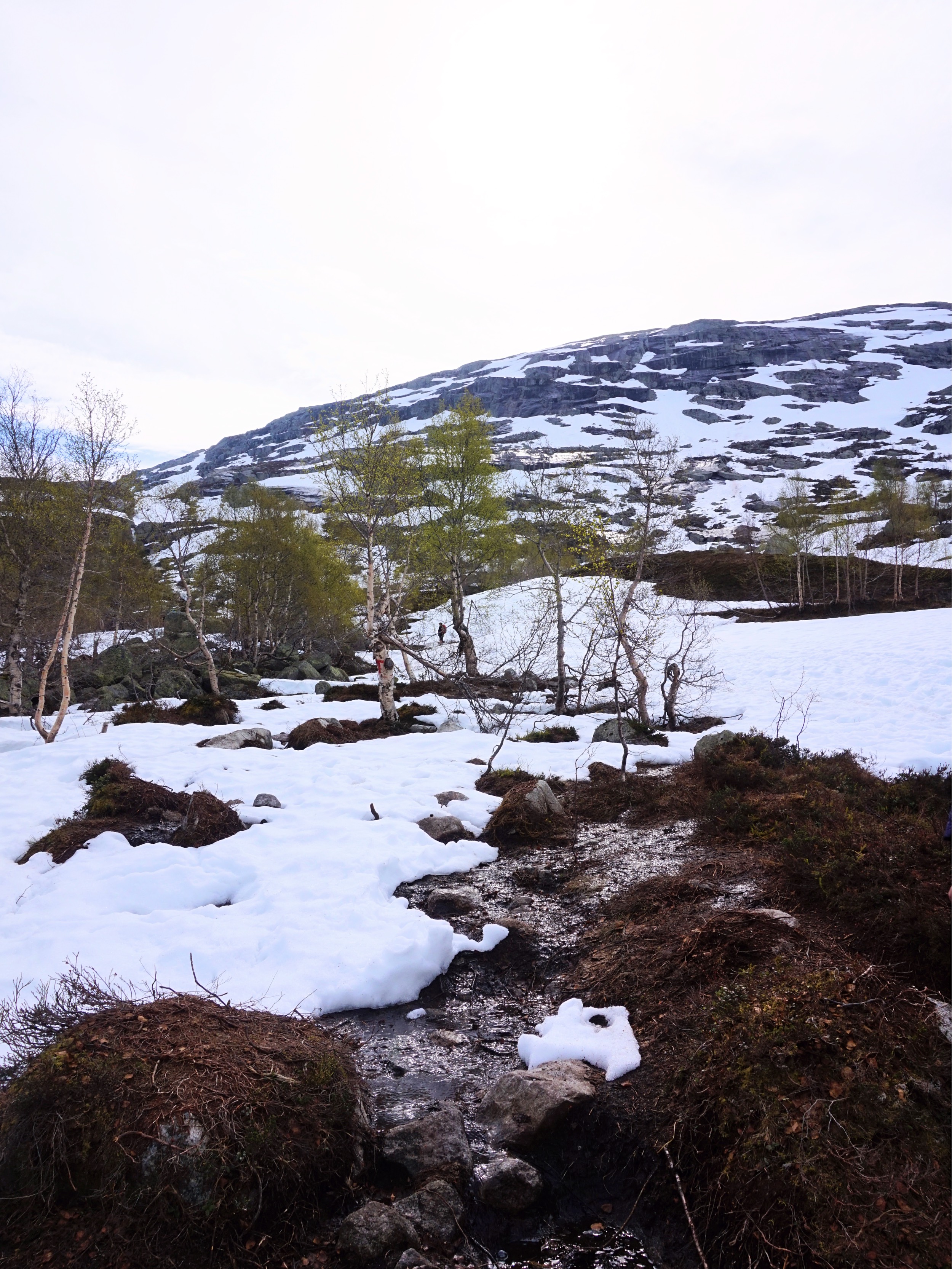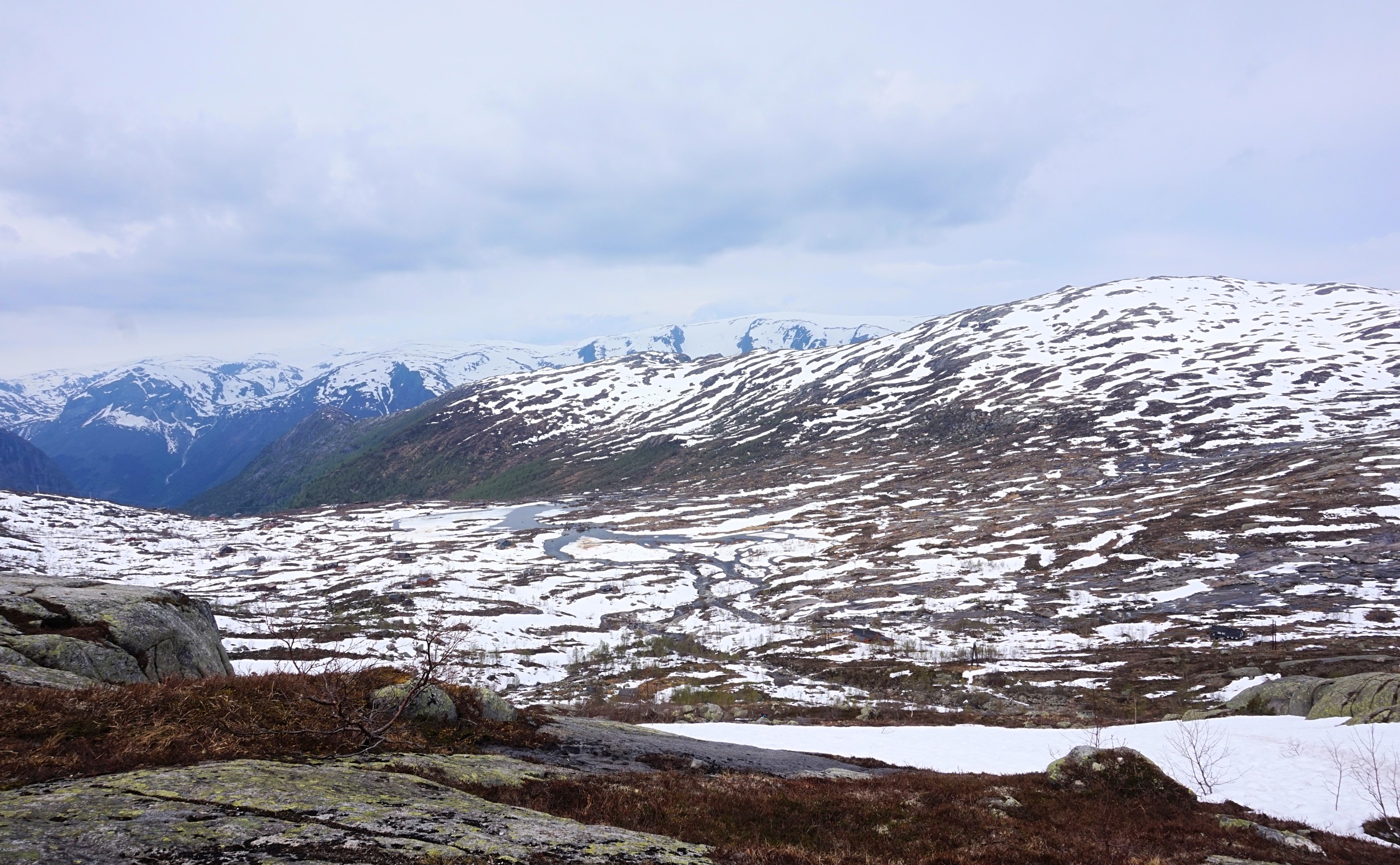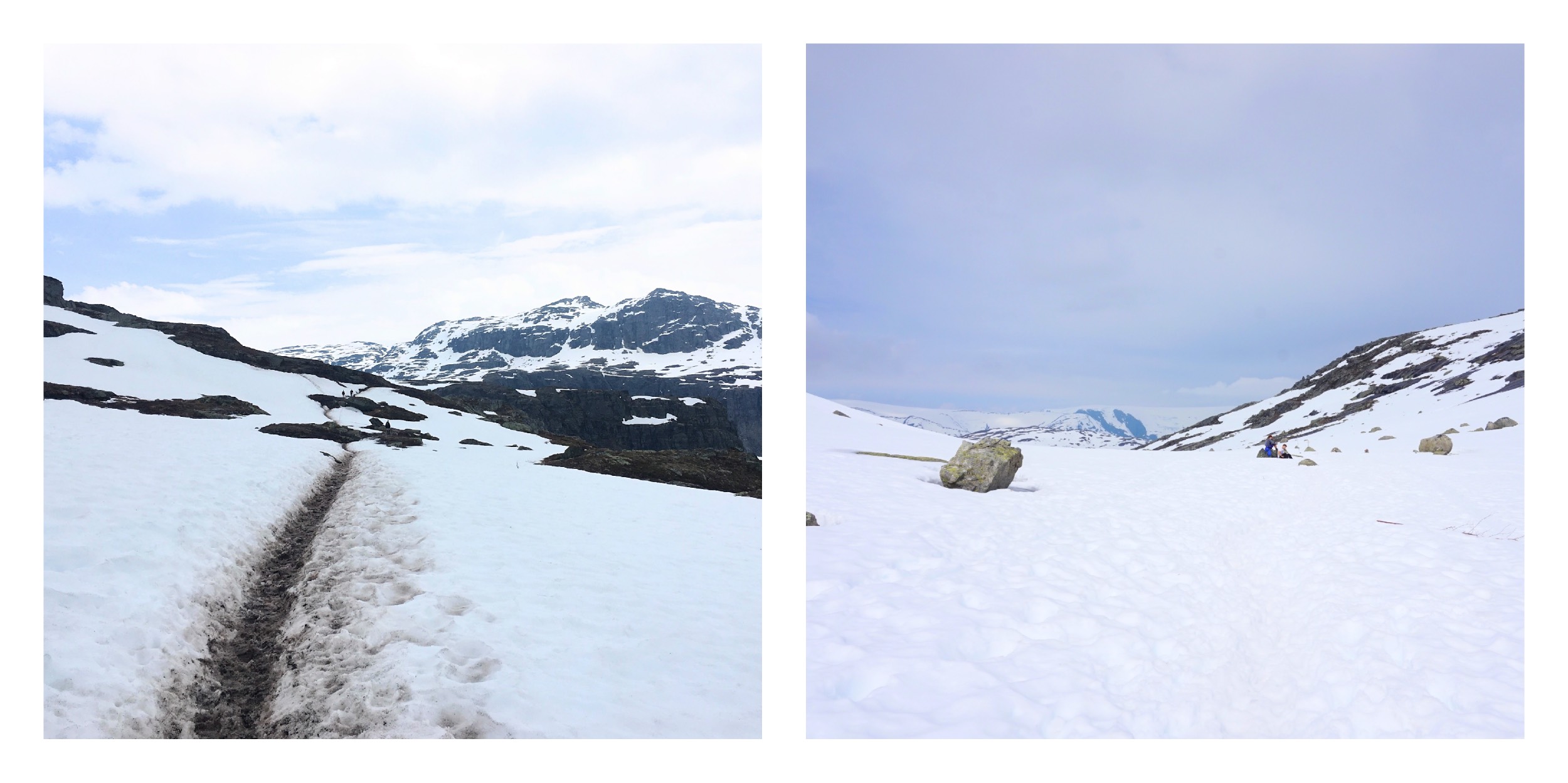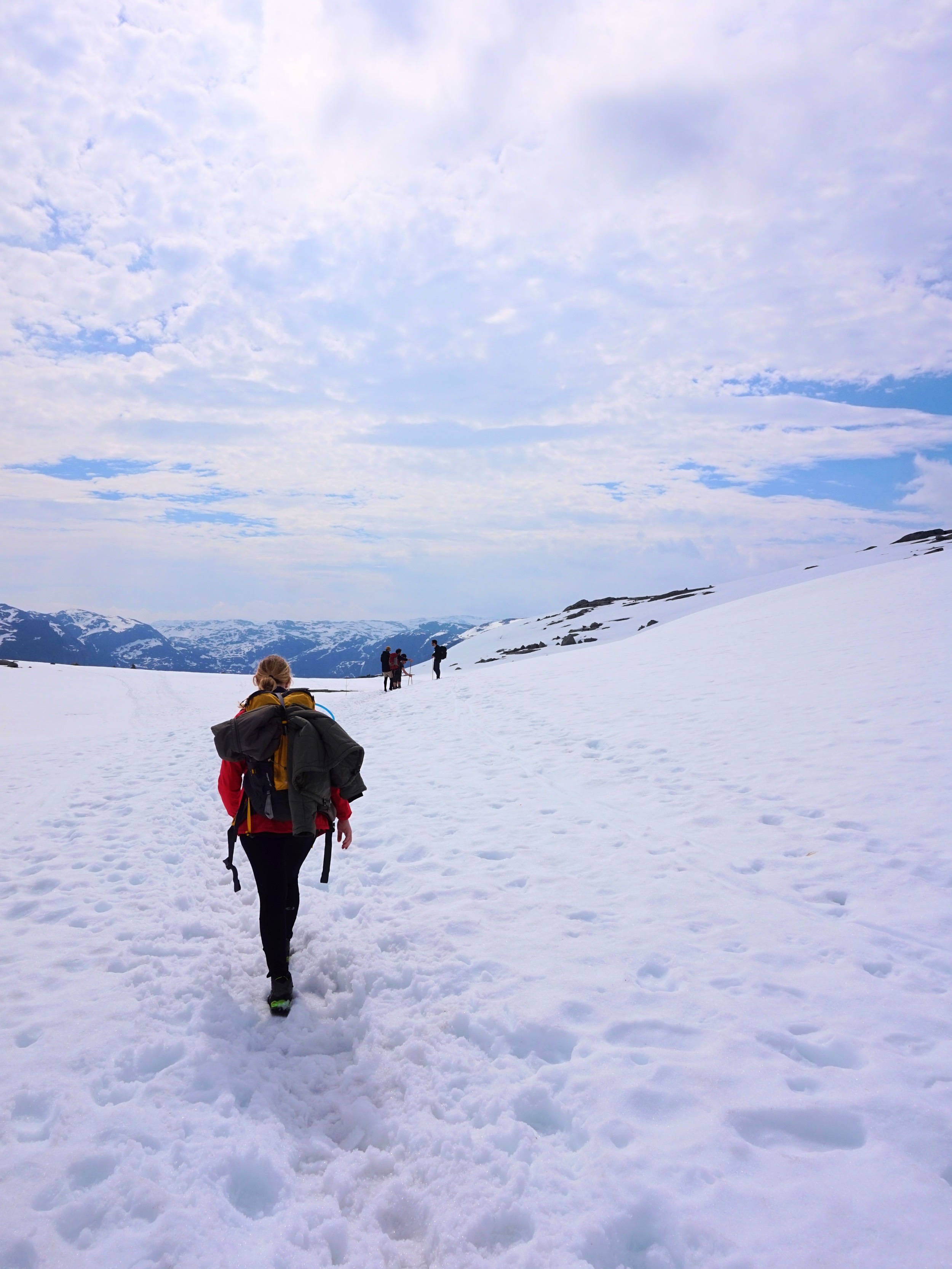 The picture above summarizes pretty well the last 2 hours of the walk.
Some places felt like they were never ending but the landscape reminded us why we were there. At that stage, I'm not sure I remembered why I was doing it nor where I was going. I was just walking, and simply SO happy to be there.
The landscapes were still so gorgeous and we had our first surprise. A sort of taste of what was waiting for us further up.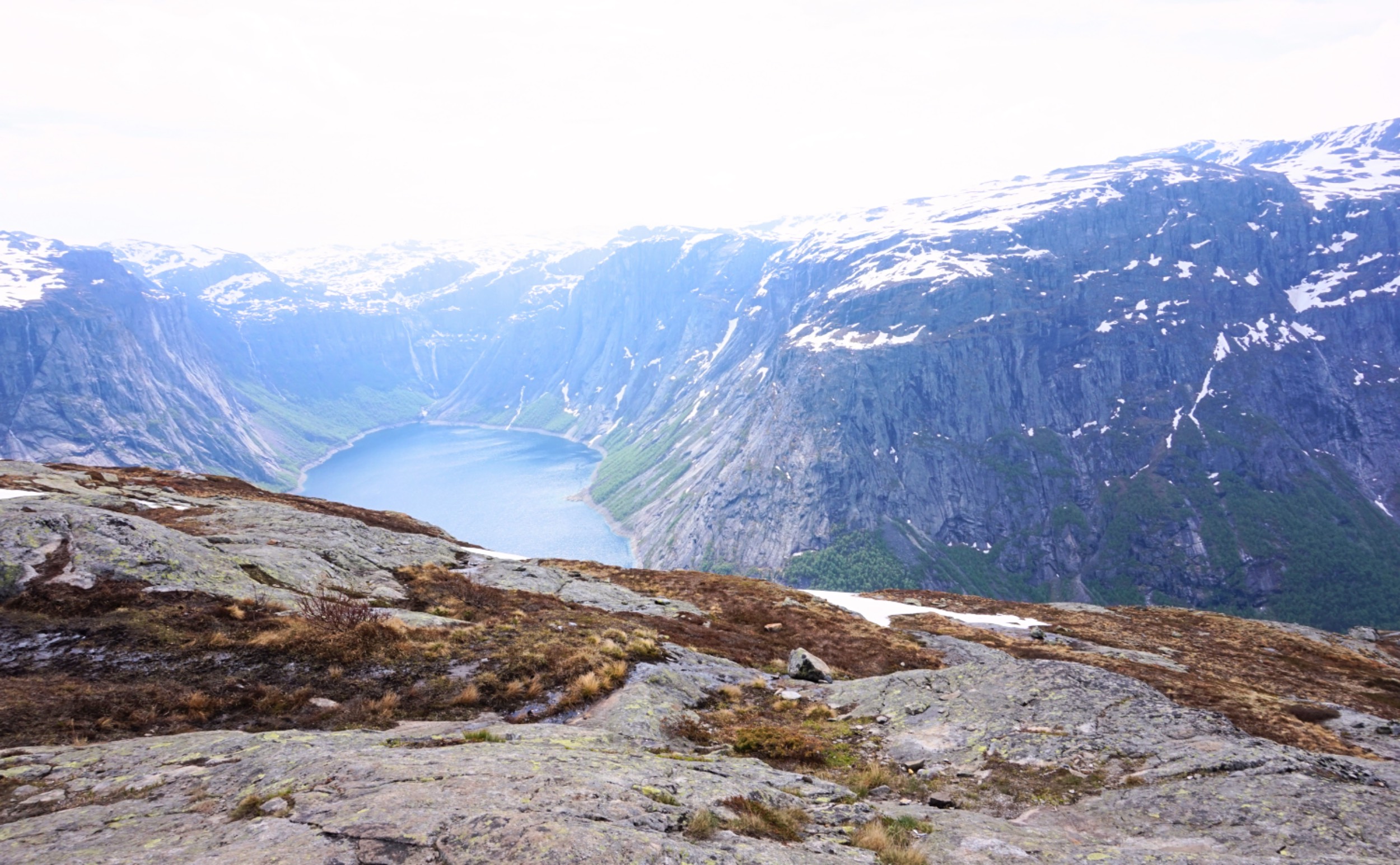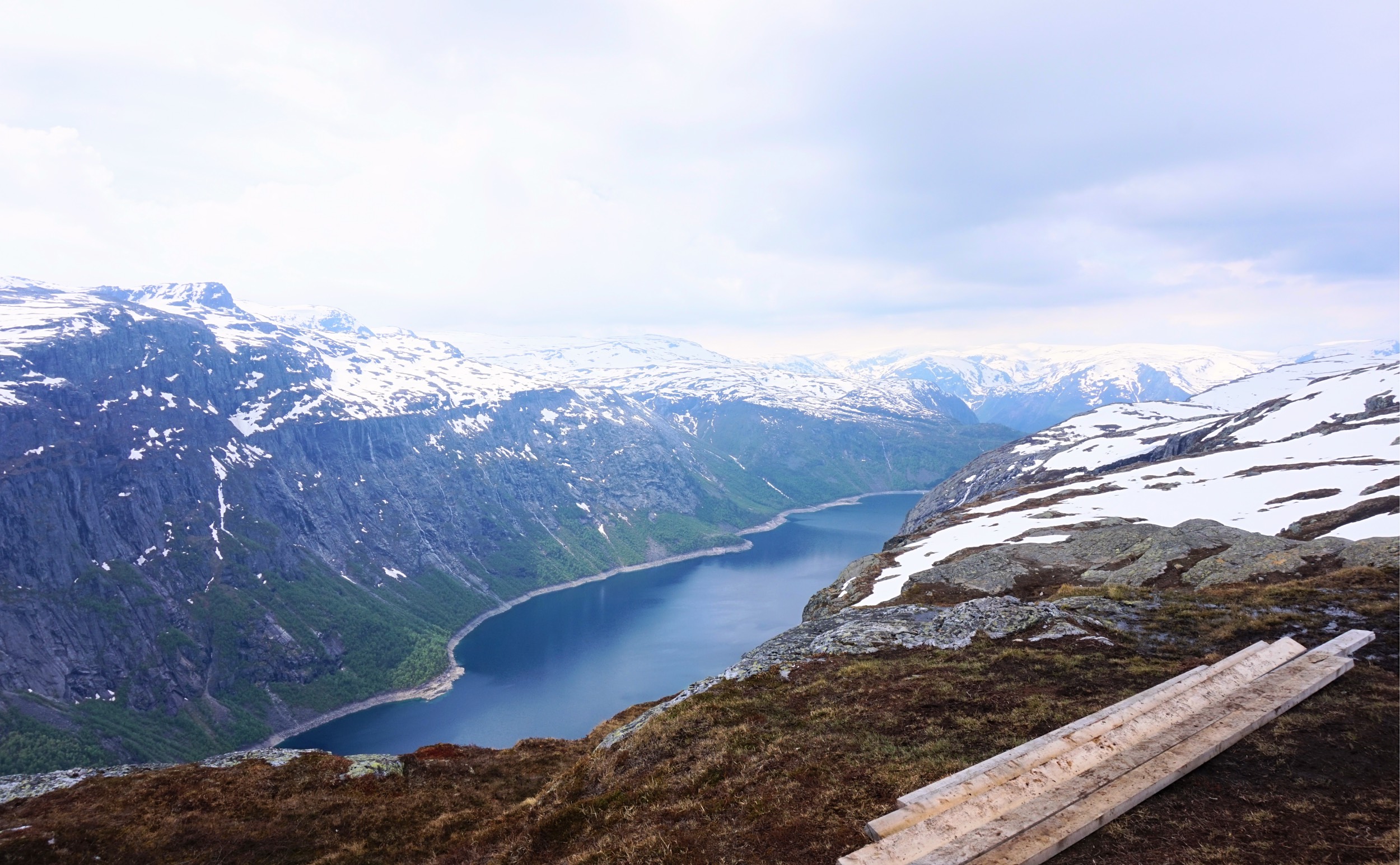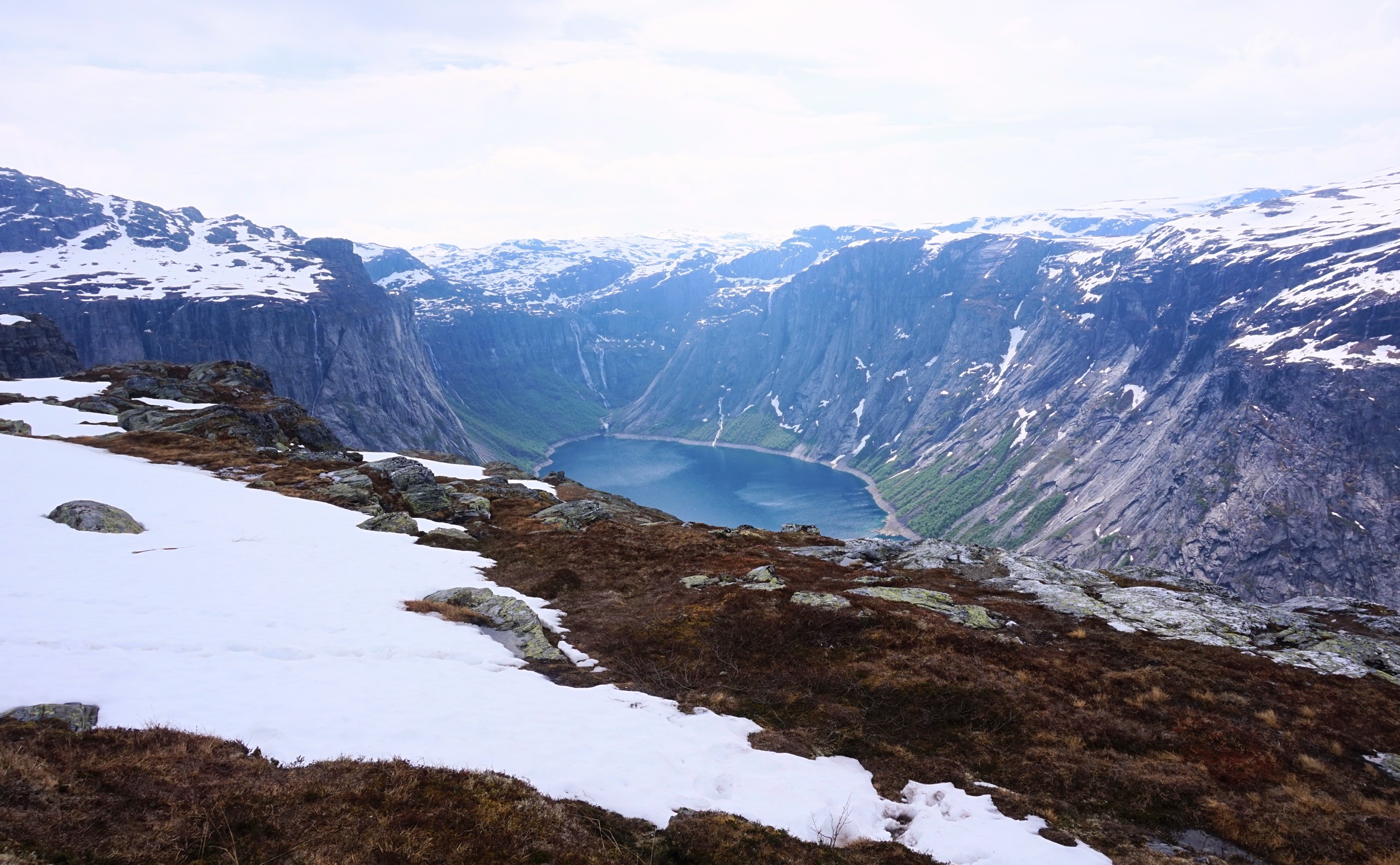 We kept walking, walking. The last kilometers weren't the easiest ones but people going back down were telling us how great it was up there. That image we all flew from London for and we kept talking about the past weeks was so close.
From time to time it occurred to me that we would soon enough have to do it ALL OVER AGAIN on the way back, but you know what, I just shut my mind. Sometimes it's so not worth ruining a moment of happiness for some sort of future things. Also, it's not like we had the choice anyway.
And suddenly…
Surprise. We were there.
To be very honest, it took me a few minutes to realise we actually were there. I took the time to take a look and wondered if my intense and recent googling and instagraming of the place ruined it but that was impossible. Thank god the real life is still much better than the digital life.
We spent a couple of hours there, maybe less, took lots of photos, all took our favourite pauses, enjoyed an other « picnic with a view » before heading back to square one.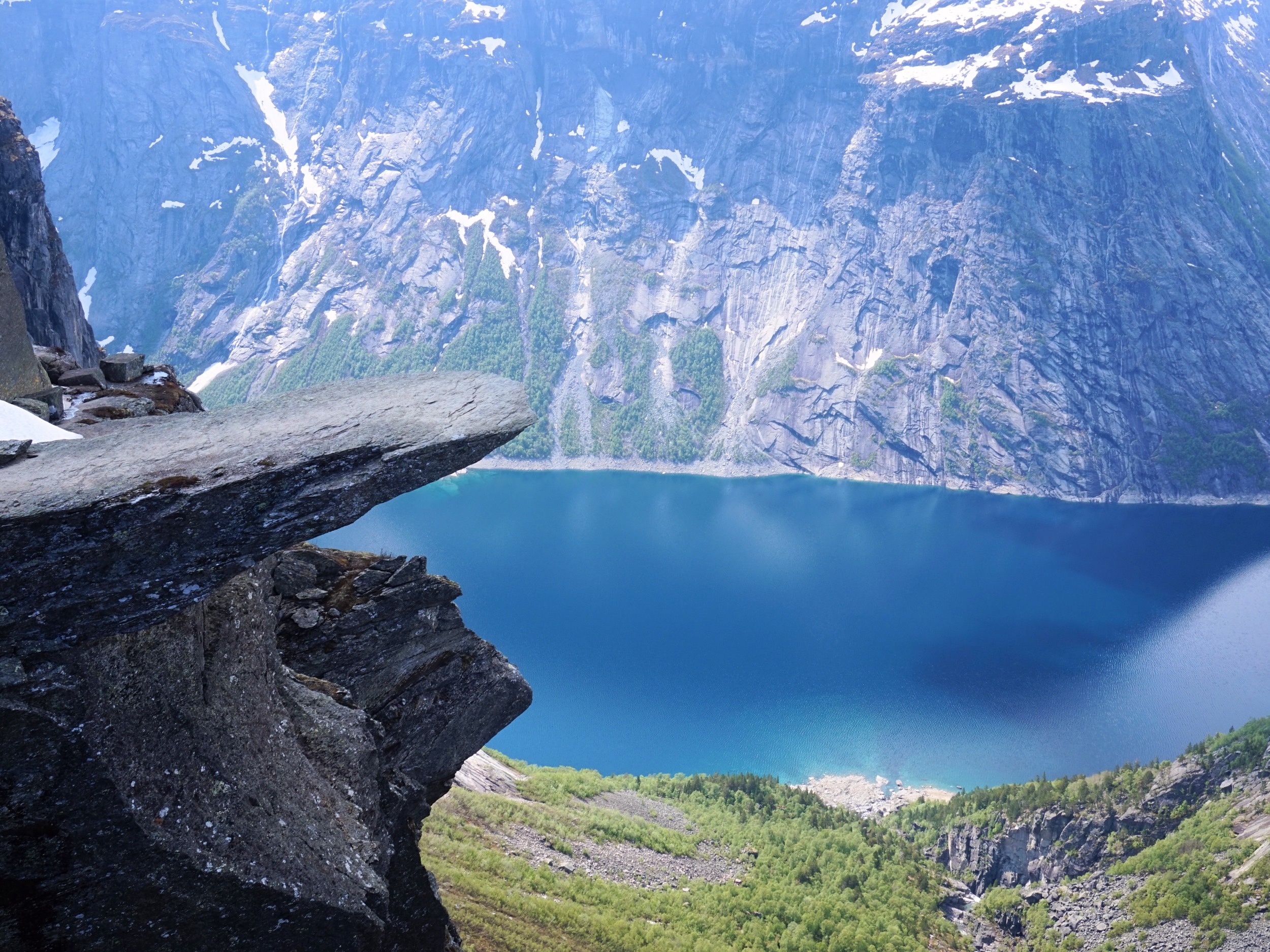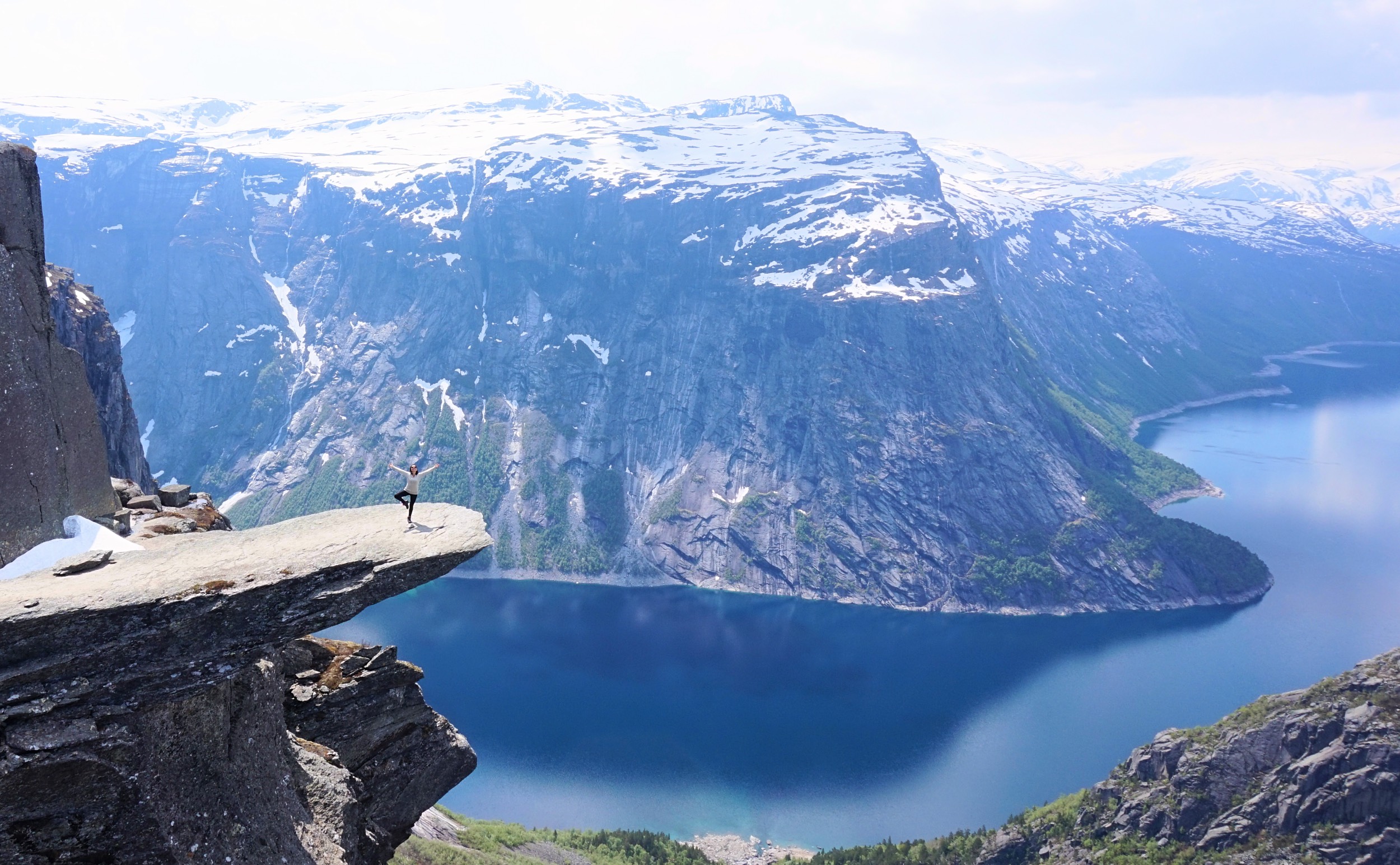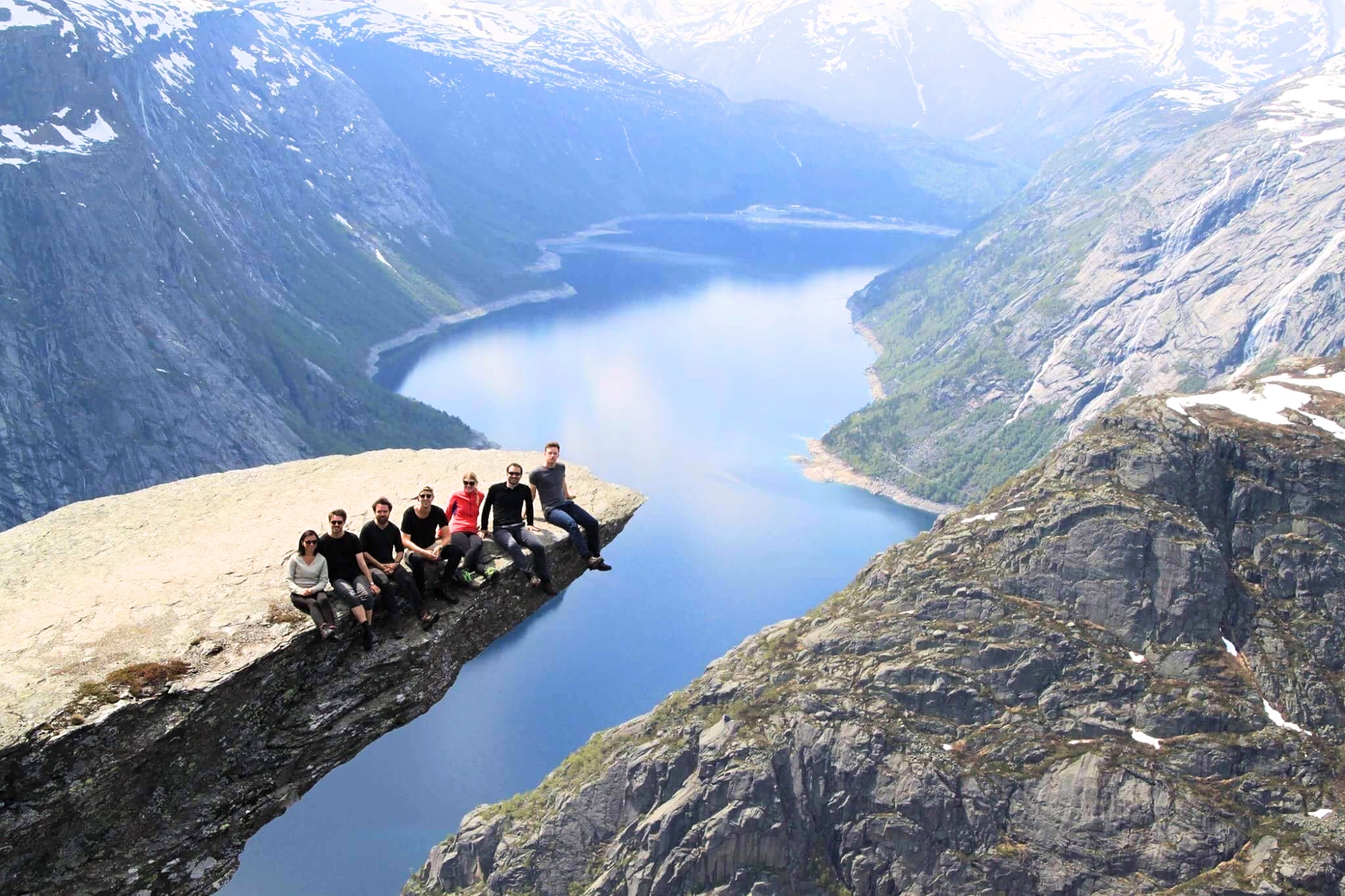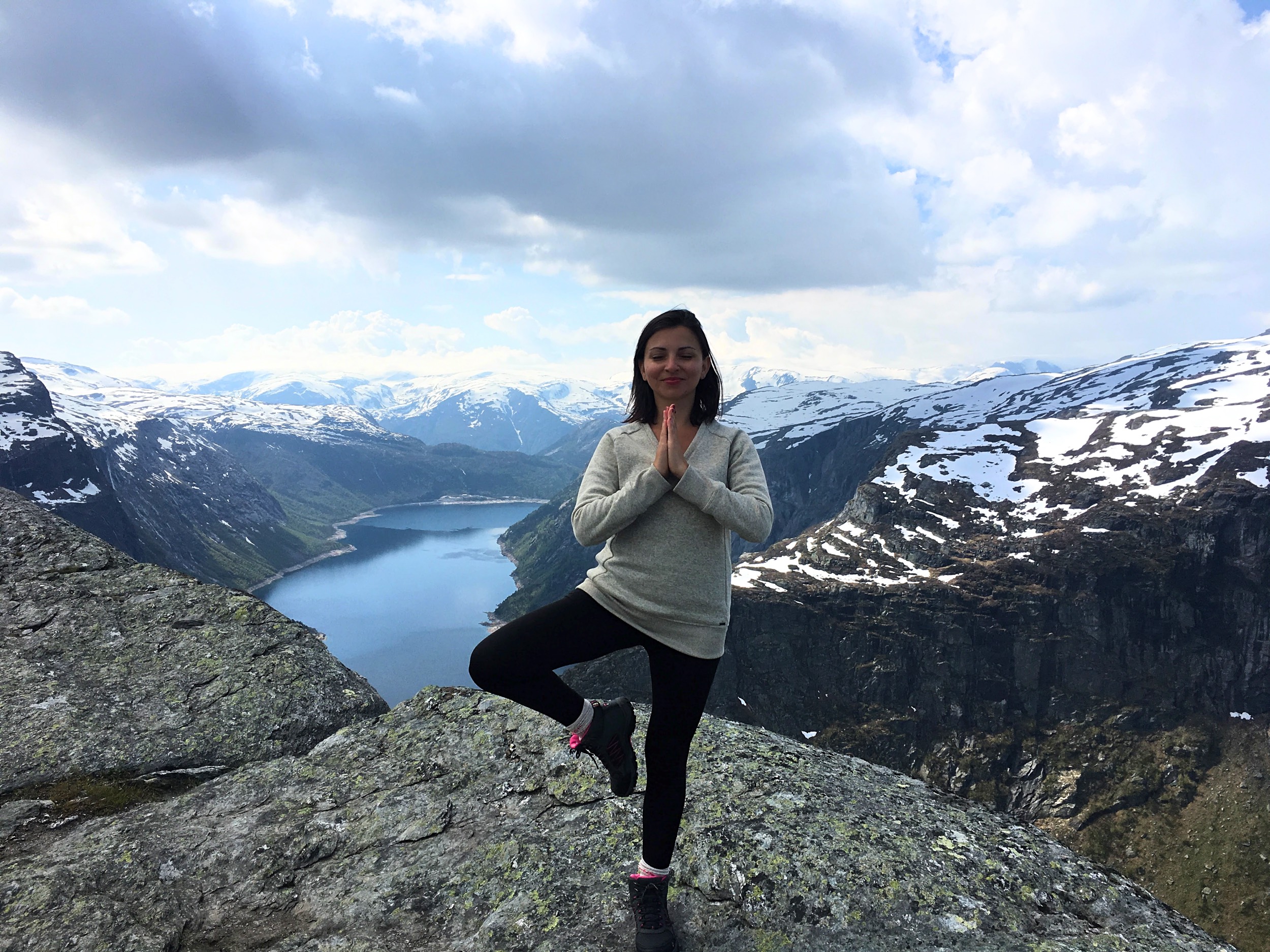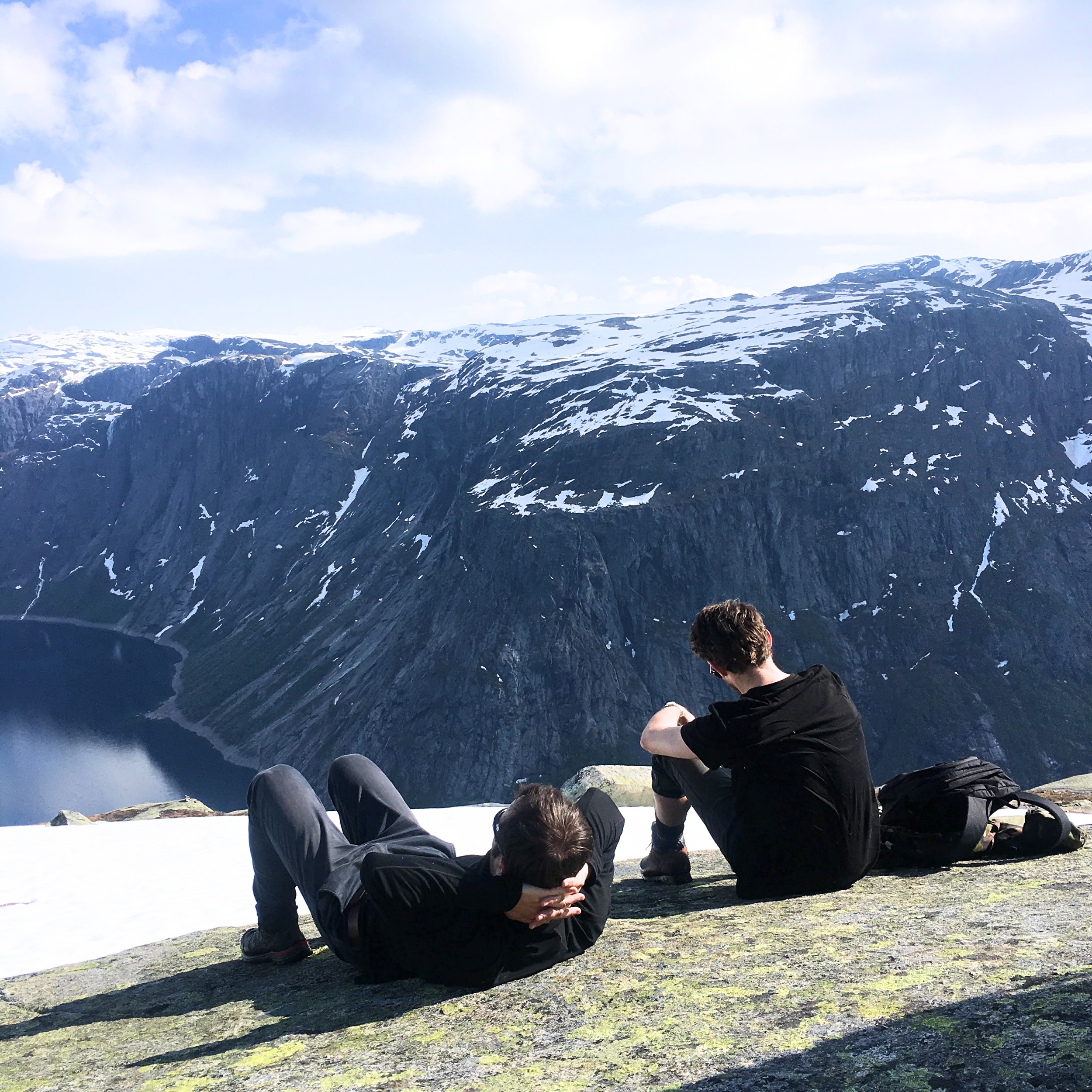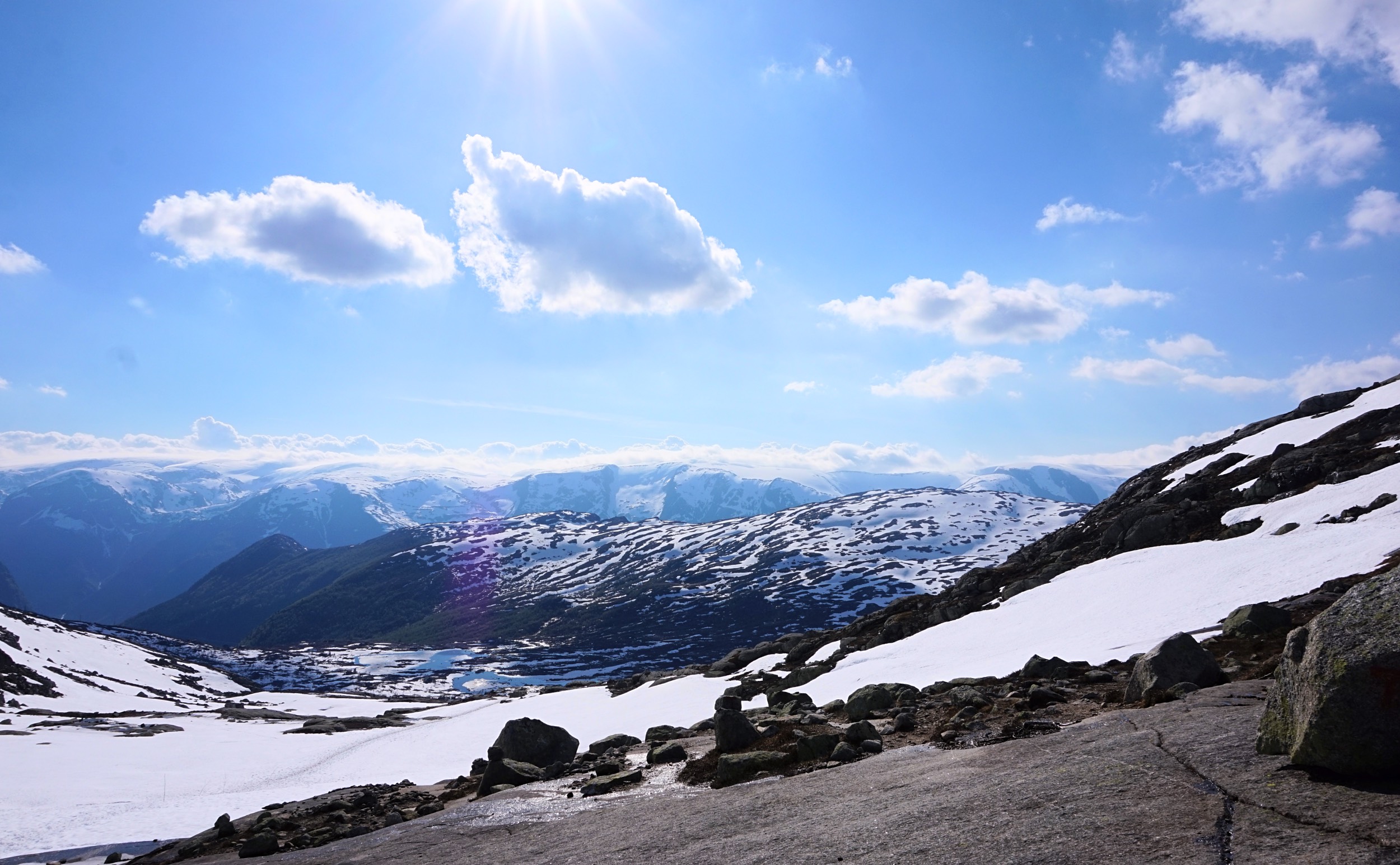 On the way back, I avoided using my camera. I felt like the start was a bit easier but the end seemed to never end. The weather was SO good (lucky us), the atmosphere amazing and the views even better with that light. It was the kind of moment to make the most of it. Stop thinking of crappy-normal-life-stuff and just enjoy.
The last meters were a mixture of happiness, fun, boredom, nervous laughs, stupid jokes and a sort of euphoria.
We realised there was an easier way to go down which seems to be the one the guides take, but why would you take the easiest when you can suffer challenge yourself a bit longer?
Once arrived, it was absolute bliss. So good to be all together and switch heavy-muddy-snowy hiking shoes for super light trainers and multi-layers tops for a simple T-shirt. Sometimes, (Very often actually) simple things are just the best.
The same night, we rented a lovely Airbnb in Sand, 2 hours from the hike. Not too far from Trolltunga, but on the way to the airport. There were quite a few places around and I think that was definitely the best comfort/easiness/price ratio for a group like ours.
We attempted to get ready for a fun night, the English way, but it didn't take long to literally crash in our beds, to then wake up to that view. Once again, not bad.
This is where we spent our last morning in Norway.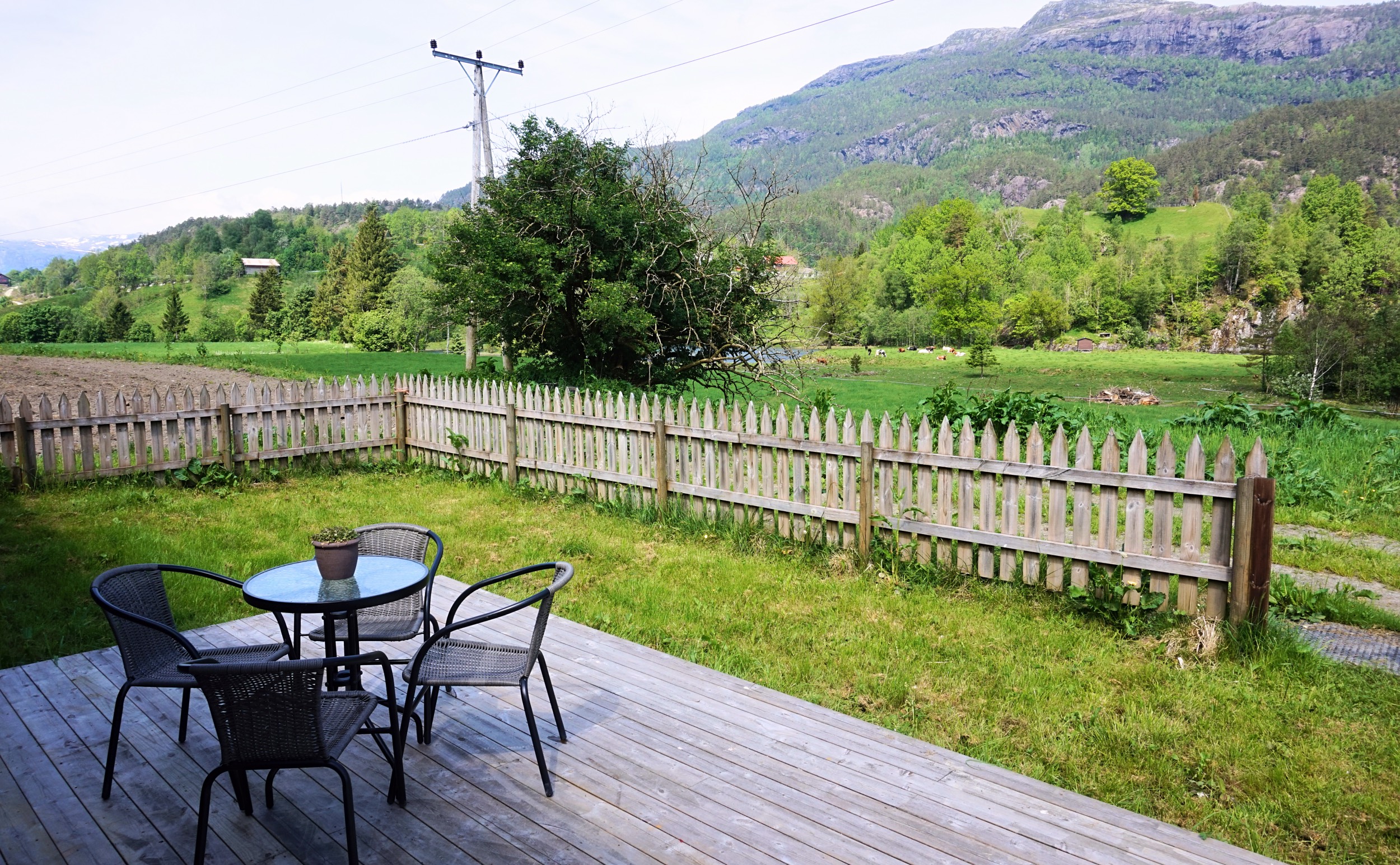 My advice as a « baby hiker »
If you are an outdoor expert, then you can probably skip this.
However, if, like me, you are more used to « cocktails by the beach », « strolls in cities » and « parties on heels » kind of holidays, if you are actually scared of buying hiking shoes (Probably even more scared than the hike itself), if it makes you really sad to sacrifice your ZARA shopping budget for a SPORT DIRECT budget to buy a « good-waterproof-coat » or even worse, RAIN TROUSERS (What the hell is that?!), and finally, if you feel a little nervous about the hiking look, then you might find it interesting.
Personaly, I went straight to Sport Direct, sent pictures of each « element » I bought to my girlfriends, you know, just to be sure, before having to go back because after seriously reading articles I realised I bought stupid things. (Well… Pretty things actually but in this kind of situation it's a bit like pretty = stupid).
Looking backwards, I would have gone directly to Décathlon, proper sport paradise for any French. No need to describe the poor customer experience from Sport Direct and anyway, Decathlon is the best for cheap and quality. And it's French so you know, a bit of patriotism doesn't hurt. There are 2 in London (at least), one in Wandsworth and one in Canary Wharf.
To summarise, here is the list of things to prepare for doing such a hike. As stupid as it sounds now that I did it, I would have never, ever thought about all of this before.
Waterproof Coat. Make it covers you well.
Hiking AND Waterproof hiking boots. This could possibly saves your day. Ask the Nike trainers and Stan Smith people. First they looked ridiculous, and second of all, it must have been very painful. Even though I kind of admire their persistance and the fact that they managed to do it with those shoes.
2/3 pairs of spare socks
Plasters
Snacks – A great reason to go crazy with sugar
Multiple layers 
Sunglasses
Suncream
A small camera as not so easy to take it off / put it back in the backpack.
Tissues – Toilets are not randomly displayed on the way
Better to be trained a bit or active in everyday life
The more you are the better. (But that's a personal feeling)
Start early in the morning
Stay as close as possible from the hike
ENJOY every minute
We went for Airbnb and as I said earlier that was a very good idea. Best way for cheap and comfortable accommodation, especially for a group and after such a big effort. We loved our little nest by the river.
Finally, if you want more advices and what NOT to do for the Trolltunga hike, you can read this article. Quite funny and somehow reassuring. Made me feel like if they did it, anyone could as well!
Special hello to my hiking buddies. Best Franglish/kiwi team ♥