How not to be addicted to Instagram these days? Weather we like it or not, Instagram does inspire and share the dream and the Instagram accounts about London are no exception. I started this list years ago but I recently started to follow new accounts, as I was in the quest for more authenticity and real stories behind the posts. Some of them are iPhone only and beautifully managed, some are not so big and do deserve some extra visibility and some others and classics that had to stay in the list. And there's mine, which I use to share the London magic seen by a French girl in London. It's called Elodie_London and you are more than welcome over there :)
10 Instagram accounts about London
London
If you want to follow top instagram accounts about London, you need to start with this one. Dave Burt became "instafamous" by taking over this account and regramming the best pictures of London. It recently became more lifestyle and real which I really like.
@London
Alanisko
I've been following this one for a years, wen it was barely reaching 10K and was one of the top Instagram accounts about London to follow and I'm so pleased to see its grown with time, even though it could easily be much bigger given the talent behind the picture. I love the way he captures the light and the great eye for details and colours.
@alanisko
Breakfast London
An other London classic and the best account when you look for inspiration for best places to go for brunch in London. They regram pictures of sweet or savoury brunches all over London. Careful, you might be very hungry after checking it!
@breakfastlondon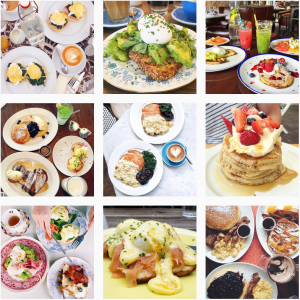 Rosie Londoner
Rosie is not only the top UK blogger, she also shares her dream life with beautiful pictures and writing and a nice sense of humour. She is the proof that being a good blogger requires a lot of work, talent and determination. She had to be in the list of best Instagram accounts about London!
@rosielondoner
Belle and Bunty
I love these two bloggers and the very girly account full of bright colours and positive vibes and a great sense of style. This should make you smile and want to spend time with your girlfriends!
@belleandbunty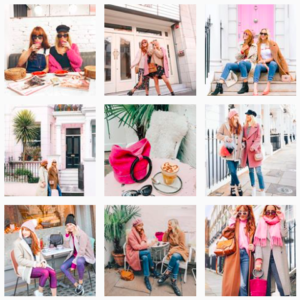 Grind
I know, very cliché and very marble table / avocado on toast / coffees and flat lays, but I feel like if it's from a brand or a restaurant / café like this is the case, it's fine. They're not trying to sell us anything else but exactly those 3 insta-clichés and even in real life, I actually love stopping there for coffee or brunch.
@grind
Her name was Charlie
I find it hard to find inspirational accounts with something different to bring to the digital world these days and this lovely one succeeded very well. It's all about aesthetic as mentioned in the description and it works. Very simple and pretty.
@hernamewascharlie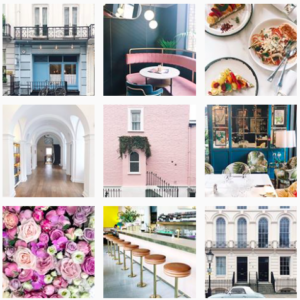 Angela Coomey
Same as the previous one. I like the sense of authenticity behind, and it's all taken with iPhone which I like even more. A great eye and sense of details.
@angelacoomey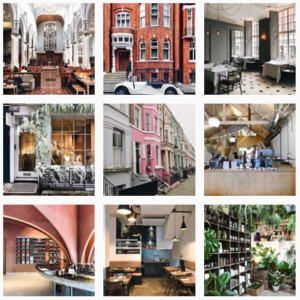 Elodie_London (Mine)
At least but not last ;) – Mine. I'm not saying it is as good as the previous ones listed in this list of instaurais accounts about London to follow but I do try to share the London magic through the eyes of a French expat in London.
@elodie_london
I've missed some? Let me know which ones are your favourites!