Happy 4th anniversary to you and I London!
29th of August 2012. Quite a random date to remember, but that day, my life completely changed.
I feel like I should have written something for each year in London to sort of mark the moment. One of the things I've learnt since I've been living in London. Traditions, celebrations… A good way to appreciate every moment I spend during my life here which is in a way meant to end at some point. Even though I could stay here forever if I wanted to. Strange feeling.
4 years beeing an expat. It's not that long considering France is just around the corner, or at the other side of the channel. Still, I feel like I have embraced expat life the right way since the beginning, with its ups and downs but mostly with all its surprises, hard and amazing moments. Every year that goes by I have a different feeling about London.
After 1 year, I felt happy to be here but could only admit the 1st year was as good as it was hard.
After 2 years, I started to have to this homey feeling
After 3 years, I had absolutely no intention to leave
After 4 years, I have the impression that I ticked all the boxes and lived all the experiences I came for. I feel like I could go now and it would be ok. But at the same time the best is yet to come.
This 3rd year will have been filled with lots of happy moments, as always, but mostly big life lessons and A LOT of changes in my London life.
First of all, even though I really really don't want to give too many details about my personal life on the blog, especially about my love life, this time, I feel like I need to. During my 3rd year in London, we officially ended a 3 years relationship with my Londonder. I met him very quickly after moving here and hence built my whole London life around that relationship. He took me to lots of places in the city, for day trips from London, we travelled a bit in Europe, had a sort of double life between my flat and his flats in Notting Hill, Clapham or Marylebone, not the worst places to spend time in… Gave me a family feeling by being surrounded by his family in London, we discovered the joys of a multicultural relationship together and of course, this helped me to reach the level of English I have today. – Hopefully I didn't make too many mistakes just before writing that ;).
In the same idea, I changed jobs and quit a job I had been in for 3 years. That wasn't easy to leave a brand with such a strong British DNA. I keep describing it was THE job, even thought it was just a  great but normal online marketing job. But as an expat I was so grateful they gave me my chance. I know how hard it can be for people to find good jobs when you move abroad and how much we have to sacrifice sometimes. That job was far above expectations. It gave me an opportunity to work for a British company, with British people, it looks great on my CV and I learnt the British culture from the inside, giving an extra boost to my expat experience. As great as it was though, after 3 years I needed to change, grow and reach the next step to satisfy my ambition and tick that bloody box.
And because change never seem to come on its own, all my dear Kiwi flatmates moved back to their island.
By coming here, I wanted to be 100% immersed. Well, I was.
4 years later, I am finally living the fresh start I have been craving for. My social life has never been that good (and I am fully aware of the amazing people I am surrounded by here and how lucky I am to have them in my life), the blog has grown considerably this past year, I love my new job and so on… I'm not gonna start that list of things I do to be positive.
I start this 4th year in London but also the first few months of my 31st (It's not totally random I moved here right after getting one year older…), feeling a bit less excited than the first years but happier, wiser and full of gratitude for the experiences I've lived so far, and filled with this adrenaline that comes up when you are getting over a tough time and beeing happy and positive again. How good does that feel?!
Yesterday I randomly saw this "quote" in a great place for brunch in London and it couldn't describe better how I feel at the moment.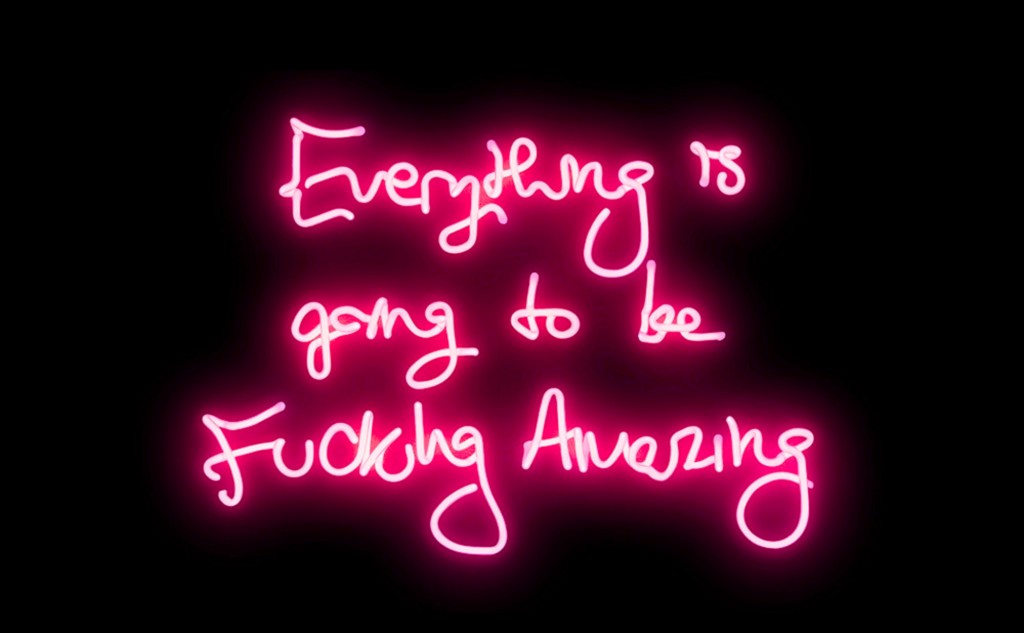 To be very honest, I am not 100% sure I'll still be here to celebrate my 5th anniversary in London. In a way, I feel like I lived everything I had to live here, but London brings me so many things that any other city couldn't… Let's see what this 4th year has to offer!